We have been analyzing and evaluating Best Buy (NYSE:BBY) since August because we are amazed at how the company has gone from Wall Street darling to being the butt of investor's jokes. Best Buy's FY 2013 EPS have crumbled during the first nine months of the year due to soft revenue performance, gross margin deterioration and restructuring costs. We recently softened our criticism of Best Buy because we presumed that Best Buy's Founder Richard Schulze would finally issue a formal bid to acquire the 80% of Best Buy that he did not already own. Schulze resigned as BBY's Chairman in May in the wake of the Brian Dunn scandal and floated the idea of buying out BBY at $24-26/share in August. After months of rumors and speculation, Schulze had a "hard deadline" to make a bid by Sunday December 16th, 2012 but was given a 75 day extension by Best Buy's board in order to evaluate how Best Buy will perform in the Q4 2013 holiday season. We agree with Lee Schafer of the Star Tribune that this bodes well with regards to the probability of a deal between Best Buy and the Schulze group, though we expect that it will be shy of the $5B-$6B ($15-$18/share) that was speculated by the investment community on December 13th.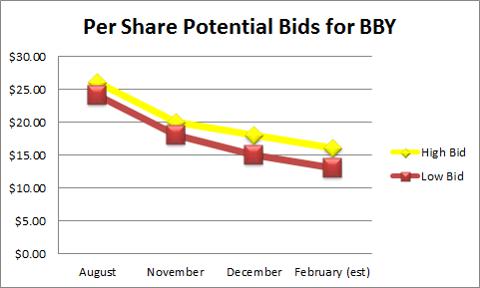 Source: Our December 14th Report on Best Buy and Our Estimates
We were intrigued by a recent article by former Seeking Alpha Contributor Rocco Pendola about how to solve Best Buy's problems. Pendola suggested that BBY fire its recently hired CEO Hubert Joly and promote BBY's President Stephen Gillett into the CEO's chair. Pendola also suggested that Best Buy find a way to partner up with Amazon (NASDAQ:AMZN). While Amazon's profits have been declining since 2010, Amazon's revenues have seen strong growth during this period and the investment community believes that Amazon's declining EPS is "by design". At the very least, Best Buy could bring to the table in a potential partnership between Amazon and Best Buy the ability to tap into BBY's physical store footprint in order to help it with its strategic customer service initiatives. BBY's CEO Joly also contemplated buying consumer electronics brands as a way of locking up exclusive merchandise as he seeks to turn Best Buy's fortunes.
We actually considered buying shares of Best Buy as a "short-term speculative play" on December 13th. We were willing to consider a 1% allocation to Best Buy for a short-term time period (1 week) based on the merger news surrounding Best Buy. We feel that we are better men and better professionals for the experience in which we considered buying Best Buy as a "short-term spec play" and demurred from buying it because the proposed transaction got us out of our comfort zone and because it allowed us to set a "maximum value-at-risk" for the proposed transaction as well as forcing us to set a "maximum holding period duration" and to "force us to cut our losses" for the proposed transaction. When we saw that Best Buy had given back its merger speculation gains, we felt like we were dipped in a metaphorical "River Styx of investing" and that even we were willing to set a "maximum value-at-risk" and other ground rules, we were able to avoid actually risking the money and suffering the loss.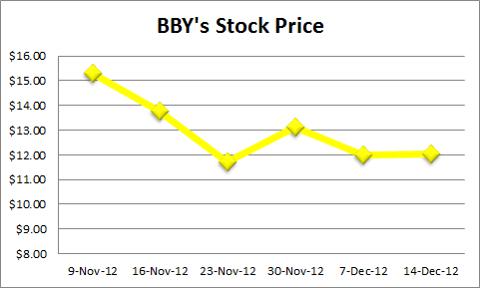 Source: Morningstar Direct
We expect that if Schulze and his backers make an offer to buy Best Buy in February, it might not be at the premium that investors are expecting. Best Buy has seen its FY 2013 EPS forecasts deteriorate over the last five months. BBY's consensus EPS estimate for FY 2013 as of July was $3.30 and it has dropped to $2.48 as of December. Furthermore, BBY's FY 2014 consensus EPS estimate is expected to be $2.24, which represents a 9.7% decline versus FY 2013's consensus EPS estimate. Schulze previously floated the idea of a $24-$26/share bid during the summer and the recent speculation was projecting a $15-$18/share bid. When Schulze and Best Buy announced an extension to February, we reduced our estimate to a range of $13-$16/share. Regardless of whether Schulze and his backers had the money to buyout Best Buy, we can see why Schulze is taking his time with regards to this deal. Best Buy's results were pretty soft from 2009-2012 and its results have been really poor in FY 2013 and analysts are expecting this to continue into FY 2014.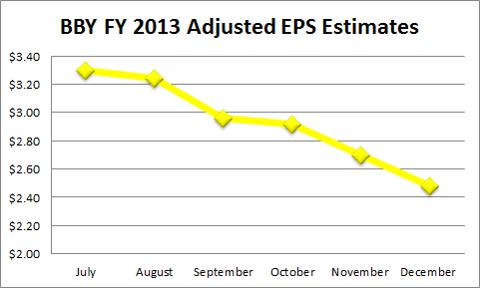 Source: Bloomberg LP
In conclusion, we like the fact that Best Buy has been beaten down so badly that it was getting cheaper by the hour. While we have no illusions that Best Buy's share price has been beaten down due to the deteriorating fundamentals at the company, we believe that investors should take into account the strong potential for a bid from Schulze and his investor group. We think that Best Buy's best course of action would be to accept whatever bid that Schulze and his group put together and to let Best Buy be Dick Schulze's problem.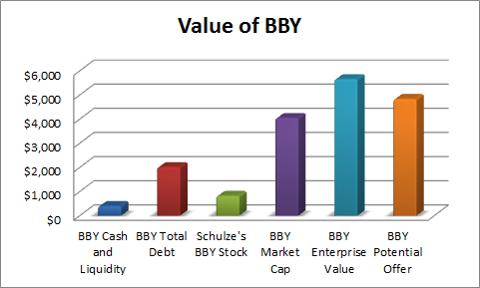 Source: Morningstar Direct and Our Estimates
Disclosure: I have no positions in any stocks mentioned, and no plans to initiate any positions within the next 72 hours. I wrote this article myself, and it expresses my own opinions. I am not receiving compensation for it (other than from Seeking Alpha). I have no business relationship with any company whose stock is mentioned in this article.
Additional disclosure: This article was written by an analyst at Saibus Research. Saibus Research has not received compensation directly or indirectly for expressing the recommendation in this article. We have no business relationship with any company whose stock is mentioned in this article. Under no circumstances must this report be considered an offer to buy, sell, subscribe for or trade securities or other instruments.