American Realty Capital Properties Inc. (ARCP) said yesterday that it entered into a definitive merger agreement under which it will acquire all of the outstanding shares of American Realty Capital Trust III Inc., a non-traded REIT, resulting in a combined company with $3 billion of enterprise value.
Under the deal, each outstanding share of American Realty Capital Trust III will be converted into a right to receive, at the election of each stockholder, either 0.95 share of American Realty Capital Properties common stock or $12 in cash. Based on American Realty Capital Properties' closing price of $12.90 per share on Dec. 14, the consideration is equivalent to $12.26 per share.
As explained in the company press release yesterday:
American Realty Capital Trust III stockholders may elect to receive 100% stock consideration in a tax-free exchange; however, in no event will the aggregate consideration paid in cash be paid on more than 30% of the shares of American Realty Capital Trust III 's common stock issued and outstanding as of immediately prior to the closing of the merger.
Houdini Pulls another Rabbit Out of the Hat
Wow! It's certainly a magical year for Nicholas Schorsch, Chairman and CEO of ARC Properties Advisors. The veteran non-traded REIT pro has put together a string of liquidity transactions that are certain to raise the bar for investors and peers alike.
Rabbit #1
As I wrote back in February (American Realty Capital Trust - The Newest Triple Net Threat), American Realty Capital Trust, Inc. (ARCT) - cofounded by Schorsch - was successful in listing shares almost four years to the day since the REIT was launched as a non-traded publicly-listed security. I recommended shares then that closed on the first day of trading at $10.49.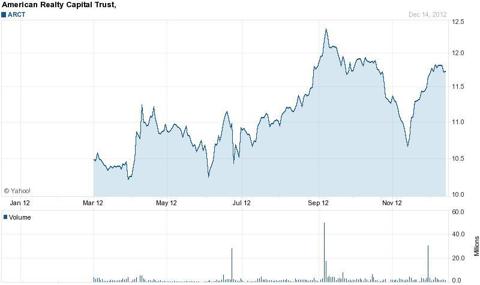 Rabbit #2
Then around ninety days later (on June 6th) I wrote (Healthcare Trust Of America: Breaching Liquidity And Transparency By Going Public) about another non-traded REIT going public, Healthcare Trust of America (HTA). American Realty Capital's subsidiary (run by Schorsch), Realty Capital Securities assisted with the listing of a second Schorsch related publicly-listed REIT with the inauguration of HTA. I also recommended the company when it opened for trading (at $10.00) and I continue to recommend the shares today (closed today at $10.02).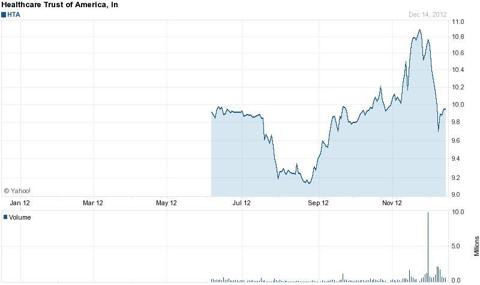 As I wrote then:
By tapping the public markets, HTA's current investors will be able to access targeted full-cycle liquidity while also achieving full investor confidence in an industry that is perceived to be less main-stream. This is a significant milestone for the sponsor as well as the REIT industry as bad news has plagued several non-traded REIT sponsors like Apple REIT (see Michael Terry's article here), Inland Group, Behringer Harvard, and others.

And recently, Inland Group's highly leveraged shopping center REIT, Retail Properties of America, Inc. (RPAI), listed shares with a less enthusiastic reverse-stock-split offering. For those investors who originally bought the REIT at $10 a share, the actual split-adjusted value of the stock was less than $3 per share (a decline of over 70%). This ill-engineered full-cycle transaction was driven by excessive debt (RPAI's debt/EBITDA ratio for Q1-12 is 8.98x) and less desirable legacy property.
Rabbit #3
Of course, the third liquidity event for Schorsch is the proposed merger of ARCT and Realty Income (NYSE:O) - announced on September 6th. As I wrote (Attention Dividend Shoppers: O What A Great Bargain For This Triple-Net REIT) about the proposed merger:
The deal, which is still subject to shareholder approval and is expected to close by the first quarter of next year, will create the world's largest net-lease real estate investment trust and the 18th-largest publicly traded REIT. The combined company will have a $7.6 billion market capitalization and an enterprise value of $11.4 billion, a size that makes it a candidate for inclusion in the S&P 500.
Rabbit #4
Now we get to the current topic and the reasons that I have labeled Schorsch as the Houdini in non-traded REIT-dom.
First, let's go back to an article I wrote back in September 2011 (American Realty Capital Properties IPO: Not A 'Sleep Well At Night' Investment) in which I wrote about ARCP:
I am concerned that the bank branch supported revenue stream will not be able to support the 7% dividend if some of the bank branches do not renew in 6.9 years. In my opinion, a REIT should acquire and invest in assets that are as close to the organic creation as possible, not in older facilities with questionable business models (i.e. Blockbuster, Circuit City, etc…).

In the case of the new IPO, management appears to be solely focused on paying off (or bailing out) its previously arranged secured debt and not on providing a diverse, long-term triple net lease portfolio for investors.
Further, I explained that my biggest issue with the ARCP IPO was that
the assets are highly concentrated with just two tenants, and one of the two tenants is a troubled bank with minimum lease term remaining. Furthermore, like many banks, branches are being reduced in size and, as a result, the "brick and mortar" model is becoming less important (to the banking model).
Now fast forwarding and around fifteen months after the ARCP IPO, the proposed ARCP / ARCT III combined deal (or combined company) is expected to be comprised of a portfolio of over 800 properties that are net leased to investment grade and other credit tenants totaling approximately 18.9 million square feet of space across 44 states.
The combined company will be 100% occupied with around 77% investment grade tenants. What started as two industries (or categories) will be represented by 20 that will include annualized rental revenue of around $179.8 million. The combined portfolio will have a weighted average lease term remaining of 12.4 years.
The top ten combined company tenants include Dollar General (DG), Citizens Bank, FedEx (FDX), AON, Walgreens (WAG), General Mills (GM), Family Dollar (FDO), Bed Bath & Beyond (BBBY), GSA, and Williams Sonoma (WSM).
The merged portfolio of the resulting $3 billion, 806-property company will be weighted 70% toward long-term leases and 30% toward shorter-term leases.
"The unique aspect to this is very, very specific," American Realty Capital Properties CEO Nicholas Schorsch said during the call.
There are no other net-lease companies that acquire both long- and mid-duration, corporate- and investment-grade net leases as an exclusive focus. This is about stability plus growth. This is a best-in-class, well-diversified net-lease portfolio with high-quality-credit tenants and long-weighted lease terms in addition to growth.
Excluding the one-time costs associated with the closing of the transaction, ARCP estimates that 2013 FFO should range from 93 cents to 97 cents per share. AFFO per share for 2013 should range from 91 cents to 95 cents. For 2014, the company is expecting FFO in a range of $1.05 per share to $1.09 per share, while AFFO is expected in a range of $1.06 per share to $1.10 per share.
On a pro forma basis, the resulting company will be the fifth-largest net-lease REIT in the industry. The purchase price represents a going-in cap rate of about 5.9%. For ARCP, the result is a 445% increase in the number of properties and a 688% increase in square footage, he said, adding that the acquired portfolio is 100% occupied.
ARCP closed yesterday at $12.74 and the company, with a $142 million market cap is paying a dividend yield of 6.94%.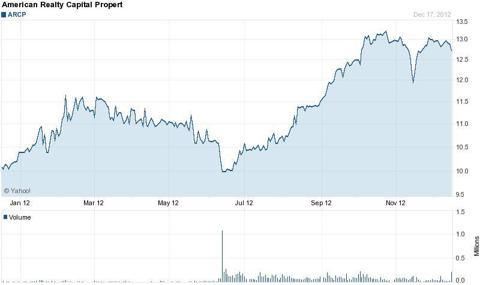 Houdini Has a Proven Track Record for Creating Full Cycle Liquidity
Schorsch has certainly mastered the art of creating full-cycle market liquidity for non-traded REIT investors. In fact, I would go as far as saying that he has "schooled" the other non-traded REIT peers by setting the bar for both record liquidity execution and best practices.
Cole Credit Trust II, a Phoenix-based non-traded REIT with assets of around $3.35 billion (as of Q2-12) has informed the SEC that the company is evaluating its options to possibly initiate a program full cycle event. Cole Credit Trust's Board engaged Morgan Stanley and UBS Investment Bank (in March 2012) that the company was considering options to create a successful exit transaction.
With the proposed reverse merger into ARCP, ARCT III will have successfully initiated and completed the full liquidity monetization within less than one-third of the time it has taken Cole Credit Trust II. To date, Cole Credit Trust II has not announced a buyer or liquidation event yet.
It is clear that Schorsch has been tactful in maneuvering his way around the Wall Street machine and his successful track record of incubating non-listed REITs is extraordinary. It appears that Schorsch, who may soon be a substantial shareholder in Realty Income (with the proposed merger transaction), will soon need to learn how to turn bunny rabbits into dividends - or shall we say a dividend machine (see article I posted today on Why Sound Investors Should Consider My 'Bond-Proxy REIT' Picking Strategy).

Disclosure: I have no positions in any stocks mentioned, and no plans to initiate any positions within the next 72 hours. I wrote this article myself, and it expresses my own opinions. I am not receiving compensation for it (other than from Seeking Alpha). I have no business relationship with any company whose stock is mentioned in this article.