Today we have some housing data out, and we have included a chart to show the trend which has been taking place since we bottomed, and more specifically over the past year or so. It was a long way down, but demand has built up and we suspect that new single-family starts will need to pick up in order to meet future demand as new households are formed and families which have put off the process of upgrading to larger domains begin that process once the economy picks up - which we fully believe will begin in 2013.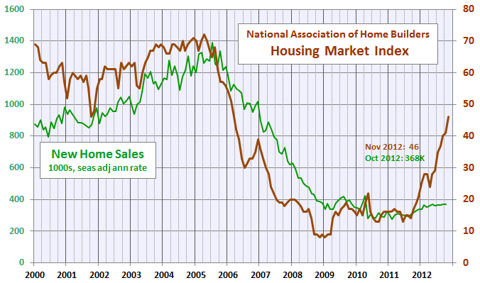 Chart courtesy of Boyd & Boyd Properties, LLC.
We have economic news due out today, and it is as follows:
Current Account Balance (8:30 AM EST) - -$104.2 billion
NAHB Housing Market Index (10:00 AM EST) - 47.0
Asian markets finished higher today:
All Ordinaries - up 0.49%
Shanghai Composite - up 0.10%
Nikkei 225 - up 0.96%
NZSE 50 - up 0.32%
Seoul Composite - up 0.51%
In Europe markets are higher this morning:
CAC 40 - up 0.07%
DAX - up 0.54%
FTSE 100 - up 0.41%
OSE - up 0.38%
Technology
Much like we thought, Clearwire's (CLWR) board accepted a slightly sweetened bid from Sprint which was just above the original offer and equal to the maximum offer allowed by Softbank, Sprint's majority holder. Our argument was that most of the gains had already been priced in after Softbank bought into Sprint due to speculation that Sprint would then buy Clearwire. Remember, Clearwire was close to having gone under and was struggling for cash with an iffy outlook shortly before the M&A activity picked up in the industry. This was one of those situations where the stock was worth nothing when no one wanted it and then as soon as someone did, it seemed the asking price kept going up. Long story short, Sprint got their additional spectrum for a fair price and shares in Clearwire traded lower yesterday by $0.46 (13.65%) to trade more in line with the buyout offer as shares closed at $2.91/share.
OCZ Technology Group (NASDAQ:OCZ) saw shares close yesterday at $1.90/share after rising $0.26 (15.15%) with decent volume of 4.2 million shares. This is one we have in the retirement portfolio, and has been a big loser for us. Investors are still waiting to get the financials and other issues cleaned up, but new management is cleaning house and streamlining the business to focus on higher margin areas which should cut costs and increase profitability. The price action yesterday seems to have been that word got out that the company had mostly completed their audit, because we doubt that the press release that morning (see here) got investors excited. The company will host a conference call today at 9:00 AM EST to discuss the recent events as announced late last night (see press release here). We believe that is the real reason for the rise. If this call goes well we would look forward to the January 6th Needham conference the company will attend as the next catalyst.
We have been amazed at the run in Alcatel-Lucent (ALU) shares recently, and with their $0.08 (6.45%) rise yesterday to $1.32/share the shares are up some 35% over the past month. The fact that they received financing from some respected names helps, but so too does the fact that they continue to receive analyst upgrades. Yesterday saw Natixis upgrade the stock to a Buy from its previous Neutral rating which was then followed up by Evercore then initiating coverage with an Overweight rating. Not too bad for a Monday morning. It sure looks like momentum of opinion has shifted, but now we need to see the turnaround taking place.
Banking
Bank of America (NYSE:BAC) hit a new 52-week high yesterday with shares closing at $11.00/share after rising $0.42 (3.97%) in yesterday's session. There were 169.6 million shares traded and it was heavy volume as tends to be the case when investors put the risk on trade into play with the banks. We think that there are still some risks associated with the stock, but most of those qualify as headline risk with minimal financial repercussions in our opinion. There are still steps that the bank can take to improve profitability, but in the current environment we are of the thinking that as long as they can drag out their liabilities and any arising liabilities then the company should fare well. Due to day traders and the high frequency traders' propensity for jumping in on this one, we think that if financials are going to rally into January then Bank of America is where one will want to be. Long-term we think there are better plays, but regarding current momentum this is the short-term play if the sector is going to perform well.
Biotechnology
We try to follow all the stocks we mention in our articles and especially those in industries or niches which we mention. While going through our various lists yesterday we noticed shares in Vivus (NASDAQ:VVUS) having risen $1.60 (13.89%) with shares closing at $13.07/share. The move was the result of two data points released by independent parties showing that prescriptions for the company's weight loss drug Qsymia rising. The data agreed on the trend, although not exactly on the rate of the trend. One set indicated that prescriptions had risen by 44% while another indicated that it was a 15% rise. Either way, both of those numbers are obviously better than what the company had to say previously to investors regarding the situation so it will be interesting to see if insurers and various plans have approved the medicine and if doctors are getting comfortable prescribing it to their patients.
Disclosure: I am long OCZ. I wrote this article myself, and it expresses my own opinions. I am not receiving compensation for it (other than from Seeking Alpha). I have no business relationship with any company whose stock is mentioned in this article.