This Tuesday morning we have big news out of the Utica with one of our plays consolidating its hold on some of the best acreage in the play. The news came out yesterday (Monday) after the close, and we suspect today that it will lead to some profit taking and possibly some downgrades in the near future on concerns over cash flow and whatever other nonsense the Wall Street analysts can dream up. We also want to discuss our outlook on the uranium industry which we think got some great news out of Japan over the weekend and puts the industry in a place which it can rally from should Japan confirm its intentions to definitely stay the course with nuclear power (see accompanying graph in the article).
Oil & Natural Gas
The big news yesterday was regarding one of our main holdings in the Utica play, Gulfport Energy (NASDAQ:GPOR). The shares hit a new 52-week high, which was also a new all-time high. This simply was a continuation of the bullish trend which the company has been in since the release of these monster Utica wells. After the close however, the company announced a deal which will increase its position in the Utica by about 30,000 net acres in the Utica for approximately $300 million. Gulfport is buying out one of its partners, which happens to also own a large stake in Gulfport. It is a situation that some in the past have questioned, but which we have ignored because at the end of the day it has been a mutually beneficial relationship for all parties, ourselves included (as shareholders that is, not some inside party).
To pay for this additional Utica exposure the company is going to utilize its stock price by issuing 9 million shares with an option for an additional 1.35 million shares to cover overallotments. The book runner for the deal will be Credit Suisse, and our guess is that this will put a damper on the share price in the near term as the company's deal does not include interests in 17 wells or its surrounding acreage that is found within the land purchase. In our opinion the $10,000/acre price seems reasonable for the play but is a bit above some of the purchases the company had recently discussed, but it is premium land too.
Coal
We have previously discussed some of the players in the coal sector approaching resistance levels which could possibly put a damper on the current rally. One issue which we did not see arising was brokerages beginning to come out and lower their price targets on the coal players. That was something which we thought we had passed, but now it seems that investors find themselves in one of those battleground areas where the Wall Street analysts begin to take sides and create a pivotal point for shares. This is getting quite interesting and has our attention. Yesterday however, Peabody Energy (NYSE:BTU) got taken lower after BMO Capital lowered its price target on the stock to $32/share from $36.50/share. That certainly takes out a bit of expected upside, and shares fell $1.05 (3.79%) on the news to close at $26.63/share.
Iron Ore
We discussed Vale (NYSE:VALE) yesterday and the fact that shares were approaching $20 where they have had some issues on a technical/psychological level. History almost repeated itself yesterday as shares moved higher late in the day to break above $20/share only to sell off into the close. The one bright spot was that although shares were unable to hold onto the highs for the day, they did manage to stick the landing right at $20, so we will have to watch this today. We have no links to back this rumor up, but we did get a message saying that Vale was one of the larger brokerage houses' top picks for 2013.
Uranium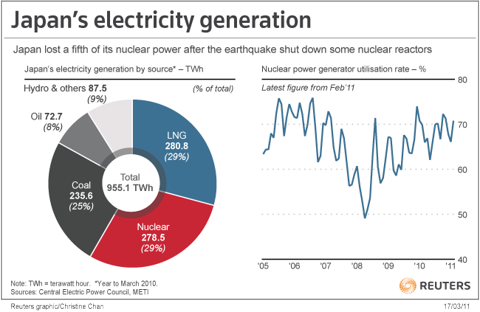 This was the breakdown of Japan's electricity generation prior to the Fukushima disaster. Chart courtesy of Reuters.
Following up on the Japanese election news, we would like to point out that if the country does reverse course on the decision to abandon nuclear power, then uranium miners should rally accordingly. We have been hearing rumors that many of the utilities and others in the uranium market who are buyers for end users have been under the assumption that both Japan and Germany would be selling their stockpiles as they had their nuclear programs wind down. We had always thought it was a higher probability that Germany abandoned nuclear, whereas Japan would realize it needed nuclear far too much to walk away from its already sizeable investment and heavy reliance on the energy source. It appears that this will play out just as we thought.
If that is the case, investors want to be invested in names such as Uranium Energy Corp (NYSEMKT:UEC) and even Cameco (NYSE:CCJ). Both names were higher yesterday, with UEC, as the company is called, leading the way. That is a trend which should continue for the juniors once it is official that Japan will not be switching to another power source, especially for those names like UEC who are not hedged to the price of U3O8 (Cameco is locked into long-term contracts and thus less sensitive to movements in the price).
Disclosure: I am long GPOR. I wrote this article myself, and it expresses my own opinions. I am not receiving compensation for it (other than from Seeking Alpha). I have no business relationship with any company whose stock is mentioned in this article.