Back in late November I put forth an article on buying a bullish call spread on Research in Motion (RIMM) as I thought the stock had some good short term momentum drivers and it was a good risk/reward play. That option play has proved to be lucrative and I closed my position yesterday with a double on the call. Moreover, I went in the opposite direction on RIMM by betting the shares will go down over the next month. I bought the Jan 14 call while simultaneously selling the Jan 10 call for a credit of $3.10 net commissions. As long as the shares finish below $13.10 a share on Jan 19th, the play will make money. If the stock gives up a substantial amount of its gains over the last few months, I can make a maximum profit of $3.10. My downside is limited to 90 cents a share, so I like the risk/reward profile on the downside. I had myriad reasons for reversing my positioning on Research in Motion.
First of all, the shares have almost doubled in the last three months and are overdue for a pullback.
The stock did not participate in Monday's significant market rally.
I also believe both Research in Motion and Nokia (NYSE:NOK) have become beta plays on the decline in Apple's (NASDAQ:AAPL) shares. This has been mentioned several times on CNBC's "Fast Money" and some other financial blogs. It also has been a lucrative play over the last month (See Chart). I believe this is now overdone although I am keeping my Jan 14 $5 call positions on Nokia open as I think the company is turning around.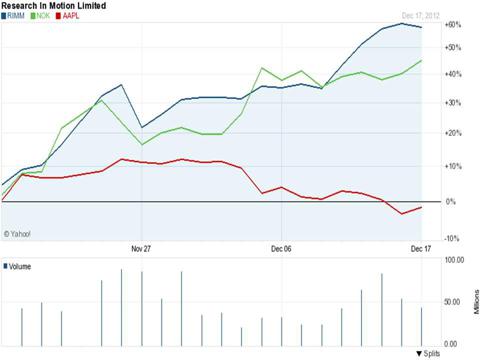 I think Apple is near its bottom and will reverse in the near future once capital gains selling ceases by the end of the year. Once this happens, I believe this beta play on RIMM will go away.
Research in Motion reports earnings on Thursday. Given the stock's huge run up over the past few months and the history of the company's management during these earning calls over the last few years; the potential for disappointment on either earnings or guidance is high. This would have a significant negative impact on this high beta stock. For more on what could go wrong on the earnings conference call, click here.
Short interest is down to just over one day to cover based on average volume, so I don't see a short squeeze on the horizon.
The stock is massively above its 200 day moving average, which could make it vulnerable to a pullback (See chart).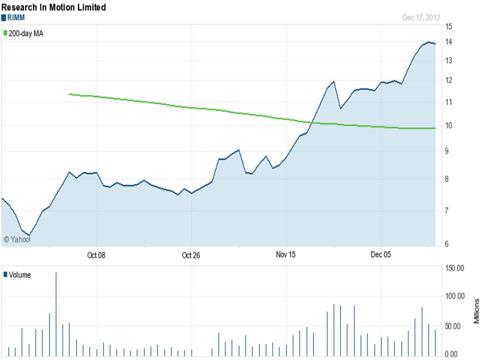 Finally, the new BB10 enabled devices have not even launched yet. The potential of a launch setback, poor reviews or marketplace apathy for the coming products has to be taken into consideration. In contrast, good news around the progress of these devices seems like it is already priced into the stock.
Disclosure: I am long AAPL. I wrote this article myself, and it expresses my own opinions. I am not receiving compensation for it (other than from Seeking Alpha). I have no business relationship with any company whose stock is mentioned in this article.
Additional disclosure: Short RIMM as described in article. Long Jan 14 $5 calls on NOK