Business Development Companies (BDCs) have never fully-recovered their pre-2008 popularity with retail yield investors. Prior to that, the sector had survived well-publicized "short attacks" and questions regarding their business model in the early-2000's, coming through the 2000-02 bear market pretty well. With a growing economy and access to capital markets, the sector performed outstanding from 2002-07, with new entrants and a growing shareholder base allowing the companies access to cheap capital. Right now, double-digit yields are plentiful for these quasi-equity, quasi-debt investments. Here are some yields on what I consider a well-diversified conservative BDC basket:
Unfortunately, the same business model as other pass-through investments such as REITs and MLPs meant that while the BDCs had plenty of capital during the good times when they didn't need it, they also didn't have capital and liquidity when they did need it, especially during the 2008-09 Credit Crisis. Investor favorites like American Capital Ltd. (NASDAQ:ACAS) plunged from $35 to under $1 in a little over a year. Even supposedly conservative debt investment-focused favorites like Apollo Investment (NASDAQ:AINV) and PennantPark Investment (NASDAQ:PNNT) went down 80-90%. Only BDCs that went public very late in the cycle - like Main Street Capital (NYSE:MAIN) and Fifth Street Finance (NYSE:FSC) - managed to get dragged down less than the S&P 500. While there is no substitute for a strong economy for the BDCs, the entire sector has certainly 'gotten religion' and upped their liquidity, diversified their funding methods, and increased conservative investments compared to before the credit crisis.
Here are 5 BDCs suitable for conservative investors which can provide good yields in today's environment while mitigating the worst of any downturn should the economy stumble in 2013:
Golub Capital (NASDAQ:GBDC): GBDC is one of the most conservative of the BDCs. Golub came public in 2010, so it has none of the legacy, high-priced problematic pre-2008 investments that hit many of the BDCs in recent years. GBDC just received approval from the Small Business Administration for a second SBIC license which grants access to cheaper, more permanent funding for BDCs.
Golub has underperformed the S&P 500 and most BDCs during 2012. That is not unexpected since GBDC is a lower-yielding BDC and more aggressive "risk-on" BDCs have been more sought after. The investment portfolio is of higher quality and lower yield than most BDC peers because of GBDC's focus on more senior debt assets. The portfolio has 37% 1st-lien senior debt, 41% unitranche (senior + 2nd lien) debt, and 20% in 2nd-lien & subordinated debt. Equity interests are a token 2%. The average coupon in GBDC's portfolio is about 9% compared to 11-13% for other BDCs, an indication of reduced risk profile.
With the stock price at only a 5% premium to recent NAV, a secondary offering doesn't appear in the works, especially with the SBIC funding now available. GBDC has experienced management who have implemented shareholder-friendly fee and incentive compensation practices. The tradeoff for working higher in the capital structure is lower yield, but even if GBDC stock performance is flat an investor should still be happy: the shares yield 8.3% on her quarterly dividend.
Fifth Street Finance : Fifth Street is run conservatively, but issues equity as if they were back in the 2005-07 era when originations and lending practices ran wild. That's the rub with FSC: they have quality assets, and are underleveraged (well-below the statutory maximum) yet continue to do secondary offerings when they would appear to have ample funding firepower in reserve. As a result, the company has had to trim the dividend twice in the last 2 years. As of Q3 2012, FSC's portfolio was 96% invested in debt (70% floating/30% fixed rate). The investment portfolio was comprised of 1st-lien loans (70%), 2nd lien loans (10%), subordinated loans (16%), and preferred/common equity (2%/2%). The average yield on the portfolio was 12%, 11% if you exclude PIK bonds.
The dividend is currently $1.15 per year but EPS might be a few pennies light of that in the September 2013 fiscal year. In order to start fully covering the dividend, Fifth Street is going to need investment yields to rise - unlikely, given increasing competition in the middle and high-yield markets - or it is going to need to run leverage closer to optimum levels. Like Golub, FSC trades at a 5% premium to NAV, which is reasonable in the current environment. FSC is one of the growing number of BDCs that is paying a monthly dividend and that yield is now 11% at current prices.
PennantPark Investment Corp. : PennantPark is another conservative BDC that focuses on investments higher-up in the capital structure. There is one troubled debt investment which is tied to the delay in the Keystone Pipeline project , but there are potential offsetting portfolio gains in PNNT's portfolio. Under-leveraged at about 0.52x debt/equity, PNNT also trades at about 107% of book value. PNNT is seeing good growth in the M&A middle market and expects to deploy existing funds and repayments into new deals going forward. PNNT had large amounts in lower-yielding syndicated and higher-capital structure debt instruments and is slowly re-deploying those funds into higher-yielding investments. PNNT is run by alumni of Apollo Investment. PNNT yields 11.7% and pays that dividend quarterly.
THL Credit (NASDAQ:TCRD): THL Credit is a newly-formed BDC focused on originating mezzanine loans to middle market companies. TCRD's target is the 2013 and 2014 refinancing surge in middle markets when $360-$370 billion in high-yield and leveraged loans come due and must be rolled over or refinanced. This is a huge opportunity for TCRD (and other BDCs) as the refinancing/rollover surge is much larger than the $200 billion each in 2011 and 2012. THL Credit's investments have a weighted average yield of 13.9%. THL Credit's investment portfolio consisted of first lien debt (33%), second lien debt (15%), subordinated debt (45%), income producing equity interests (6%), and equities (1%). The debt portfolio was 42% floating-rate and 58% fixed-rate investments. Price to NAV is 106% at the current share price. The Q3 2012 portfolio looks like this (chart courtesy of Deutsche Bank):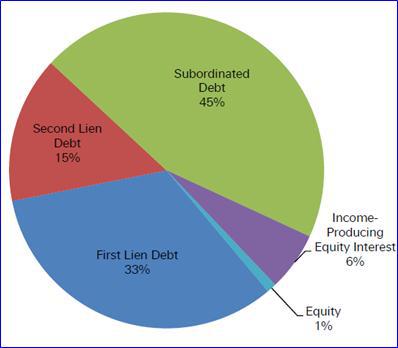 As an example of the fight for yield, investments made by TCRD yielded 12.4% in Q3 2012, down from almost 16% in Q2 2012 and 13-14% in the quarters before that. Competition heated up, more deals were offered with PIK interest, covenant quality deteriorated - smart BDCs like TCRD did not chase those deals for an extra 100-150 bp. That focus on credit quality has helped TCRD avoid any problem investments to date. TCRD is still waiting on an SBIC license for access to an accretive source of cheap funding. If not approved, TCRD can still fund loans and investments from a recent equity offering plus bank lines of credit but longer-term EPS and dividend growth will slow. The dividend increased in Q3 2012 to $0.33 per quarter up from $0.32 and TCRD now yields 9.4% with the elevated payout.
TCP Capital (NASDAQ:TCPC): TCPC is one of the newest BDCs with a May 2012 IPO. She also has one of the most shareholder-friendly fee structures in an industry where for too long and for too many companies it is management first, shareholders second. In addition to high-water marks for performance and lower fees compared to peers, TCPC also waived its management fee for 2012 which allowed it to recently pay a special dividend in addition to the regularly scheduled quarterly payment. Low-rate liabilities the next few years have allowed TCPC to come running out of the gate with built-in EPS and dividend growth if they can put their capital to work efficiently. Q3 2012 investment portfolio breakdown (courtesy of DB):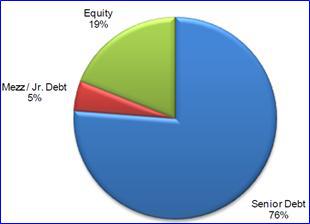 TCPC's legacy portfolio and restructured investments have let it accumulate a 20% equity position, a drag on investment yield (few middle-market equity investments pay dividends). However, TCPC is selling off these non-interest bearing assets and redeploying in debt which should boost earnings even when the management fee comes back online. TCPC is trading at 101% of NAV, which is what you would expect for a newer publicly-traded IPO. Her investment portfolio had an average weighted yield for new investments in Q3 2012 of 11.6%.
TCPC should be fully-invested with her equity, SBIC, and other funding capital by mid-2013. In the meantime, TCPC yields 10.8% following a 5 cent boost in the dividend to $0.40 quarterly. The dividend should be safe so long as earnings are in the high $0.30's once management starts to get paid while 100% dividend coverage awaits the investment ramp-up.
Here are how the 5 BDCs have performed over the last year:
Recall that BDC's are limited by statute to a 1:1 debt/equity ratio. This makes sense since many of their investments are the equivalent of high-yield investments and there are limits to how high you want to leverage risky assets. Since 2009, the BDC sector has cut exposure to equity investments and concentrated more on debt instruments, including senior and secured debt. The ability to access low-cost SBIC funding, something not widely available pre-2008, helps diversify funding sources and provides low-cost capital.
The investment portfolios of BDC's are the equity equivalent of BB/B-rated high-yield debt. Unless you have a high degree of confidence in a particular company or management, you want to buy a basket of the stocks and spread your risks. Like the high-yield bond market, the stocks are cyclical investments. However, we are entering only year 4 of the economic expansion and most recoveries from recessions last 5 years. So BDCs could have another 2 years before the economy and credit conditions turn unfavorable. In the meantime, double-digit yields and more conservative lending standards should help the above-mentioned BDCs weather any downturn with much more resilience than the sector experienced in 2008-09.
Disclosure: I have no positions in any stocks mentioned, and no plans to initiate any positions within the next 72 hours. I wrote this article myself, and it expresses my own opinions. I am not receiving compensation for it (other than from Seeking Alpha). I have no business relationship with any company whose stock is mentioned in this article.