In the past few months, Apple (NASDAQ:AAPL) has turned from a Wall Street darling into an ugly duckling. As of Friday's closing price of $509.79, Apple trades at 9.5x 2013E P/E, or just 7.0x 2013E P/E when adjusted for cash on hand of $129 per share (see my initial article on APPL for detailed valuation analysis). The main cause of this decline and the main concern investors have these days is Apple's gross margins (+40%), whether Apple can continue to maintain these industry leading, industry envied margins (Samsung margins 37% and Nokia (NYSE:NOK) margins 22%). Let me spend this entire article covering every aspect of this critical concern, Apple's gross margins.
Historical Gross Margins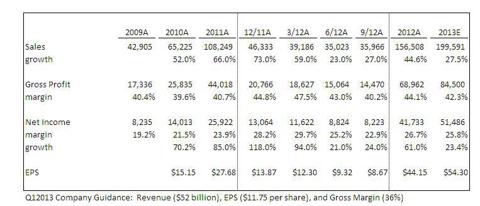 In the past 4 years (2009-2012), Apple has maintained gross margins at or above 40%, with the most recent 2012 year ending at 44.1%. However, what you will also notice is that for the past 4 quarters, Apple's gross margins have also declined from 44.8% in 12/31/2011to 40.2% in 9/30/2012. Furthermore, during last quarter's earning call, Apple gave guidance of just 36% gross margins for the upcoming quarter. Granted Apple has always historically given very conservative guidance (only to beat), nevertheless this was a major concern for investors. Apple gave the following explanations on their earnings call: a) largest new product launch in history (iPad mini, iPhone 5, new Mac lines, new iPod lines, etc.), b) new products start at height of cost curve in beginning (case with new products in past), c) lowering the price for iPhone 4S and 4, and d) iPad Mini priced aggressively.
Most Wall Street analysts' get point b) which has to deal with operating leverage in manufacturing: when you launch a new product (with new manufacturing lines/processes), the unit cost will be high in the beginning, but will steadily decrease over time as your volume of units increases (due to higher operating efficiency/productivity and manufacturing overhead costs spreading over more units). As a result, Wall Street analysts' still project 2013 full year gross margins of 42.3%, even if Q1 may start off lower at 36%.
Revenue Contribution by Product Line
Before I can dig into the gross margins by each product line, I need to first cover the revenue contribution.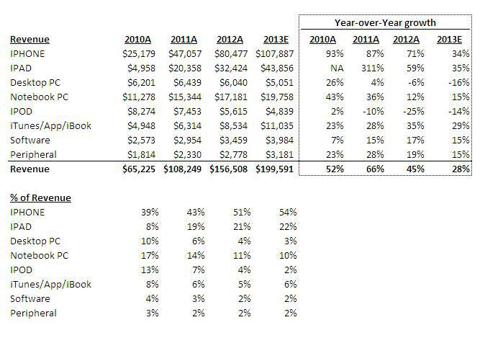 As you can see, the majority of Apple's revenue growth in the past 3-4 years has come from their two mobile product lines: iPhone and iPad. Combined, these 2 product lines contribute over 75% of Apple's revenue (iPhone is 54% and iPad is 22%)! Apple has wisely positioned itself to fully participate and benefit from the shifting trend toward mobile consumer products.
Let's dig a little further into what is driving the growth in iPhone and iPad revenues. Is it coming from price increases or is it coming from more quantities sold? As shown below, revenue growth is primarily driven by unit growth, and very little from price increases. If anything, ASP or average selling price, has declined for iPad as it becomes more mainstream and begins to replace PCs (ie: iPad mini priced at $329).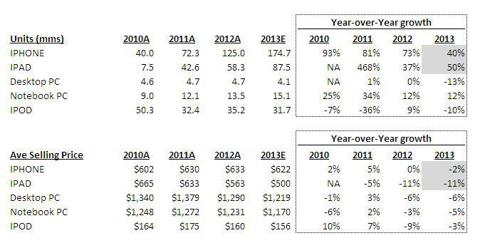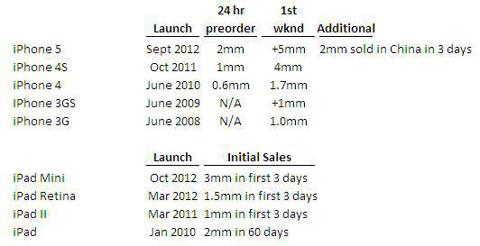 Granted Apple has had tremendous success with historical unit growth for iPhone (81% and 73% for 2011 and 2012) and iPad (468% and 37% in 2011 and 2012), but are the 2013 estimates reasonable? Well for iPhone, the 40% growth is actually assuming iPhone grows slower than the smartphone industry growth rate of 47% for 2013 (see my previous Apple article for industry statistics on how smartphones are replacing basic feature phones around the world). For iPad, the 50% growth is also assuming that iPad will growth slower than tablet industry growth rate of 75% for 2013. There seems to be a healthy amount of negativity baked into Apple's current projections.
Gross Margins by Product Line
Now let's get into the gross margins by each product line. This analysis is a little difficult to do, given Apple does not disclose gross margins by product categories (only company wide margins). What I have done is to try to piece as much as I can together through the following sources: a) Wall Street analyst reports, b) comparable industry/competitor margins, c) other data disclosed by Apple. As a result, here is what I have compiled as my best guess of how Wall Street is getting to a 42-43% margin for 2013:

As you can see, iPhone and iPad are the highest gross margin products for Apple at 55% and 30%. Given their high gross profit margins contribution, these two products comprise over 85% of total company gross profit.
But Teardown Reports on iPhone and iPad show 70% and 40% Margins?
You may be wondering, how come Wall Street has projected gross margins of 55% and 30% for iPhone and iPad, when there has been recent teardown reports showing gross margins of 70% and +40% (even iPad Mini priced at $329 has 41% margin). By the way, here are the links to the reports: iPhone teardown, iPad teardown, and iPad mini teardown. For convenience, a summary of these reports is shown below: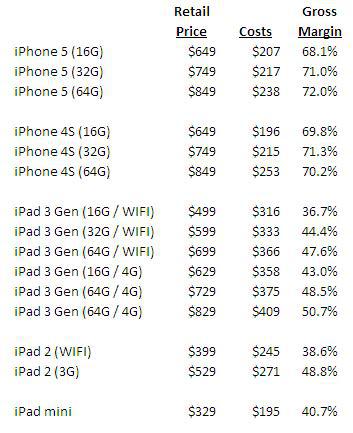 Wholesale Price versus Retail Price
The difference in gross margins between these teardown reports and Wall Street research reports is most likely attributed to the price difference between wholesale price and retail price. The teardown reports only compare the gross margins to the "retail price". Remember though, when Apple sells their products to 3rd party retailers (Verizon (NYSE:VZ), AT&T (NYSE:T), Sprint (NYSE:S), Best Buy (NYSE:BBY), Walmart (NYSE:WMT), etc.), there typically is a "wholesale price" that is given to retailers that is lower than the "retail price" so that retailers can also make a profit. Note that a lot of telecom carriers will still sell the iPhones at a loss to new customers that sign a 2 year contract and recoup this new customer acquisition cost over the life of the contract.
Given that each telecom carrrier arrangement is negotiated independently (ie: different wholesale price for Sprint than for T-Mobile, not to mention all the international telecom carriers), it's extremely difficult to find the details of Apple's wholesale and retail prices. Remember also that Apple sells their products through their company-owned stores and website as well (so in theory no wholesale discount need to be given), but note that in that case, the company owned stores would bear labor costs, rent costs, etc. and so there probably is a wholesale price given and then some inter-company eliminations to net out the conflicts.
Sensitivity Analysis for Valuation Range
Now that we have shown the dependence of the Apple's total gross margins on iPhone and iPad success, let's do some sensitivity analysis around the key drivers of these two products (units sold, selling price, gross margins) and see how it could potentially affect the value of the stock price. Let's first define the assumptions used in the Base Case. The base case uses current interpreted Wall Street assumptions on units sold, ASP, and gross margin for each product line, as we have discussed already above. Once we get to Company gross profit, we then adjust for operating expenses (this is pretty fixed and based on Wall Street estimates), interest income (remember they have $120 billion of cash that earn interest), and taxes (26% tax rate based on Wall Street estimates).
For the sake of argument, I will use a very, very conservative 10x P/E multiple. After adding back cash on hand, the base case shows a value per share of $673.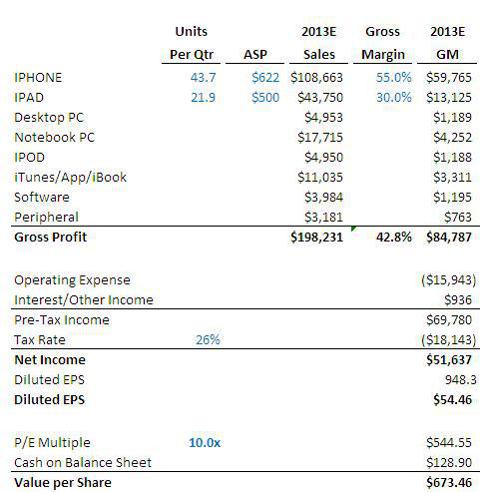 Now let's sensitize some of the key assumptions for iPhone and iPad. For iPhone, let's assume gross margins anywhere from 45% to 65% (current estimate is 55%) and units sold range from 32.5mm per quarter (this is only 4% y/y growth) up to current estimates of 43.7mm per quarter (I use quarter so it's easier for you to compare to upcoming quarterly results from Apple). For iPad, let's assume gross margins anywhere from 20% to 40% (current estimates is 30%) and ASP of all the way down to $329 (this would imply all they sold were 100% iPad minis) up to current estimates of $500.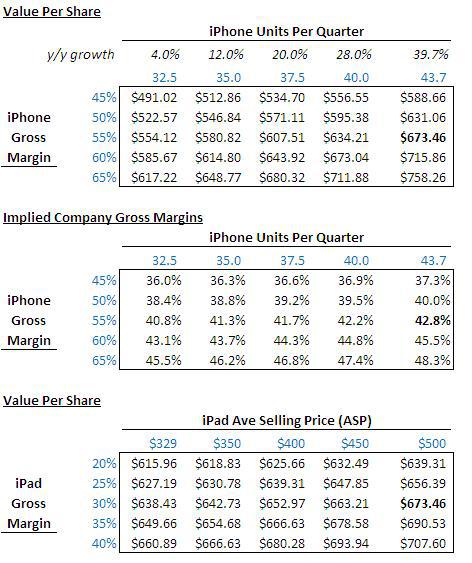 As you can see, the value per share range is anywhere from $500 to $750 per share. Remember, that all of these implied stock prices are based on a very low P/E multiple of 10.0x. A more reasonable P/E that still is very conservative is 12.0x, which would essentially move up all those implied target prices by approximately 20% each.
Conclusion
Based on the sensitivity analysis above, Apple's current stock price of around $509 seems to imply some very extreme worst-case scenarios (gross margins significantly declines for both iPhone and iPad, iPhone barely grows only flat versus 47% smartphone industry growth rate, iPad mini 100% cannibalizes full sized iPads). There seems to be a good amount of potential upside ($750 per share) for those investors willing to go against the grain of current Wall Street sentiments on Apple.
Biggest Risk
Every investment has risks. I believe the biggest risk for Apple is the continued willingness of telecom carriers to offer iPhones at an initial loss (priced at $199 or less for new 2 year contract). Apple iPhone products are very high-end (without contract, prices start at $649). The willingness of telecom carriers to sell them at under $200 helps Apple penetrate the mass market and drive unit volume growth (sell 45-50mm iPhones a quarter). If telecom carriers no longer offer these price incentives, it could affect iPhone quantity of units sold. Granted that telecom carriers offer these new customer price incentives on all smartphones (including Samsung, Nokia , RIM (RIMM), etc.) and not just Apple. Also, telecom carriers want to continue to push smartphones (over basic feature phones) because they want to push 3G/4G data consumption (with monthly plans ranging from $50-100), given they have invested billions to upgrade their infrastructure and need to recoup their investment. Nevertheless, this is a risk to keep in mind.
Disclosure: I am long AAPL. I wrote this article myself, and it expresses my own opinions. I am not receiving compensation for it (other than from Seeking Alpha). I have no business relationship with any company whose stock is mentioned in this article.