One thing I love about investing is that the same concepts are applicable to very different industries. I'd like to demonstrate with two very different types of investments that can be looked at from a similar angle as an investor.
Investment number one is Exxon Mobil's (NYSE:XOM) investment in an exploration well in Kurdistan. Investment number two is an investment in MGT Capital (NYSEMKT:MGT) which is a company that owns intellectual property.
Exxon and Iraq Exploration
I might put a little bit of "play" money into a company exploring for oil in Kurdistan, but that is about it. Exxon on the other hand will likely be investing (here) billions in the region.
Think about the risks involved for Exxon:
Political risk - There are questions about how secure the contracts with the regional Kurdistan Government really

are. Th

e Central Iraqi Government certainly doesn't acknowledge their

legitimacy.

Security risk - In this region of the world not only are your contracts at risk of being pulled, but your property and people are in harm's way. If Government action doesn't do damage to your investment a pipeline bomb might.
Exploration risk - After taking on the very real political risk and security risk there is still no guarantee that significant amounts of oil are likely to be found. Hundreds of millions of dollars could get spent drilling a dry hole or two.
That is a lot of risk, and I'm not sure the return on the investment is worth it. Especially not when Exxon could be buying up all kinds of small and mid-sized unconventional resource producers right here in North America, making excellent returns on investment.
If I'm going to take on the kind of risk that drilling exploration wells in unstable locations involves then I don't want a decent return, I want opportunity at enormous upside. Even a successful exploration well in Iraq might net Exxon only a reasonable return on investment once the oil is finally produced.
Recently I came across a company (outside the oil industry) that I found to be a fascinating study of probabilities and risk vs. reward. It reminded me of how I think about oil and gas exploration but seemed to offer a much greater return if successful.
MGT Capital Investments Inc
MGT is in the business of monetizing intellectual property rights. Right now its main intellectual property relates to casino gaming systems.
The business model is actually pretty simple:
Step 1 - Identify intellectual property that could be worth far more than MGT has to pay for it
Step 2 - Acquire a controlling interest in said intellectual property
Step 3 - Take the necessary course of action needed to realize the value inherent in that intellectual property
This business is very similar to an Exxon exploration well.
Where Exxon identifies an exploration target MGT identifies an intellectual property target.
Where Exxon buys the lease so it can drill the target MGT acquires a controlling interest in an intellectual property so it can realize value on it.
Where Exxon drills the exploration well to try and make some money MGT takes legal action to enforce its intellectual property right.
Right now MGT's main intellectual property relates to a new breed of slot machines that allows players to compete against the house as well as other players during special bonus rounds.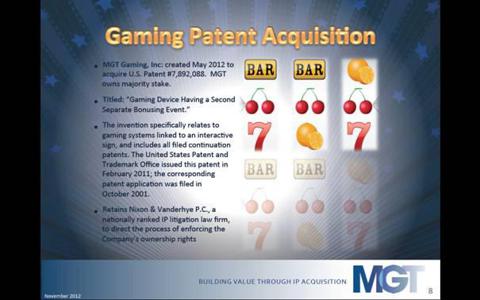 MGT has filed a patent infringement case with the key points of the case being:
The lawsuit claims infringement against Caesars Entertainment (NASDAQ:CZR), MGM Resorts (NYSE:MGM), WMS Gaming (NYSE:WMS-OLD) and Penn National Gaming (NASDAQ:PENN)
MGT is seeking an injunction against continued acts of patent infringement AND damages to compensate for the prior infringement
The damages would relate to a reasonable royalty for the infringement plus interest and costs
MGT's CEO commented on the lawsuit:
Commenting on the announcement, Robert Ladd, CEO of MGT Capital Investments, Inc., stated, "We are pleased to see that the gaming industry has embraced our patented technology by embedding it in a number of very successful gaming systems. Moreover, it is gratifying to see that many casino patrons find enjoyment in playing these casino games. However, we deserve fair compensation for their use of our patent. As the cornerstone of our long-term strategy to create shareholder value, we will vigorously enforce our intellectual property portfolio against infringement."
That was a press release that can be found on the company website. (here)
When an exploration company goes to drill an exploration well they really don't know for sure what they are going to find. Their seismic data, their modeling and all of their work gives them an idea of what they are likely to find. However, until that drill bit hits target depth the reward for their trouble is unknown.
Likewise, I don't know what the likely result of MGT's infringement case will be, but I have a pretty good idea what the reward is if the company is successful. And that reward is large.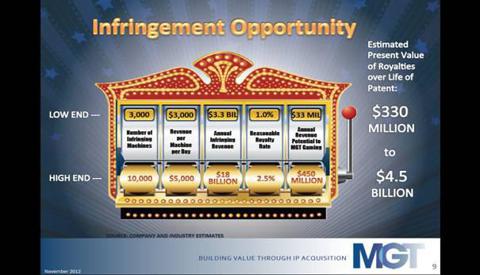 If successful in the lawsuit the company believes the present value of the royalty stream over the life of the patent could be $330 million to $4.5 billion.
That is a lot of money for any company - for MGT shareholders success would be a home run.
MGT Capital's current Enterprise Value Looks like this:
Fully diluted shares - 8.4 million
Share price - $4.78
Proceeds From Warrant Exercise - $14.56 million
Net Cash on Balance Sheet - $6.5 million
Enterprise Value - $19.09 million
That is a very small enterprise value relative to the size of the prize should MGT be successful.
One point of interest is that the CEO of the company, Robert Ladd of Laddcap Value Advisors, spent $ 2 million of his own money buying MGT shares and owns 25% of the company.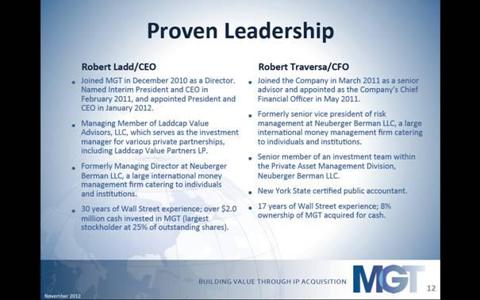 Just as you wouldn't want to risk your life savings on a single exploration well, you wouldn't want to make a concentrated bet on a company like MGT. In a diversified portfolio I think there could be a spot for a company that could easily be a ten bagger on the upside, even with a higher risk level on the downside.
One thing I feel quite comfortable saying is that in my mind MGT looks like a better bet than drilling exploration wells in a part of the world where people are shooting at you and the government action can be wildly unpredictable.
Disclosure: I have no positions in any stocks mentioned, and no plans to initiate any positions within the next 72 hours. I wrote this article myself, and it expresses my own opinions. I am not receiving compensation for it (other than from Seeking Alpha). I have no business relationship with any company whose stock is mentioned in this article.