Today's move has pushed the market to its highest level since October 19th, so below we provide an updated look at the chart patterns of the S&P 500 and its ten sectors. As shown in the chart below, the S&P 500 and five sectors are now in overbought territory, with two sectors at extreme levels -- Financials and Industrials. The Telecom sector is the only one that remains below its 50-day moving average.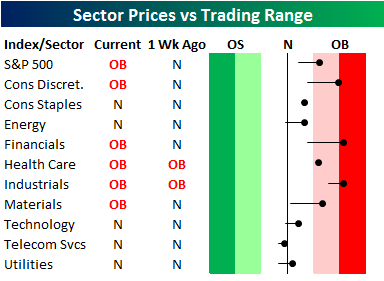 The blue shading in the chart below represents the S&P 500's "normal" trading range, which is between one standard deviation above and below the index's 50-day moving average (white line). The red shading represents "overbought" territory, while the green shading represents "oversold" territory. As shown, the S&P 500 is now overbought for the first time in a couple of months, and it's quickly approaching its 2012 and prior bull market highs.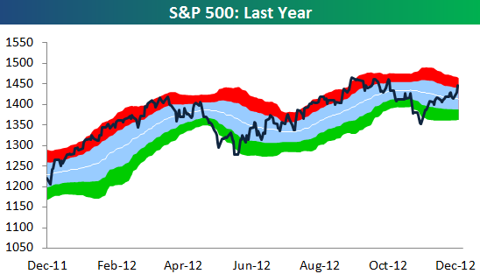 Financials, Consumer Discretionary and Industrials have been driving this rally, and they have all taken out their prior 2012 highs today, setting up the opportunity for a new, higher trading range to be formed. Technology stocks have been doing well also, but Apple (NASDAQ:AAPL) and its struggles have really held back the sector. While the sector is just barely above its 50-day moving average (as shown in the chart below), 90% of the stocks in the Tech sector are above their 50-days, which is the same level as both the Financials and Industrials.