As the equity market seesaws — sometimes indiscriminately — about its axis, investors have turned toward dividend investing. With the prospect of current market volatility continuing into the future, many fund investors are seeking recognizable names whose dividends look remarkable, though perhaps unsustainable, in light of current economic activity. One way to participate in this strategy is through preferred ETFs, such as iShares S&P U.S. Preferred Stock Index Fund (NYSEARCA:PFF) or PowerShares Financial Preferred (NYSE:PGF), that provide access to preferred securities while limiting exposure to any particular stock.
click to enlarge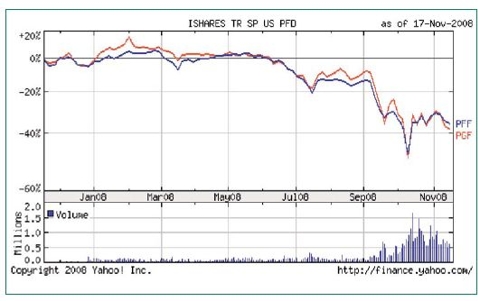 While PGF touts its financial emphasis up front, in the fund's name, PFF also has a strong concentration in the financial sector. Over 88% of PFF is classified as financial, while healthcare and materials both compose less than 5% of the fund. With the recent high correlation between preferred shares and the stock of their issuing companies, investors should expect to see shares of both PFF and PGF trading in line with the financial sector, as well as other banking ETFs covered by Sector Momentum Tracker, such as PowerShares Banking (NYSEARCA:PJB).
A compelling argument can be made for investing in preferred stocks during market slumps. The U.S. government and international banks have aggressively tried to salvage the banking system through a series of bailouts and policy changes. With a current yield of more than 10% plus, PFF's return could be attractive enough to lure buyers at the bottom.
PFF tracks the S&P Preferred Stock Index, a group of stocks that have market capitalization greater than $100 million and that meet minimum price and volume constraints. The fund has suffered "lower lows" than its peers have during the Bear Stearns debacle but has been rallying admirably on recent upswings. Lows on PFF's chart have also inspired an influx of buyers, with recordbreaking volume and strong bounces at support points. In short, the prospect of double-digit yields in a flat market has attracted a slew of investors to the PFF opportunity.
PGF has a more narrow focus than PFF does, allowing investors to concentrate solely on financial preferreds. PFF is based on the Wachovia Hybrid & Preferred Securities Financial Index, which tracks the performance of U.S. listed preferred stocks issued in the U.S. market by financial institutions. PFF's index currently includes approximately 30 securities selected by Wachovia pursuant to a proprietary selection methodology— a selection that aims to reduce the volatility of the S&P preferred index while boosting returns.
Both PGF and PFF have comparable trading volumes and assets, so the choice for many investors may come down to individual fund focus and expense ratio. While each is heavily weighted with financials, and components hinge on capitalization requirements, the funds will be rebalanced at different rates. PGF's index is rebalanced on a monthly basis, while PFF's index is altered on an annual basis. Although investors will have to pay a larger expense ratio with the PowerShares offering (0.72% versus PFF's 0.48%), the comfort of having a monthly portfolio checkup may outweigh the price difference. If components are eliminated from open market trading without a fund rebalance, investors can be exposed to an increasingly concentrated number of preferred stocks. Those made nervous by sudden changes in U.S. markets might want to consider how actively they would like their ETF monitored.
While preferred stocks have often served as a haven for investors in stormy markets, the recent turmoil in the financial markets has caused preferred spreads to widen. Preferred shares have also been trading more like their equity counterparts, a trend that UBS analyst, Barry McAlinden believes will continue in the near term: "We believe that the high correlation between preferreds and financial equity prices will likely continue as the market digs itself out of the rubble of the financial crisis."
It will also be important for shareholders to keep an eye toward policy changes in the new administration. An increase in dividend taxes could stun dividend-focused funds if companies respond by cutting the size of their payouts. A change in this type of legislation will require time and approval, however, and will unlikely be implemented in the infancy of Obama's administration. These proposals may not affect dividend investors in the short term, but these same shareholders should put an ear to the ground when discussions about the restructuring of the financial system occur.
Both PGF and PFF would suffer if their underlying components slash dividends—a compelling reason for investors to monitor the basket of stocks in each fund. For those looking for bargain prices and set returns, the preferred strategy could still be compelling in late 2008. With a critical eye toward strategy and indexing, some investors could reap rewards and perhaps gain greater peace of mind with preferred ETFs during a dismal financial climate.