Shares of CenturyLink Inc. (NYSE:CTL), an integrated telecommunication company in the U.S., have gained approximately 11% in one year and are currently trading near $39. Even though the company has suffered at the hands of shrinking wireline business, it has done well to diversify its operations through acquisitions which are now starting to pay off. Not only are the acquisitions helping with the reversal of its revenue deceleration, they have also exposed it to the high growth market of cloud computing and infrastructure. CTL is trading at valuations that are justified based on its earnings growth expectations. Moreover, it offers a very attractive dividend yield of 7.4%, which is well covered by the company's cash flows. As such, I recommend investors to take a long position in CTL.
The Problem
The communication industry is rapidly evolving, with technological changes reducing demand for traditional voice services. CenturyLink has suffered due to these technological changes which have reduced demand for its traditional voice services. The company has been experiencing a decline in access lines quarter over quarter, which has exerted a downward pressure on its legacy services revenues.
The Solution
However, the company has done well to counter these challenges. It has increased its focus on selling a broader range of services that include high speed broadband, video and bundle services. Moreover, through its Savvis acquisition, it has significantly increased its scale and diversified its product offerings. Currently, it has more than 50 data centers around the world, providing colocation and managed hosting services. The company has also done well with the integration of its acquisitions. According to the latest filed results, the company ended the third quarter with an annualized operating expense synergy rate of $450 million from its Qwest acquisition.
As mentioned previously, CTL has been the victim of wireless substitution, which has reflected adversely in its declining revenues, however, interesting to note is that the company is consistently bringing about a slowdown in revenue decline. In Q2 2012, the company reported a year over year revenue decline of 1.2%, compared to 3.8% in the second quarter of the previous year. Third quarter was even more impressive with a revenue decline rate of 1.3% compared to the 4.6% decline in Q3 2012. Furthermore, the company is expecting revenue decline in 2013 to shrink somewhere between the -0.5% to -1.5% range, with revenues stabilizing in 2014.
The recent positive sentiment around the company is due to the very strong guidance provided by the management. It has guided for operating revenues of $4.56 to $4.61 billion for the forth quarter, with earnings per share of $0.64 to $0.69. Analysts were expecting $4.58 in revenues, with EPS expectations of $0.62. This upward guidance indicates the company's confidence in its growth potential and further gives strength to the view that its revenues will stabilize in the short term.
CenturyLink is currently boasting one of the highest dividend yields in the telecom industry. It offers a yield of 7.4%, higher than Verizon's (NYSE:VZ) 4.6% and AT&T's (NYSE:T) 5.3%, which makes the stock very attractive from an income perspective. The company is currently paying a quarterly dividend of $0.725 per share which also compares well to Verizon's quarterly payment of $0.515 and AT&T'S $0.45 per share. However, one must analyze its true dividend paying capability through its cash flows. Operating cash flows have grown at an impressive 4-year CAGR of 42%, with free cash flows also following an inclining trend. If the company's dividend history is analyzed over a four year period, operating cash flows generated by the company have exceeded its capital expenditures as well as dividend payments on a consistent basis. The following chart illustrates CTL's ability to sustain its high payout through its cash flows.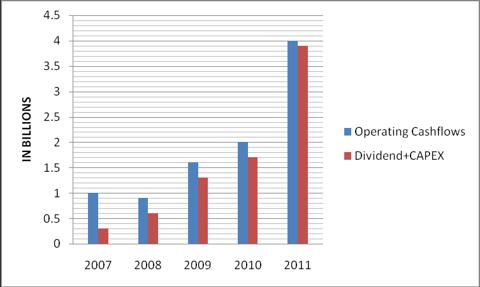 CTL is trading at 14.6 times its forward earnings which is at par with Verizon, trading at a forward multiple of 15x. Earnings are expected to grow by 8% over the next five years. Currently, no sell-side analyst has a sell rating on the stock, with 77% giving it a buy rating.
Mean price target for CTL is $45, which is an upside of 15% based on the current price of $39. After accounting for its lucrative dividend yield of 7.4%, total return comes out to be 22%. I recommend investors take a long position in the stock based on strong cash flow support for its dividends, as well as the improving revenue trend.
Disclosure: I have no positions in any stocks mentioned, and no plans to initiate any positions within the next 72 hours. I wrote this article myself, and it expresses my own opinions. I am not receiving compensation for it (other than from Seeking Alpha). I have no business relationship with any company whose stock is mentioned in this article.