Few companies illustrate the power that sentiment has in the markets better than Netflix (NASDAQ:NFLX). The company has gone form being a darling of Wall Street to being a stock (and a company) seen as broken, with its best days behind it. We, however, do not share such a view. While the road ahead is not an easy one for Netflix, we believe that the company will navigate through its transition into a fully international streaming company successfully. In our view, Netflix's financial position and its competitive position in the marketplace are stronger than they appear. Morgan Stanley, in a recent report on Netflix, laid out in detail why concerns regarding Netflix's accounting and pricing power are overblown, and we would like to delve into those 2 factors. We believe that for patient investors, shares of Netflix offer the opportunity for long-term profits. Unless otherwise noted, financial statistics used in this article will be sourced from either Netflix's Q3 2012 earnings release or its latest 10-Q filing.
Accounting for Streaming Deals: More than Meets the Eye
The cost of Netflix's streaming deals has been central to the bearish argument against the stock, with critics arguing that sooner or later, Netflix's streaming costs will overwhelm the company, possibly driving it into bankruptcy. On its balance sheet, Netflix lists $2.311864 billion in content liabilities. But that does not capture the full scope of Netflix's content liabilities, the majority of which are kept off of its balance sheet.

As Netflix notes in its 10-Q filings (as well as on its investor relations portal), accounting standards for streaming content are complex, and not all content liabilities can be placed directly onto the balance sheet. In its latest 10-Q, the company states that,
"The company had $5.0 billion and $4.8 billion of obligations at September 30, 2012 and December 31, 2011, respectively, including agreements to acquire and license streaming content that represent current or long-term liabilities or that are not reflected on the Consolidated Balance Sheets because they do not meet content library asset recognition criteria. The license agreements that are not reflected on the Consolidated Balance Sheets do not meet content library asset recognition criteria because either the fee is not known or reasonably determinable for a specific title or it is known but the title is not yet available for streaming to subscribers. For those agreements with variable terms, the Company does not estimate what the total obligation may be beyond any minimum quantities and/or pricing as of the reporting date. For those agreements that include renewal provisions that are solely at the option of the content provider, the Company includes the commitments associated with the renewal period to the extent such commitments are fixed or a minimum amount is specified. The Company has entered into certain license agreements that include an unspecified or a maximum number of titles that the Company may or may not receive in the future and/or that include pricing contingent upon certain variables, such as theatrical exhibition receipts for the title. As of the reporting date, it is unknown whether the Company will receive access to these titles or what the ultimate price per title will be. Accordingly, such amounts are not reflected in the commitments described below. However such amounts are expected to be significant and the expected timing of payments could range from less than one year to more than five years."
Netflix's 10-Q filings list only its minimum total content liabilities, and that has fueled the bearish thesis regarding the company's stock, as critics charge that it will be overwhelmed by content costs that are spiraling out of control. But such an argument is flawed. These content obligations, while representing billions that Netflix owes to other parties, are not true corporate debt. As Morgan Stanley notes in its latest research report on Netflix,
"Because Netflix's content obligations are unsecured and pari passu with senior unsecured corporate debt, some bears choose to think about this $5B as debt and measure its magnitude based on an EBITDA leverage multiple. This is incorrect given that these obligations are essentially the "COGS" for Netflix. The real leverage multiple should be calculated based on total streaming revenue (both domestic and international). Consistent with all credit metrics, this leverage multiple should be calculated using TTM revenue. Investors may use an annualized last quarter revenue number if they believe Netflix will be able to generate that level of revenue for the duration of the content obligations."
An examination of Netflix's income statement will show that while the company reports cost of revenue on its balance sheet, it reports only subscription and fulfillment costs. There is no portion of its income statement to which Netflix charges its streaming obligations. For Netflix, streaming content obligations are a cash flow statement matter, and the costs of acquiring content are reflected in its operating cash flow. And even with its profitability dropping on a year-over-year basis (reflecting continued investments in international streaming), Netflix was still cash flow positive, posting operating cash flow of $150,000.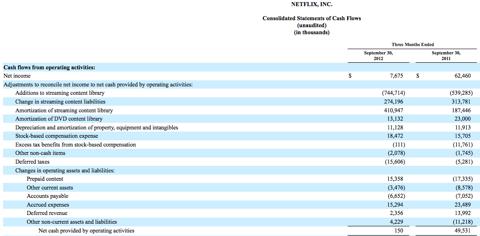 As the company's 10-Q shows, cash flow in the latest quarter was affected by both an increase in additions to the company's streaming content library, as well as a drop in net income. As Morgan Stanley notes, Netflix's streaming content obligations are manageable, with the firm stating that, "
"If we assume Netflix is unable to increase streaming revenue (domestic and international, combined) beyond an annualized CQ3:12 basis, the company has ~$450MM of additional content it can purchase for the next twelve months. Similarly, given the company's agreement expiration schedule, the company can allocate $3.1B over the course of the next 3 years and $7.8B over the course of the next 5 years (the $3.1B and $7.8B are not cumulative)."
For Netflix, the key to managing its streaming obligations lies in the profitability of its streaming business, which will, in the long-term, depend on 2 factors: how well the company does in expanding internationally, and how well the company does in defending its position here in the United States. We will address the company's international business first.
International Streaming: Promising Results
In Netflix's latest quarter, the company added a net 690,000 subscribers, and grew its total international subscriber count to 4.31 million (representing sequential growth of 19.06%). The company grew its total paying subscribers to 3.69 million, an increase of 22.19% from Q2 2012. Netflix's results show that it is not having trouble converting trial subscribers to paid subscribers. International streaming revenue, which came in at $78 million, grew by 20% sequentially in Q3 2012, and 239.13% year-over-year. And while the international segment as a whole is currently unprofitable, due to the company's investments in new markets, losses as a percentage of revenue narrowed in the latest quarter. Netflix's international operations lost $92 million in Q3 2012, which translates to an contribution margin of -116.46%. In Q2 2012, however, Netflix's international streaming contribution margin was -136.92%. While it is true that in Q3 2011 Netflix's international contribution margin was -100%, this latest quarter reflects the costs of investing in the United Kingdom and Latin America, which are more complex markets than Canada, Netflix's first international market. We break down the company's views on each of its streaming markets below (we note that Netflix does not break down the profitability of each international market individually, something that we would like the company to do).
Canada: CEO Reed Hastings stated in the company's Q3 shareholder letter that retention and engagement among the company's Canadian subscribers is high, and that in Q3 the company's Canadian margin expanded as content costs grew at a slower rate than revenues. The company is seeing steady to accelerating subscriber growth.
Latin America: In Q3, Netflix surpassed the 1 million-subscriber mark in Latin America, and the company is seeing the benefit of expanding broadband access in the region (Netflix estimates that there are more than 50 million households with broadband internet in the region). Churn is "low" in the region, and Netflix is adding content at a rapid pace, especially in Brazil. For Netflix, the biggest issue in this region is processing payments. Issues with electronic payments are restraining growth in Latin America. CEO Reed Hastings stated that, "For a variety of reasons, many Latin American broadband households are leery of, or unable to, provide debit/credit cards that can be accepted over the Internet. For those who do provide us debit/credit cards, we see higher rates of payment declines than in our other markets. Since these are households that are successfully paying for home broadband, we should be able to improve our effectiveness. We are working hard on all avenues to address these issues and accelerate our growth. In the long term, as ecommerce further develops in Latin America, these issues will lessen." We believe that payments issues are easier to deal with than entrenched competitors, and that Reed Hastings is correct in his assertion that these payment issues will lessen over time. Issues with electronic payments in Latin America are not unique to Netflix, and as these economies continue to grow, and e-commerce becomes a more material part of the lives of the region's consumers, payment issues should abate.
U

K and Irela

nd: These markets demonstrate the challenge of overcoming entrenched competition. While Netflix has surpassed 1 million subscribers in these markets, it is forecasting that it will take some time to reach profitability (much longer than it took Canada to reach profitability). Competing with SKY and LOVEFiLM is not an easy task, but we are confident that in time, Netflix will emerge victorious. The company's content library is expanding, and so is its subscriber count, and the

UK and Irelan

d are likely to be profitable in the long-term.
Nordic countries: Netflix's newest market is the Nordic region (launched in October), where the company has launched in Norway, Denmark, Finland, and Sweden. Results from these 4 markets are not included in the company's Q3 2012 results, but will be in its Q4 results. In the Nordic region, Netflix faces some competition, including from Viasat's Viaplay streaming service. Interestingly, the Nordic region is the only region where HBO is currently planning to offer a standalone streaming service. However, its launch has been delayed, and it is now likely to be launched sometime in 2013. The company has said that early reception has been positive, with more customers signing up for free trials than in the first week of its Canadian launch. Given that these 4 countries are similar to Canada (all are stable and developed economies), it is likely that Netflix will see similar results in these countries to what it has seen in Canada.
Netflix has guided for Q4 2012 international losses to increase to $113 million at the midpoint of its guidance range, due to costs from investing in marketing and content for its Nordic markets, and the fact that these costs are not offset by subscription revenues. However, the company stated that it expects Q4 to be the peak in terms of international losses, and that these losses will begin to subside in 2013. Reed Hastings has indicated that Netflix will expand into its next international market only when it is "solidly profitable on a global basis." Netflix's earnings are being weighed down by the costs of launching its international streaming business, but we believe that these moves are necessary to ensure the company's long-term success. Netflix is applying the formula it has successfully developed here in the United States to its international markets, and we expect that over the next few years, Netflix will show that its international streaming business can become solidly profitable.
Competition: The Emergence of Pricing Power And Keeping Competitors at Bay
Netflix critics point to its 2011 price increases as proof that the company has no pricing power, and that its subscribers will flee to competing streaming offerings if given a reason to do so. But, as Morgan Stanley points out in its latest report on Netflix, the company's recent deal with Disney (NYSE:DIS) (more on that a bit later), which is estimated to cost $300 million per year, which will begin in full in 2016, is just one potential sign that Netflix has more long-term pricing power than the company's critics believe. The firm writes that,
"We believe Netflix can afford it (the deal with Disney) based on its current content obligation schedule, however, Netflix has two additional options: 1) rationalize its content portfolio and cut underperforming content or 2) raise prices. A third outcome of the Disney content is that the catalog titles and direct to movie content will lower churn of existing and new subs. Raising prices is a sensitive topic, especially given the backlash from the July 2011 event, however, we believe that price elasticity is not as high as investors believe. Redbox increased its cost to rent DVDs from $1.00 per day to $1.20, which is effectively a 20% price increase. A 20% price increase for Netflix would bring the company's Domestic Streaming ARPPU to $9.59. A $9.99 price point would be a 25% price increase. As long as Netflix continues to develop a differentiated content portfolio, we believe the company has the ability to exercise modest pricing power down the road."
Pricing power comes from growing content exclusivity, as well as a differentiated portfolio of content. The company's deal with Disney, which is set to begin in full by 2016, gives Netflix exclusive access to all new Disney theatrical releases, and a good deal of catalog content as well (with more to come over the course of coming months and years). Redbox (NASDAQ:CSTR) increased its prices by 20%, and yet the company has seen no material impact from its decision. Redbox, in its own way, offers consumers a compelling value proposition, and consumers are willing to pay for value. And the value of Netflix will rise as long as it keeps investing in and optimizing its streaming content portfolio. And should churn decrease as a result of an improved content portfolio, Netflix will have room to decrease its subscriber acquisition costs. While Netflix is unlikely to be able to exert full pricing power over its subscriber base, modest price increases are possible, provided that Netflix communicates them in a much clearer way than it did in 2011, and outlines in clear terms that it is enacting price increases to bring subscribers a better portfolio of streaming content. And such a portfolio will allow Netflix to continue holding its competitors at bay.
The second pillar of the bearish thesis against Netflix is that the company will be overwhelmed by an endless list of deep-pocketed competitors. To date, that has not been the case. Hulu offers streaming on a variety of platforms, but is focused on in-season content, despite a push into original content. And Hulu shows ads to its users even on paid subscriptions. HBO GO has yet to launch a "true" streaming service, even though Reed Hastings explicitly states in Netflix's Q3 2012 shareholder letter that he expects HBO to eventually launch such a service here in the United States. HBO GO is meant as an ancillary service for HBO's existing subscribers (and to encourage new subscribers) so that they can view HBO content anywhere they wish to. Should HBO choose to launch a pure streaming-only service, it is unclear what form it will take. Will it simply be HBO GO unbundled from a regular HBO subscription? Or will it be a full-fledged streaming service, combining HBO's content with content from other providers? Amazon has been investing in its Prime streaming platform, but we wonder if the company can keep investing at its current rate. CEO Jeff Bezos is spending billions investing in the Kindle line, Amazon's core retail business, and its Prime service. And if Amazon is indeed planning to launch a smartphone in 2013 as numerous reports suggest, then the company's profits will be put under even more pressure. Amazon is already posting operating losses, and if the company truly wishes to become a meaningful competitor to Netflix (and maintain its investments into other business lines) it will have to boost investments to levels that may threaten the company's financial condition.
However, the most interesting competitive development is the introduction of a streaming service from Coinstar and Verizon (NYSE:VZ). Redbox Instant aims to undercut Netflix on price, with streaming-only plans costing $6 per month. $8 a month plans allow for up to 4 rental nights from Redbox kiosks, and $9 a month includes Blu-ray. On the surface, this sounds like a meaningful threat to Netflix. In our view, however, the situation is more complex than that. The $8 a month plan starts charging customers for each additional night if DVD's are kept for more than 4 nights per month, and unused nights do not roll over to the next month. And TV shows are not included; Redbox Instant is meant only for movies. While Redbox Instant is something that investors should keep a close eye on over the next several quarters, we do not think that it will be a material threat to Netflix, at least in its current form. But, we do think that Redbox Instant does help Netflix, and in a crucial way: it validates the company's business model.
Surely Verizon's executives are much smarter than the incompetent executives running Netflix, who foolishly think that they can ever make profits in streaming. After all, Verizon is one of the bluest of the blue chips, and they would never embark on a joint venture that was sure to lose money. But, therein lies a contradiction. If Netflix's critics believe that the company's business model is inherently unsustainable, why would anyone else want to enter its market, especially if they are a company as conservative as Verizon? In our view, Verizon's decision to enter the streaming market serves as a large endorsement of Netflix's business model. We believe that much of the skepticism surrounding Netflix's accounting practices stems from the fact that it is the only publicly traded pure-play streaming company. Hulu is privately owned, and Amazon does not give specific details on LOVEFiLM's performance. There are no companies to which Netflix can be compared. But, all streaming content is accounted for in the same way, for the rules governing it are set forth by the Financial Accounting Standards Board, and it is almost certain that Verizon and Coinstar will employ the same accounting methods as Netflix with Redbox Instant.
Conclusions
In our view, Netflix's financial and competitive position is stronger than it appears. The company is keeping its competitors (and we hesitate to even call Hulu and HBO GO competitors at this point in time, given their business models) at bay. The company's international expansion, while currently weighing down profitability, is necessary to ensure long-term growth. We believe that Netflix will be successful in its international markets, and that the profitability of its Canadian business is not a one-off event. 2013 will be a crucial year for the company, as its international business will enter a new phase. And we fully agree with Morgan Stanley that concerns over streaming obligations are overblown. As long as Netflix is able to keep growing its revenues and subscribers (which can be accomplished through a higher quality content portfolio), it will be able to manage its streaming obligations. By investing in content (such as the deal with Disney), Netflix is strengthening its value proposition to consumers. And if churn is reduced as a result of higher quality content, then Netflix's financial results will see an added boost. While an investment in Netflix is not without risk, we believe that investors who add to or initiate positions in Netflix will, in time, be rewarded for their conviction.
Disclosure: I am long NFLX, DIS, VZ. I wrote this article myself, and it expresses my own opinions. I am not receiving compensation for it (other than from Seeking Alpha). I have no business relationship with any company whose stock is mentioned in this article.