Boeing (NYSE:BA), the American titan, has been ruling the aerospace industry since 1916. With its strong focus on diversification, BA has been a source of consistent earnings for investors. Although the operational and financial performance of BA does not currently seem extraordinary, its future horizons make us bullish about the stock.
If analyzed from an operational perspective, cost seems to be the major reason behind lower profitability of BA relative to competitors. If compared to Q32011, its revenue in Q32012 has seen an increase of 13%. However, its gross margin has shrunk by 5% mainly because of cost issues. Although high cost figures are prevalent in the entire industry, the cost figure for BA is higher than most of its competitors. The following graphs illustrate the profitability and cost effectiveness of BA relative to competitors.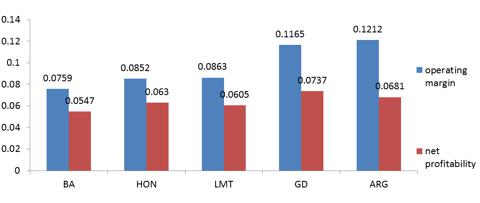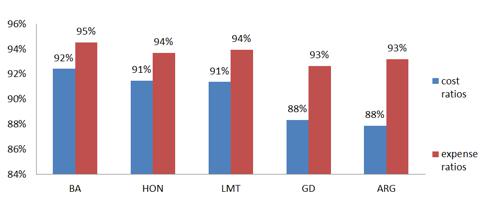 The strategic performance of BA is quite good compared to the industry average as its ROE of 62% is better than most of its competitors. However, its ROA of 47% is a little less than competitors' average as shown in the graph below.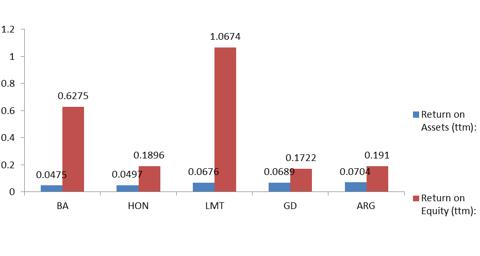 The main reason behind a significant gap between ROA and ROE seems to be the higher debt ratio of the industry in general and BA in particular. The following graph compares the debt ratio of BA with its key competitors.

As evident from the graph, greater reliance on debt has boosted the return for shareholders. In recapitulation, we feel that BA needs to employ better cost control measures to boost profitability.
From a relative perspective, the projected computation shows that the P/E ratio for BA is 15x which seems in line with the industry average. Other multiples like EV/EBITDA and P/S and PEG also suggest that BA is neither undervalued nor overvalued as shown in the following table.
| | | | | | | | |
| --- | --- | --- | --- | --- | --- | --- | --- |
| | Boeing Inc | Honeywell International Inc | Lockheed Martin Corporation | General Dynamics | TransDigm Group Inc | B/E Aerospace Inc | Airgas Inc |
| TICKER | | (NYSE:HON) | (NYSE:LMT) | (NYSE:GD) | (NYSE:TDG) | (BEAV) | (ARG) |
| EV/EBITDA | 7.29 | 12.45 | 6.11 | 5.68 | 12.3 | 10.86 | 10.48 |
| Forward P/E | 14.67 | 12.66 | 11 | 9.32 | 16.13 | 13.96 | 15.98 |
| PEG Ratio | 1.24 | 1.33 | 2.14 | 1.91 | 1.22 | 0.75 | 1.53 |
| Price/Sales | 0.71 | 1.3 | 0.61 | 0.74 | 3.9 | 1.68 | 1.44 |
| Trailing P/E | 13.15 | 20.84 | 10.38 | 10.12 | 21.48 | 22.55 | 21.17 |
| FORWARD EPS | 5.09 | 4.93 | 8.22 | 7.3 | 7.95 | 3.41 | 5.62 |
Based on its forward EPS of $5 and historical P/E of 15x, we set a target price of $75 for BA.
| | |
| --- | --- |
| | BA |
| Target Price | $75 |
| Expected Capital Gains | 1% |
| Expected Total Gain | 3% |
The above analysis of BA highlights two important findings for investors. Firstly, BA seems to be in line with the industry performance. Its stock price has been in the range of $70 to $75 since 2009 which shows some stability in the stock value. The current stability of share price is a positive aspect for those investors who are more risk averse and feel willing to hedge their risk by investing in a stable stock.
Secondly, we forecast that in the near future, returns to current investors will increase significantly. This is mainly because:
Boeing has declared a buyback of 4% of its market cap (shares worth $2 billion) in 2013. This buyback can lead to a significant increase in returns for

shareholders

in the coming quarters.
Secondly, BA has

declared a dividend of $0.485 for this quarter. This is 10% higher than its previous dividend of $0.44. We feel that this higher dividend is an indicator of BA's better operational performance in this quarter.
Some Risks
While we anticipate an increase in share value in the coming quarter, we also feel that some catalysts can have a negative impact on the future value of BA.
Debt servicing can be a problem for BA as lending policies are becoming stricter in 2013. We anticipate that BA might suffer more than many competitors because of these new policies. This is mainly because BA relies more on debt than most of its competitors do.
While we recommend the implementation of better cost control measures by BA, negligence in doing can further reduce BA's profitability in the coming quarters. This is mainly because of BA's decision to expand defense production up to $100b in the coming year. While this will be a new record in the aerospace industry, higher costs might ruin a big portion of the benefits which BA will gain through this increased level of production.
Our Stance
The cost issues have been a major problem for BA and have deteriorated the profitability of the company over time. While its current stock performance seems in line with the industry average, we are bullish about its performance in the future because of higher dividend and share buyback. We have a buy rating for BA.
Disclosure: I have no positions in any stocks mentioned, and no plans to initiate any positions within the next 72 hours. I wrote this article myself, and it expresses my own opinions. I am not receiving compensation for it (other than from Seeking Alpha). I have no business relationship with any company whose stock is mentioned in this article.