A very interesting slide, courtesy of our friends over at ChipHell, has leaked, spilling the beans on the highly anticipated Nvidia (NASDAQ:NVDA) "Tegra 4" system-on-chip. The following slide reveals a number of technical details that are material to the performance and competitive positioning of the product against designs from the likes of Qualcomm (NASDAQ:QCOM), Samsung, and Intel (NASDAQ:INTC). In this business, the company with the best mouse-trap will get the design wins.
Without further ado, here is the slide: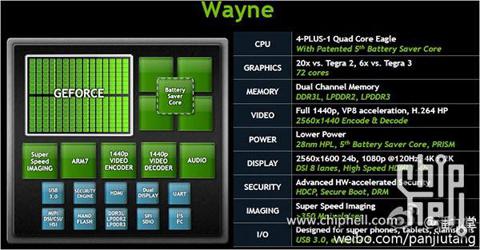 Now, let's get to some analysis, shall we?
Graphics: Improving The First Sore Spot
The first thing that is immediately obvious is that graphics performance goes way up with the Tegra 4. In my previous article, "How Nvidia Can Win The Android Tablet War," I was fairly critical of Nvidia's GPU performance in previous iterations of Tegra in comparison to peers, especially given that graphics is Nvidia's core competency. It seems that this problem is rectified in the next generation part. Graphics performance goes up by a factor of six, the chip supports very high resolution video, and even includes 4K display support.
On the graphics side of things, Nvidia seems to finally be leveraging the gigantic war-chest of graphics patents and designs to seriously compete in this new low power arena.
Memory Bandwidth: Clearing The Second Bottleneck
Another gigantic problem with the Tegra 3 was that it had a very weak memory interface. To illustrate the significance of this, think of this in terms of internet bandwidth in a home with multiple users. So you have multiple people trying to surf the web, watch YouTube videos, download games, and so forth on a shared internet connection. These are the compute units. The internet connection is the memory interface. If the connection is wide enough, then everybody can go about their business on the internet without noticing significant speed problems. But if there's not enough connection speed, then you have a bunch of people connected to the network all contending for fairly limited connection speeds - and then everybody's web-surfing experience becomes unpleasant fast.
So Tegra 4 seems to more than double memory bandwidth in providing a dual-channel DDR3 memory interface, which means that the much beefier CPU and GPU compute units are kept well fed with data. The upshot? System responsiveness and smoothness goes way up. And that's what the OEMs/ODMs want when they are picking a new chip.
Quad Core Cortex A15
The slide states that the CPU included is a "quad core Eagle." "Eagle" is the code-name for ARM Holdings' (NASDAQ:ARMH) latest-and-greatest Cortex A15 part. In the mobile system-on-chip market, Intel has actually held the performance lead with its low power, dual-core Atom Z2460/Z2760 parts on the CPU front. However, the ARM Cortex A15 is a substantially more modern and powerful design than the Cortex A9. Benchmark tests show that Intel's part is very competitive with A15 in Integer workloads but falls very short in floating-point workloads. It is amazing that Intel's 5-year-old Atom has been as competitive as it is, but until "Silvermont" hits, the Cortex A15's dominance at the high end of the mobile system-on-chip market cannot be disputed.
The upshot of this is: on the CPU side of things, Tegra 4 will be at the very top of the heap during the majority of 2013. Another major selling point that could land some very serious design wins.
Conclusion: Look For Substantial Tegra Sales Growth In 2013/2014
Nvidia has, at least on paper, a killer product. It seems to rectify all of the shortcomings of Nvidia's previous "Tegra" effort and will help solidify the firm's competitive position in the Android and Windows RT tablet markets. It is also likely that as Nvidia aggressively develops its integrated apps processor + baseband product, it will have a real shot of bringing this strong product to very high volume smartphone parts, too.
I'm adding more to my Nvidia position on a significant pullback.
Disclosure: I am long NVDA, INTC. I wrote this article myself, and it expresses my own opinions. I am not receiving compensation for it (other than from Seeking Alpha). I have no business relationship with any company whose stock is mentioned in this article.
Additional disclosure: I am short ARMH