Introduction
Yahoo (YHOO) generates advertising revenue through its various services. I don't anticipate that Yahoo will generate any product revolution anytime soon, but the stock price is trending higher, and for good reason. My price forecast assumes that the stock should be trading at higher levels, which implies an exceptional buy opportunity in this technology name.
Qualitative Analysis
Source: Information pertaining to Yahoo came from its shareholder annual report
Yahoo's primary source of income is advertising revenue. It provides unique services similar to Google, but less technical and more information-oriented. Yahoo has a unique corporate culture, and it is this difference in culture that allows Yahoo to differentiate itself from its competitors. Yahoo competes aggressively with the likes of Google (NASDAQ:GOOG), Microsoft's Bing (NASDAQ:MSFT), Baidu (NASDAQ:BIDU), Facebook (NASDAQ:FB), and American Online (NYSE:AOL).
Yahoo defines its business strategy as a unique blend of science, art, and scale. While it sounds like a bunch of ambiguous corporate jargon confabulated out of marketing school, the company has a simple core mission: build value, let the masses take advantage of it, and make it look artistic.
Yahoo properties operate in three categories: communications and communities, search and marketplaces, and media.
Communications and communities consists of its online mail and messenger services. The services include but are not limited to: Yahoo Mail, Yahoo Messenger, Yahoo Groups, Yahoo Answers, Flickr, and Connected TV.
Search offerings include Yahoo Search and Yahoo Local. These services are available and provided free to users. Often, the search engine is the starting point from which users navigate the Internet and uncover content that is relevant to them. Yahoo generates search-targeted advertising revenue through its search engine services.
In 2009, Yahoo entered into a Search and Advertising Services and Sales Agreement with Microsoft. The basic breakdown is fairly simple: Microsoft provides the algorithmic search results under the search agreement, Yahoo continues to develop and launch features around the results to enhance the user's Yahoo search experience.
Marketplaces offerings and services are broad, and they include but are not limited to: Yahoo Shopping, Yahoo Travel, Yahoo Real Estate, Yahoo Autos, and Yahoo Small Business. Users who access these databases are able to conduct research on specific topics, products, services, or areas of interest. Yahoo generates revenue from these services through listing and transaction fees.
Yahoo also has media offerings, where it provides users with some of the most compelling online content and services on the web. These services include but are not limited to: Yahoo Homepage, Yahoo News, Yahoo Sports, Yahoo Finance, My Yahoo, Yahoo Toolbar, Yahoo Entertainment & Lifestyles, Livestand from Yahoo, IntoNow from Yahoo, and Yahoo Contributor Network. It generates ad revenue from banner ads on its media offerings.
I am a benefactor of Yahoo media services, as I cite information directly from Yahoo Finance. This is by no means a coincidence. I cite Yahoo Finance because I often find unique data I cannot find on other websites. This means Yahoo has unique web properties that are able to provide value to the end-user -- at least, this has been my personal experience with Yahoo Finance.
Yahoo currently operates in 45 languages and in 60 countries, regions and territories, meaning Yahoo is busy out-competing foreign competition in its domicile markets, such a Baidu in China.
Yahoo was developed and was first made available in 1994 by David Filo and Jerry Yang while they were graduate students in Stanford University.
Technical Analysis
Since August, Yahoo has been trending higher, trading from $14.75 all the way up to $19.65. This up-trend is likely to continue.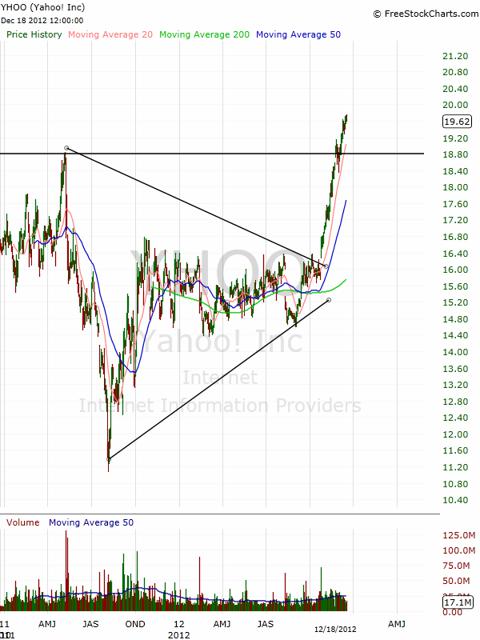 Source: Chart from freestockchart.com
While Yahoo is extended on the charts, I remain optimistic on price action. The stock recently broke above the symmetrical triangle formation at 16.40, and the double top at 18.80. The stock is above the 20-, 50-, and 200- Day Moving Averages. This is an indication that the stock is trading in a very strong up-trend. The stock rally was done on low volume, which implies share accumulation. The technical analysis backs my investment thesis of going long Yahoo.
Notable support is 18.80, 17.60, and 16.40 per share.
Notable resistance is 25.00, 30.00, and 34.00 per share.
Street Assessment
Analysts on a consensus basis have reasonable expectations for the company going forward:
| | | | | |
| --- | --- | --- | --- | --- |
| Growth Est | YHOO | Industry | Sector | S&P 500 |
| Current Qtr. | 16.70% | 204.50% | 9.60% | 8.30% |
| Next Qtr. | 8.30% | N/A | 10.20% | 14.80% |
| This Year | 37.80% | 29.60% | 5.00% | 5.60% |
| Next Year | 0.90% | 41.40% | 5.40% | 13.20% |
| Past 5 Years (per annum) | 24.55% | N/A | N/A | N/A |
| Next 5 Years (per annum) | 11.12% | 16.64% | 14.14% | 9.14% |
| Price/Earnings (avg. for comparison categories) | 17.38 | 33.42 | -26.3 | 13.71 |
| PEG Ratio (avg. for comparison categories) | 1.56 | 1.87 | -0.33 | -0.01 |
Source: Table and data from Yahoo Finance
The company shows reasonable growth as well, as analysts on a consensus basis have a 5-year average growth rate forecast of 11.12% (based on the above table):
| | | | | |
| --- | --- | --- | --- | --- |
| Earnings History | 11-Dec | 12-Mar | 12-Jun | 12-Sep |
| EPS Est | 0.24 | 0.17 | 0.22 | 0.25 |
| EPS Actual | 0.24 | 0.24 | 0.27 | 0.35 |
| Difference | 0 | 0.07 | 0.05 | 0.1 |
| Surprise % | 0.00% | 41.20% | 22.70% | 40.00% |
Source: Table and data from Yahoo Finance
The average surprise percentage is 26% above analyst forecast earnings over the past four quarters (based on the above table):
Forecast and History
| | | |
| --- | --- | --- |
| Year | Basic EPS | P/E Multiple |
| 2006 | $ 0.53 | 48.19 |
| 2007 | $ 0.48 | 48.46 |
| 2008 | $ 0.31 | 39.35 |
| 2009 | $ 0.43 | 39.02 |
| 2010 | $ 0.91 | 18.16 |
| 2011 | $ 0.82 | 19.67 |
Source: Table created by Alex Cho, data from shareholder annual report, and price history from Yahoo Finance.
The EPS figure shows that throughout the 2007-2009 period, revenue growth slowed as the company was adversely affected by the great recession. Once the United States economy exited the recession in 2010-2011, earnings rapidly improved.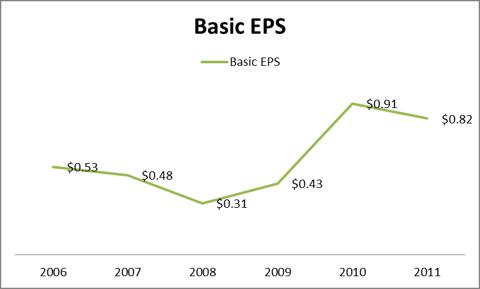 Source: Table created by Alex Cho, data from shareholder annual report
By observing the chart, we can conclude that the business is cyclical. The largest risk factors for Yahoo are slowing of international GDP growth and competition.

Source: Forecast and table by Alex Cho
By 2017, I anticipate that the company will generate $2.18 in earnings per share. This is because of earnings growth, improving global outlook, and continued success of its product offerings. Yahoo has unique intellectual property, the global economy continues to recover, and analysts have forecast reasonable yet strong growth for the company. The forecast is proprietary, and below is a non-linear chart indicating the price of the stock over the next five years.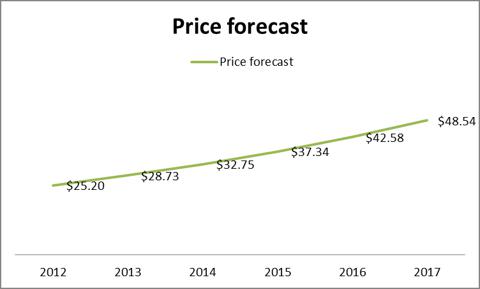 Source: Forecast and chart by Alex Cho
Investment Strategy
YHOO currently trades at 19.62. I have a price forecast of $25.20 for 2012, however, since there are only 15 days before the end of 2012; the stock may fall short of the forecast. This means we should move to the long-run, and focus on 2012-2013. Previous price history indicates that Yahoo will rapidly appreciate throughout the year. The stock may rapidly jump when it announces earnings for 4th quarter 2012 in 1st quarter 2013. It is likely that Yahoo will continually appreciate up until it announces earnings.
Short Term
Over the next 12 months, the stock is likely to appreciate from $19.62 to $25.20-28.73 per share. This implies 22-46% upside from current levels. The technical analysis indicates a strong up-trend in the stock, while the previously mentioned price forecast using fundamental analysis further supports the trade set-up.
Investors should buy Yahoo at $19.62 and sell at $25.20 to pocket short-term gains of 22%. The return on investment is likely to beat the S&P 500 in 2013.
Long Term
The company is an exceptional investment. I anticipate YHOO will deliver upon the price and earnings forecast despite the risk factors (mentioned earlier in the article). YHOO's primary upside catalysts are international growth and margin improvement. I anticipate the company will deliver upon my forecast price target of $48.54 by 2017. This implies a return of 147% by 2017. This rate of return is exceptional, considering Yahoo has a market capitalization of $23.2 billion. The large market capitalization allows for larger institutions to sell the stock without affecting liquidity, making it an investment of choice.
Conclusion
The stock is both compelling over the long and short term. I anticipate that Yahoo will beat the S&P 500 in 2013 (the average return for equities is approximately 12%, but Yahoo is set to do 22-46% in 2013). Yahoo will be a great investment for many years ahead. The conclusion is simple: buy Yahoo.
Disclosure: I have no positions in any stocks mentioned, and no plans to initiate any positions within the next 72 hours. I wrote this article myself, and it expresses my own opinions. I am not receiving compensation for it (other than from Seeking Alpha). I have no business relationship with any company whose stock is mentioned in this article.