Gun makers Smith & Wesson (SWHC) and Sturm, Ruger (NYSE:RGR) have been correcting with a vengeance over the past several days and for good reason. The recent Connecticut incident, where 20 kids and 6 teachers were killed has proved to be a catalysts for many people calling for tougher gun control laws in the U.S.
And while such incidences in the past also caused an uproar and many people called for tougher gun control laws, this time around however things might actually be different. I mean, when was the last time the NRA announced it was appalled by the incident and that it will donate vast sums of money in order for this incident not to be repeated again?
As per the NY Times:
Out of respect for the families, and as a matter of common decency, we have given time for mourning, prayer and a full investigation of the facts before commenting. The N.R.A. is prepared to offer meaningful contributions to help make sure this never happens again.
Cerberus, the private equity firm that holds 95% of Freedom Group, a privately held gun maker which is believed to have made the weapon that was used in the Newton incident, announced it will sell the company.
Dick's Sporting Goods (NYSE:DKS) announced that it's suspending sales of modern sporting rifles nationwide because of the school shooting. The sporting goods chain also said that out of respect for the victims and their families, it's removing all guns from display at its store closest to Newtown, Connecticut.
Wal-Mart (NYSE:WMT), the largest seller of guns and ammunition in the U.S., on Monday removed a website listing for semiautomatic assault rifles similar to the gun used in the school massacre, but as Bloomberg reported, they do not intend to suspend gun sales.
And when a Baltimore gun buy back program produces 461 guns surrendered to the local police, for $100 a piece, then you know sentiment towards firearms is really bad.
Setting aside the issue if gun companies are an opportunity or not, there is a company that offers a non-lethal firearm alternative that might gain in popularity, if tougher firearm laws gain permanent traction in the U.S. this time around. This company is TASER International Inc. (TASR).
Taser makes stun guns that are used widely in law enforcement agencies all over the world. I think this company would benefit, since law enforcement agencies are also criticized from time to time of using their firearms excessively.
There is a possibility that stun guns might replace a portion of regular firearms used in many enforcement agencies, if the nationwide negative sentiment towards guns increases.
I wrote about TASER a while ago (please consider: Buying TASER Might Get You Stunned). I like the company in many ways. It has a good balance sheet, increasing sales and profits and above all, management is decreasing the share float, which is always good for shareholders.
Valuation is a little too rich for my tastes, but if they become a direct beneficiary of reduced gun sales going forward, then the relatively rich valuation can change very fast.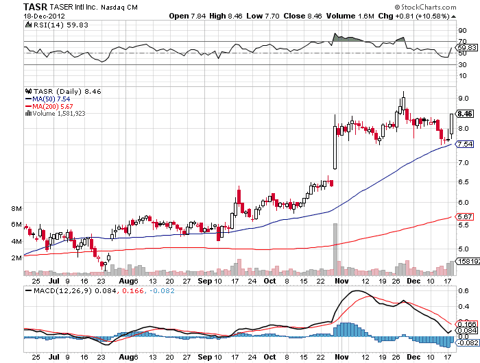 And looking at the chart above, the market seems to have the same idea.
Bottom line
Sell Smith & Wesson and Sturm-Ruger because there will be damage in the space and we don't know how low these stocks can go. And because the market tends to exaggerate, they can go quite low.
In the mean time, TASER might benefit, since it offers a non-lethal firearm alternative that might gain in popularity, as a result of a change in sentiment towards firearms across the U.S.
Disclosure: I have no positions in any stocks mentioned, and no plans to initiate any positions within the next 72 hours. I wrote this article myself, and it expresses my own opinions. I am not receiving compensation for it (other than from Seeking Alpha). I have no business relationship with any company whose stock is mentioned in this article.