This morning appears that we will have another up day, with financials having led the way higher over the past two sessions and the 'Santa Claus Rally' once again appearing before year end for investors. Housing data continues to improve and today we have more due out. Tomorrow will bring the all important job numbers, but this morning we would like to direct your attention to the positive trend on the housing starts in the graph below. It has always been our belief that housing is a pillar of the economy, and until it recovered the general economy would be unable to. So in short, data sets which produce graphs such as this we find very bullish.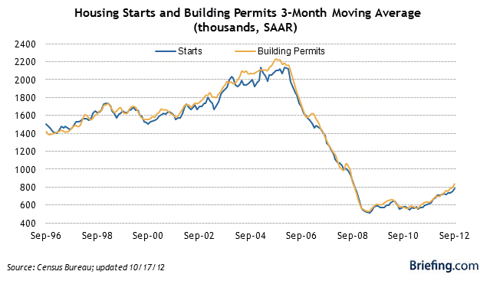 Chart courtesy of Briefing.com
We have economic news due out today, and it is as follows:
MBA Mortgage Index (7:00 AM EST) - N/A
Housing Starts (8:30 AM EST) - 875k
Building Permits (8:30 AM EST) - 876k
Crude Inventories (10:30 AM EST) - N/A
Asian markets finished higher today:
All Ordinaries - up 0.49%
Shanghai Composite - down 0.01%
Nikkei 225 - up 2.39%
NZSE 50 - up 1.10%
Seoul Composite - up 0.51%
In Europe markets are higher this morning:
CAC 40 - up 0.45%
DAX - up 0.35%
FTSE 100 - up 0.60%
OSE - up 0.89%
Technology
It seems that one of the biggest beneficiaries of the Sprint (NYSE:S) and Clearwire (CLWR) deal could very well end up being Dragonwave (NASDAQ:DRWI) which saw its shares rise $0.62 (26.16%) to close at $2.99/share on volume of 1.2 million shares. Investors pushed the shares higher on news that as part of the deal, Sprint would provide a credit line of $800 million which would be available to be drawn down in ten increments, over ten months, of $80 million/each. The funds will be used by Clearwire to continue to build out their network. Dragonwave's stock has continued its upward trajectory as it stands to benefit significantly from the Clearwire buyout as it is a major supplier of the wireless backhaul gear used in the carrier's network. Since rumors of M&A activity heating up in the sector, and the possibility of Clearwire being in play, we have seen Dragonwave shares tag along. This could be a nice way for Clearwire investors to reinvest some of their profits.
Banking
Regions Financial (NYSE:RF) saw shares cross the $7/share threshold yesterday with volume picking up once again as 26.8 million shares were traded. The company's shares have been on strong recently as they have participated in the financial sector rally. This move above $7/share is bullish for sure, and now puts the shares within 10% of its 52-week high, however we think that there could be a retracement to the $6.70 to $6.80/share level. It is hard for us to get as bullish on the company as we were earlier this year until we see loan growth and lending picking up, specifically mortgage lending which we do hope to see increase in the next few quarters.
Financial
American International Group (NYSE:AIG) is back above the $35/share level and has been a great stock to buy in the low $30s to trade up to the mid $30s. We have recommended a few times that investors buy the shares on pullbacks into the low $30s and that has been a nice trade for readers who have taken advantage. For trading purposes that is fine, but longer term we think that this could turn into a bigger winner as the company has continued to deleverage and shifted focus to its core business. For more conservative investors who look for dividends and chase yield, no worry as dividend payments should resume soon at AIG. At that time investors will have seen a complete 180 degree change from the company that the Feds had to bail out.
Consumer Goods
We have noticed a bit of a trend developing as it pertains to some of the best names in the consumer goods industry and the trend is higher. The latest example is General Mills (NYSE:GIS) which like some other names is trading at a 52-week high and also a new all-time high. If one were to look at a long-term chart of this one, we would imagine they would be able to appreciate the beauty much as we are able to. As we have been looking through 52-week high lists over the past few weeks we have noticed that the quality names in the industry are not only setting the 52-week highs, but also either setting new all-time highs or approaching them.
Yes, they are the best brands so on the surface this is not that strange, however, with their ability to pass on rising costs and price increases, at what point does one start to look at this as possibly being affected by inflationary pressures? Yes, it seems far-fetched, but with all of the money that the Fed has pumped into the economy is has to be going somewhere and everyone has to buy food and everyday goods, so this is one area where we could see inflation creep in first.
Biotechnology
There have been many who have disapproved of our talking about Arena Pharmaceuticals (NASDAQ:ARNA) over the past few months, but when it ceased to be a stock to ride higher and instead trade in and out of we were there. We have long maintained that we thought $10 was a fair value and that shares would eventually gravitate towards that level again, while investors could buy shares in the low to mid $8/share range.
We hope that our readers who take part in the trading were able to load up when shares were recently trading just above the $8.50/share level as the stock has gravitated higher. Yesterday also saw the company receive the proposed DEA scheduling. Based off of this, the timeline indicates that the company's weight loss drug shall hit the market in early 2013, making this one of the stories which will be a must follow in 2013.
Disclosure: I have no positions in any stocks mentioned, and no plans to initiate any positions within the next 72 hours. I wrote this article myself, and it expresses my own opinions. I am not receiving compensation for it (other than from Seeking Alpha). I have no business relationship with any company whose stock is mentioned in this article.