In our previous articles, available here and here, we discuss why we believe Alnylam Pharmaceuticals, Inc. (NASDAQ:ALNY) is overvalued. The company's pipeline is too thin to justify the current stock's high valuation, and analysts' optimism is greatly misplaced with respect to the company's drug ALN-TTR02.
In this article, we provide a comparison between ALNY and Isis Pharmaceuticals, Inc. (ISIS), another leader in the RNA interference biotech sector. ALNY and ISIS are both players in the RNAi space, and although we think that both stocks exhibit a high degree of risk, we don't think it makes sense that they trade at comparable valuations. We believe that ISIS has a stronger pipeline, a higher quality patent portfolio, and superior partnership relationships with big pharma. Yet ISIS trades at $1bn market capitalization / $900m enterprise value, while ALNY trades at a similar $970m market capitalization / $750m enterprise value.
We don't think that makes sense. On numerous fronts, ISIS appears to us as the far more attractive option, and we believe that the difference in valuation should be more significant between the two. In this article, we will summarize several of our reasons.
Phase III Trial Candidates
As discussed in our previous article, ALNY has no drugs currently in Phase III trial (see 10K and most recent 10Q). After ALN-RSV01 provided disappointing results in its Phase IIb trial in May, ALNY was left with ALN-TTR02 as its most promising drug candidate. As we've discussed, we believe that the Phase I trial that triggered the stock's dramatic rise in July targeted an insufficiently meaningful endpoint, TTR serum knockdown, rather than endpoints that represent meaningful improvement for patient quality of life, such as the Neurologic Impairment Score-Lower Limb (NISLL) score or change from baseline in the total Quality of Life score (Norfolk QOL-DN). Similarly, the company's Phase II trial design indicates that the company will not attempt to correlate TTR serum knockdown with clinical results. The Phase II trials are too small to generate statistically significant results with respect to ALN-TTR02's clinical response.
ISIS, on the other hand, completed Phase III trials for Kynamro and submitted the drug for approval to the FDA (see 10K and most recent 10Q). Kynamro is designed for patients with severe forms of familial hypercholesterolemia, or FH, at high cardiovascular risk, who cannot reduce their low-density lipoprotein cholesterol, or LDL-C, sufficiently with currently available lipid-lowering therapies. ISIS has partnered with Genzyme, who licensed the drug in 2008 and paid a $175 million licensing fee, made a $150 million equity investment in ISIS, and has paid ISIS several milestone payments. Granted, the drug's future looks questionable, given that it was rejected by European regulators earlier this month and received a mixed 9-6 vote from the FDA advisory committee in October.
Nevertheless, at least ISIS has a drug that has completed a Phase III trial and been submitted to the FDA. In its entire history, Alnylam has yet to undertake a Phase III trial. The closest was ALN-RSV01, for the treatment of respiratory syncytial virus, or RSV, infection. But after its Phase IIB study missed the primary endpoint of reduced BOS in an "intent-to-treat" (ITTc) analysis of confirmed RSV infected patients, the drug is no longer a focal point for the firm. Today, ALNY's most promising drug is ALN-TTR02, which only launched its Phase II trial in June. As previously discussed, we didn't find the ALN-TTR02 Phase I data to be very significant and are uninspired by its Phase II trial design.
Additionally, ISIS has multiple other discoveries that have progressed further than ALNY's. OGX-011, which ISIS and OncoGenex (OGXI) jointly discovered and which is now licensed to Teva Pharmaceutical Industries Ltd. (TEVA), is currently undergoing two Phase III trials, with another one on the way.
We should also mention that ISIS's drug Vitravene was approved in 1998, though it is no longer commercially viable. And alicaforsen is an antisense drug that ISIS licensed to Atlantic Pharmaceuticals that targets intercellular adhesion molecule 1, or ICAM-1, which is over-expressed in inflammatory disorders including ulcerative colitis and pouchitis. The FDA and European Medicines Agency, or EMA, have since granted alicaforsen Orphan Drug Designation for the treatment of pouchitis in the United States and Europe, respectively. While there are limited revenue opportunities from these drugs for Isis, they are worth mentioning when comparing Isis's ability to design drugs that can ultimately be commercially viable, as compared to Alnylam.
Pipeline Comparison
Beyond simply Phase III candidates, we can more broadly compare the two companies' pipelines. ISIS's pipeline is available here. Alnylam's pipeline is available here. The contrast is stark.
ISIS lists 26 drugs in its pipeline. ALNY lists only 10 (see page 7 of the 10K for additional disclosure on the individual drugs, as opposed to a summary of the program). Below is a table that compares the trial stages of ISIS's drugs as compared to ALNY's.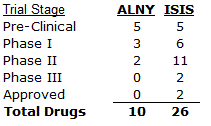 While both ALNY and ISIS have 5 drugs at the pre-clinical stage, Isis has 2 approved drugs, 2 drugs in Phase III and 11 drugs in Phase II. In contrast, Alnylam only has 2 drugs in Phase II. One of those is ALN-RSV01, whose disappointing results earlier this year has rendered it to the backburner, and the other is ALN-TTR02, which features, as we've discussed, a Phase I trial that targeted a less-than-meaningful endpoint and a Phase II trial construction that fails to inspire us.
Furthermore, as Chimera Research Group wrote earlier this week, Alnylam's solution for Familial amyloid polyneuropathy (FAP), or TTR-mediated amyloidosis (ATTR), has fallen behind both Pfizer and Isis in terms of progress. Pfizer's Vyndaqel has already been approved in Europe, and is facing further Phase III trials in the US at the FDA's request. ISIS has partnered with GlaxoSmithKline (GSK) for its TTR drug ISIS-TTRRx, and announced last week that it received orphan drug status and was granted fast track designation by the FDA. The registration-directed Phase II/III clinical study on ISIS-TTRRx is expected to start this month.
In contrast, ALNY has yet to find a partner to help develop its TTR program here in the United States. In October, the company granted Genzyme an exclusive license in Japan and the Asia-Pacific region to develop and commercialize RNAi therapeutics targeting TTR, but this does not equate to a big pharma partner that will help ALNY design its Phase II / III trials for FDA approval in the United States.
As such, ALNY has fallen behind ISIS in its only Phase II drug that remains promising. In contrast, ISIS has not only pulled ahead with respect to its TTR therapy, but has 10 other Phase II drugs and 2 Phase III drugs in its pipeline.
Partnership Comparison
Another way to compare Alnylam to Isis is to examine the number of reputable big pharma companies that each has been able to attract as partners for its development programs, as well as compare the economics that partners have given in exchange for licensing rights. An analysis of partnerships is particularly helpful for Alnylam and Isis because both companies view themselves as specialists in RNAi technology, in terms of patents and knowhow, and should therefore theoretically rely on their RNAi expertise to develop early-stage solutions that they would then monetize through big pharmas. Larger pharmaceutical companies have the requisite expertise of conducting more complex later stage trials, overseeing the FDA approval process and commercializing the final product.
As in other areas, the partnership profile of ALNY looks particularly thin when compared to that of ISIS. In ALNY's 2011 10K, the company describes its product pipeline on pages 6 to 12. Let's go through each of Alnylam's development programs, with a focus on the company's big pharma partners. Below is a chart summarizing ALNY's partners for its current U.S. programs.
| | | |
| --- | --- | --- |
|   | Condition | U.S. Development Partner |
| ALN-TTR | TTR-Mediated Amyloidosis | None |
| ALN-APC | Hemophilia | None |
| ALN-PCS | Severe Hypercholesterolemia | None |
| ALN-HPN | Refractory Anemia | None |
| ALN-TMP | Hemoglobinopathies | None |
| ALN-RSV | Respiratory Syncytial Virus (RSV) | Cubist |
| ALN-VSP | Liver Cancer | None |
| ALN-HTT | Huntington's Disease (NYSE:HD) | Medtronic and CHDI |
As we can see, Alnylam's list of big pharma partnerships for current development programs is sparse. For ALN-RSV, ALNY partnered with Cubist Pharmaceuticals Inc., a $2.7bn market cap pharma. As we discussed, ALN-RSV reported disappointing Phase IIb results earlier this year, and does not currently have a promising future. In its agreement with ALNY, Cubist paid an upfront cash payment of $20m in 2009 and has yet to pay any additional milestones. ALNY's only other partnership in its current development pipeline involves Medtronic, more a medical device maker than a pharma drug specialist.
That's it for ALNY. Although the company had inked deals with firms like Roche and Novartis in the past, as explained in a previous article, these firms gave up on ALNY long ago and are nowhere to be found with respect to Alnylam's current pipeline of drug candidates.
In contrast, ISIS's numerous partnerships with big pharma indicate that its patents and pipeline have been better vetted by large pharmaceutical companies that are looking to identify viable future drugs. ISIS's drug discovery programs are provided on pages 4 to 17 of their 2011 10K. Additionally, a quick look at this page demonstrates that for its current drug pipeline, ISIS has partnered with large firms including Genzyme, Biogen (BIIB), GlaxoSmithKline (OTCPK:GLAXF), Teva (NYSE:TEVA), Pfizer (NYSE:PFE), and numerous others.
For instance, on Kynamro, Genzyme partnered with Isis to take the drug through Phase III trials and submit it for FDA and CHMP approval. Earlier in this article, we discussed how Genzyme paid a $175 million licensing fee, made a $150 million equity investment in Isis, and has paid Isis several milestone payments.
For its two cancer drugs, LY2181308 and ISIS-EIF4E, ISIS has teamed up with Eli Lilly and Company (NYSE:LLY). Eli Lilly is responsible for the development of LY2181308, for which ISIS can receive milestone payments of up to $25 million.
With respect to ISIS's rare disease franchise, ISIS entered into a preferred partner alliance with Biogen Idec that allows Biogen an option to develop and commercialize ISIS-SMNRx for spinal muscular atrophy. Genzyme has right of first negotiation for the company's muscular dystrophy drug ISIS-SODIRx and GlaxoSmithKline is ISIS's partner for its TTR drug ISIS-TTRRx and liver disease drug ISIS-AAT.
As previously discussed, ISIS's OGX-011 drug has been licensed to Teva and the drug is currently undergoing Phase III trials.
The more extensive partnership relationships of Isis is yet another sign that Isis has a more promising future than Alnylam.
Other Metrics
As a final note, Isis also outshines Alnylam on certain superficial metrics.
ISIS has 1,500 patents worldwide, writing in its most recent 10K that "as of February 13, 2012, [ISIS] owned or exclusively licensed approximately 1,500 issued patents worldwide." ALNY, on the other hand, lists 700 patents, writing in its most recent 10K that "[ALNY's] intellectual property estate for RNAi therapeutics includes over 1,800 active cases and over 700 granted or issued patents, of which over 300 are issued or granted in the United States, the EU, including by the European Patent Office, or EPO, and Japan."
When it comes to research and development spending, ISIS has outspent ALNY over virtually any historical period that one would look at. Below is a comparison of the two companies' research and development expenses over the past few years, as well as over the past 3, 5 and 10 fiscal years.
Comparison of Historical Research and Development Expense

Period

ALNY

ISIS

% Difference

YTD 2012

$64.9

$115.7

78.3%

2011

$99.3

$157.4

58.5%

2010

$106.4

$145.2

36.4%

2009

$108.7

$134.6

23.8%

Last 3 Fiscal Years

$314.4

$437.2

39.0%

Last 5 Fiscal Years

$532.0

$621.8

16.9%

Last 10 Fiscal Years

$657.3

$1,133.2

72.4%
Conclusion
Yet despite ISIS's clear competitive advantages over ALNY, whether measured in terms of Phase III drugs, its overall pipeline, or its partnership relationships, the two companies trade at comparable valuations. ISIS and ALNY have nearly the same market capitalization, and ISIS's enterprise value is only 20% higher.
We think this is nonsensical. In no way are we championing ISIS as a long investment, given that Kynamro faces a strong possibility of a Complete Response Letter from the FDA in early 2013, and that commercially viable RNAi therapies remain elusive. As we discussed in a previous article, RNAi therapies continue to face safety-related obstacles in their quest to get regulatory approval. Most recently, Europe's Committee for Medicinal Products for Human Use issued a negative opinion against Kynamro, using firm language questioning the drug's safety profile:
"However, the CHMP was concerned about the medicine's safety. The Committee noted that a high proportion of patients stopped taking the medicine within two years, even in the restricted group of patients with homozygous familial hypercholesterolaemia, mainly due to side effects such as flu-like symptoms, injections site reactions and liver toxicity. This was considered important because Kynamro is intended for long-term treatment in order to maintain the cholesterol-lowering effect. The CHMP was also concerned by liver test results in patients taking Kynamro showing a build-up of fat in the liver and increased enzyme levels, and was not convinced that the company had proposed sufficient measures to prevent the risk of irreversible liver damage. Moreover, the Committee was concerned that a greater proportion of patients taking Kynamro experienced serious cardiovascular events (problems with the heart and blood vessels) than patients taking placebo. This prevented the CHMP from concluding that Kynamro's intended cardiovascular benefit, in terms of reducing cholesterol levels, outweighed its cardiovascular risk."
As such, ISIS seems to us to be a highly speculative stock. But while ISIS's current valuation may be merely speculative, the valuation of ALNY is wholly unreasonable. ALNY should be trading at a far more significant discount to ISIS. More generally, Alnylam's current product pipeline does not come close to justifying the company's current $1bn market capitalization.
Disclosure: I am short ALNY.
Business relationship disclosure: My research firm provides research services to clients and manages funds for compensation, and I therefore benefit to the extent shares in ALNY decline.