Google (NASDAQ:GOOG) is a leading company in online advertising and online search, with approximately 40% of U.S. online advertising revenue share and nearly 70% of U.S. online search. In May 2012, Google acquired Motorola Mobility for approximately $12.5 billion, a 63% premium to Motorola's share price prior to announcement. This was the Google's largest acquisition to date (a concern?). The acquisition of Motorola Mobility has dramatically shifted Google's business model from a pure 100% online services company, to a model that now includes the low-margin hardware manufacturer business (Motorola's gross margins only 17% compared to Google's online services at 80%). Google's move seems to be following in the footsteps of Apple (NASDAQ:AAPL), where controlling the entire development and ecosystem from hardware to software provides a competitive advantage in creating well-integrated consumer products. In addition, the acquisition helps further establish Google's Android mobile operating system as well as shore up Google's portfolio of patents (Motorola owns 17,000 patents).
Google may be one of the best tech companies when it comes to innovation in online services and software products (and attracting talent), however running a hardware manufacturer takes a completely different set of managerial skills and operational expertise (free cafeteria meals and 20% of time for pet projects will not help the Motorola Mobility business when overseas manufacturing facilities are backed up or product defects detected).
Motorola Mobility will contribute over 20% of Google's 2013 revenue, and the low gross margins of Motorola will compress Google's total company gross margins from 85% down to 70%, and net margins down from +40% to 30%. As this article will show, Google's current stock price implies that it's fairly valued (so not much upside left for investors). Until Google can prove that it can successfully integrate Motorola and that it deserves a premium for potential future growth, the risk/reward ratio does not justify owning Google at current levels (above $720 a share).
Valuation
As always, let's first cover the basic valuation metrics of Google. As shown below, Google currently trades at 3.9x 2013E Revenue, 15.7x 2013E P/E, and 3.5x P/B. The Company currently has $124.10 per share of net cash on its balance sheet. Adjusting for this net cash, it would bring down Google's 2013E P/E to 13.0x.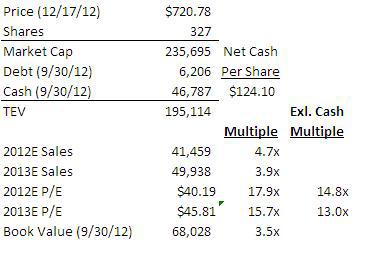 Now let's look at Google's revenue growth and earnings growth. Historically from 2009-2011, Google has been able to grow EPS at 25-30%. However, since the Motorola acquisition in May 2012, Wall Street analysts have revised down EPS growth for 2012-2014 to just 12 to 14%. Note a few other trends due to the Motorola acquisition. Gross profit margins decline significantly 85% before the acquisition to just 70% after the acquisition. Net profit margin also declines from +40% to around 30%. In short, the Motorola acquisition is negatively affecting the highly attractive, highly profitable core Google online service business.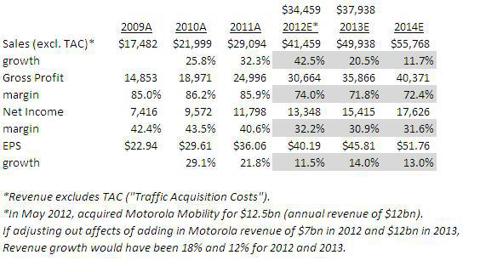 With a 2013E P/E (adjusted for net cash) of 13.0x and an adjusted EPS growth rate of around 12-14%, this would imply a PEG ratio (price-to-earnings-to-growth) of around 1.0x, which would imply that Google is fairly priced at current levels of $720 a share.
Motorola's affects on Gross Margins
In the latest quarter ended 3Q2012, Google's filings show that Motorola's hardware business only generated 17.9% gross margins (note, Samsung and Apple's gross margins are over 40%). This compares to Google's existing online service gross margins of +80%. The net result as shown above, is that Google's combined company gross margin is impacted significantly and falls from historically above 80% down to just 70% (note, Yahoo (YHOO) has gross margins of +75%, net of traffic acquisition costs).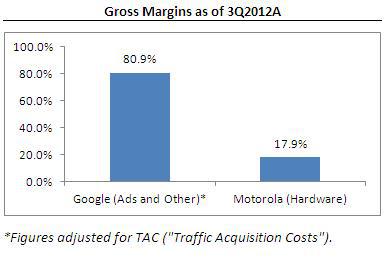 Signs of a Rough Start in Motorola's Integration?
In the latest quarter ended 3Q2012, Google missed earnings expectations of over 15%, reporting non-GAAP EPS of $9.03 versus consensus estimates of $10.65. In addition, the Company took a $349 million restructuring charge in that same quarter related to the Motorola acquisition. The first full quarter that Motorola was officially on Google's books, they already took a significant restructuring charge related to it. Not a good start for the integration it seems.
In addition, Google has been rumored in trying to sell Motorola's set-top box business. The set-top box business generates approximately $3.5 billion sales annually, or about 30% of the total Motorola Mobility sales of $12 billion (the other 70% is the mobile phone business). This actually could be a positive for Google (less manufacturing is good for Google). But it assumes that Google can find a buyer that will pay a fair price for the set-top business. Google paid approximately 1.0x revenue for all of Motorola Mobility (set-top and mobile), so if Google can sell the set-top business for around 1x sales or $3.5 billion, then it's a decent deal for Google. If Google sells the set-top business for less than 1.0x, then they would have basically destroyed some Google shareholder value, by paying 1.0x for all of Motorola in May 2012, only to sell 30% of that business for less than what they initially paid six months later.
Google's Core Business Remains Solid
While I am not a fan of the Motorola acquisition until Google's Management has proven that they can successfully integrate a hardware company, I do believe Google's core internet advertising driven business remains solid and positioned for continued growth. As shown below, Google Website (ie: primarily Search) comprise of 62% of total sales, while Google's Network Websites (ie: AdSense) comprise 7% of total sales, net of traffic acquisition costs. Furthermore, YouTube (online video) is now a $1.5-2.0 billion a year business and represents 4% of total sales.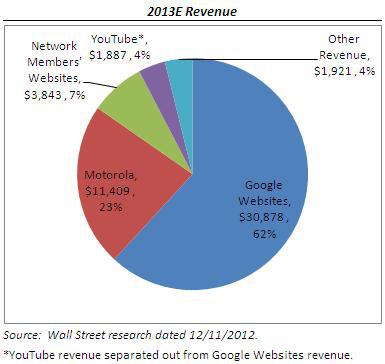 As shown below, industry growth rates for overall U.S. internet advertising remains poised to grow +13% through 2015. Specifically, Search is projected to grow 11.7%. Display has slightly higher growth of 17.1%, and Digital Video (YouTube) is the highest growth segment at 19.8%.

Conclusion
While Google's core business should continue to generate significant revenue growth from search, display, and online video advertising, the Motorola hardware acquisition will continue to put short-term pressure on margins (as well as potentially distracting management from its core business). In a few years, Google may well have successfully created the next Apple equivalent hardware/software ecosystem (but if you want to bet on the ecosystem play, why not just own Apple at 7.0x 2013 P/E excluding cash). However, the short-term execution risks related to integrating Motorola remain a major concern (unfortunately many corporate mergers and acquisitions destroy shareholder value and not create value, think Hewlett Packard (NYSE:HPQ) and Autonomy as a recent example).
I would recommend taking a wait-and-see approach over the next few quarters to see how well the Motorola integration progresses, especially given that Google's stock price has run up recently and already seems fairly valued at current levels.
Disclosure: I am long AAPL. I wrote this article myself, and it expresses my own opinions. I am not receiving compensation for it (other than from Seeking Alpha). I have no business relationship with any company whose stock is mentioned in this article.