There's a lot of volatility in home building data, which lends toward wider swings in housing related stocks. The basket has been one of the year's best, with the homebuilder ETF (NYSEARCA:XHB) rising 58.5% versus a 17.5% gain in the S&P 500 (NYSEARCA:SPY).
While it may be tempting to try and top tick the basket, investors should focus on longer term trends rather than the volatile month-to-month housing starts.
In October, housing starts fell 3% from October. But, the decline is due to Hurricane Sandy, which significantly hampered activity in the Northeast. The month over month decline for the storm swept region was 5.2%. Despite the overhang, starts were still an impressive 21.6% higher than they were a year ago.
Less volatile housing permits also remain bullish. They climbed 26.8% year-over-year in November to their highest since July 2008.
And, builder confidence remains unshaken. This month it climbed to a 6.5 year high of 47, notching an 8th consecutive month of improvement.
A major support behind the improving data remains tightening inventory.
Record low interest rates have made home buying more affordable than renting and new home supply dropped to 4.8 months in October, down from 6.1 months a year ago.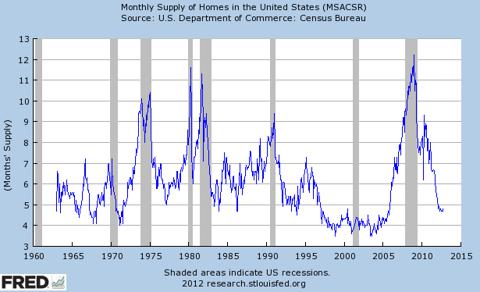 Housing strength is also evident in the pace of related railcar volume. In the most recent week, lumber and wood products shipped by rail increased 18.6% from a year ago, bringing year-to-date growth to 12.9%.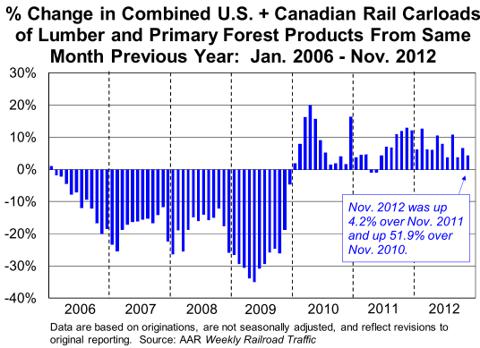 And, the rising activity in housing is also reflected in the value of finished wood products inventory at manufacturers, which increased to $3.966 billion in October, up from $3.837 billion in June.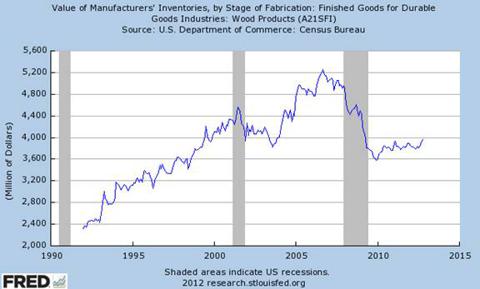 Given Sandy weighed down what remained impressive year-over-year growth, knee jerk unwinding of homebuilding stocks such as D R Horton (NYSE:DHI), Pulte Homes (NYSE:PHM) and K B Homes (NYSE:KBH) may offer an opportunity to buy.
Additionally, those companies supplying products used in homebuilding, such as U S G Corporation's (NYSE:USG) Sheetrock, Trex Company's (NYSE:TREX) decking and tool maker Stanley Black and Decker (NYSE:SWK), may also offer opportunity as permits suggest activity will trend higher into 2013.
Disclosure: I have no positions in any stocks mentioned, but may initiate a long position in SWK over the next 72 hours. I wrote this article myself, and it expresses my own opinions. I am not receiving compensation for it (other than from Seeking Alpha). I have no business relationship with any company whose stock is mentioned in this article.