"Another factor contributing to productivity is technology, particularly the rapid introduction of new microprocessors based on single-chip circuits...The results over the next decade will be a second industrial revolution." --Yale Hirsch (Creator of Stock Traders Almanac, as written in his newsletter on September 22, 1976
Those who took Mr. Hirsch seriously as investors went on to make fortunes in companies like Intel (NASDAQ:INTC) and Cypress Semiconductor (NASDAQ:CY). These two companies made fortunes for early investors and now these stocks can help preserve fortunes.
Who of us would have dreamed that someday Intel would be looked at as a "value" play with a safe 4.4% dividend yield and a massive stock buyback program. Its shares are selling at around 10 times next year's earnings and an unbelievably low PEG ratio (5-year expected) of 0.82.
Those who have read my articles for years know I'm a firm believer in investing with a "safety net" and a smart, reliable exit strategy. Today I'm suggesting that investing in certain kinds of well-capitalized, undervalued companies can work as a kind of "safety net" for investors.
Intel is a worthwhile place to begin. In fact on Dec.17, 2012 the company announced that won an appeal in a patent fight with Negotiated Data Solutions. Negotiated had filed suit against INTC over Ethernet patents that make it possible for computers to easily talk to one another.
The United States Court of Appeals for the Federal Circuit made a ruling saying that Intel did not infringe the patents because they were licensed from National Semiconductor Corp in 1976. You can learn more about this and other news about INTC at their website. It was an important legal victory for Intel, and removes an investor concern.
Intel's made good progress entering the smartphone and tablet markets. It's made its state-of-the-art microchips as energy-efficient as those being designed by U.K.-based ARM Holdings (NASDAQ:ARMH).
INTC not only pays a generous 4.4% dividend which represents a payout ratio of only 37%, but its trailing twelve month Return on Equity is a glowing 25%. ROE shows how well a company uses investment funds to generate earnings growth (details here).
Let's look at a 1-year chart that indicates whether now is an auspicious time to invest in shares of INTC. We'll also see the MACD technical indicator and what it may be suggesting for the share price.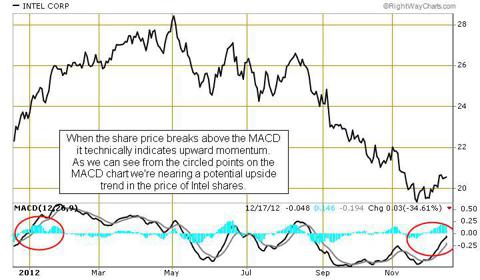 The MACD is an acronym for Moving Average Convergence Divergence. Like the name suggests, the MACD represents the difference in value between two moving averages.
The moving averages (simple) most often used in the calculation of the MACD are 12 period and 26 period moving averages. Often times the MACD is coupled with a 9 period EMA (exponential moving average) and crossovers of these 2 lines are taken as buy and sell indicators.
Intel reports this quarter's results on January 17, 2013. Assuming no dividend increase and a 5.5% annual share growth trajectory, we would have a 10% combined annual growth rate. Using the "Rule of 72" our investment dollars in INTC should double every 7.2 years.
Another "safety net" type stock is Cypress Semiconductor which has a dividend yield of around 4% with a share price of $11. On Dec.17 the stock closed at $10.79. As I write on Dec.18th the stock is up almost 5% and is currently trading at $11.30 on average volume.
Some big developments are happening with this company. Its Consumer and Computation division offers programmable system-on-chip (PSoC) devices for consumer, industrial, medical, and system management applications.
That division also makes TrueTouch touch-screen controllers, CapSense touch-sensing solutions, universal serial bus controllers, USB hubs, transceivers, serial interface engines, and embedded-host products. A growing product segment includes Wireless USB, programmable clocks for devices requiring multiple frequencies and RoboClock clock buffers that offer timing solutions.
Cypress is the world leader in USB controllers, including the high-performance West Bridge® solution that enhances connectivity and performance in multimedia handsets, PCs, and tablets. Cypress is also the world leader in SRAM memories.
CY serves numerous markets including consumer, mobile handsets, computation, data communications, automotive, industrial, and military. On Dec.13th CY announced that ITON Technology, Ltd., a leading PC peripheral and component manufacturer in China, has selected Cypress's 2.4-GHz Wireless USB-NL radio-on-a-chip for its complete module for wireless mice. The module includes firmware, providing customers with a turnkey solution to create their own end-products.
The press release can be found here. You can learn about CY's line of products and innovative technology at its eye-pleasing website. You'll have a better sense why co-founder and CEO Dr. T.J. Rodgers continues to hold onto nearly 8,277,000 shares and CFO Brad Buss has over 826,000 shares. Below is a useful price chart and MACD indicator.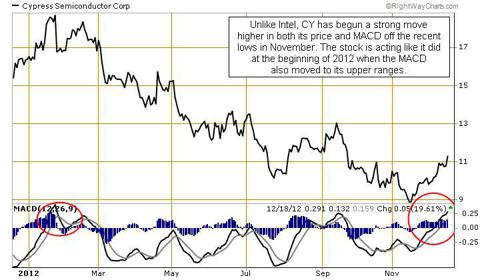 The chart tells the recovery story and upside momentum. Like Intel, CY hit its nadir in November. The moving average price has taken a strong turn northward. The shares are in an end-of-year accumulation stage.
Like the name suggests, the MACD represents the difference in value between two moving averages. The moving averages (simple) most often used in the calculation of the MACD are 12 period and 26 period moving averages.
CY's ROE and ROA are much weaker than Intel's (9.44% and 2.76%). Year-over-year quarterly earnings fell 64% in the third quarter and quarterly revenue growth slipped over 23%. The stock trades with a PEG ratio on the high side at 1.71 yet its forward (1-year) PE is 13.
With the share price still far below its 52-week high of $19.25, and the dividend's payout ratio an alarmingly high 283%, the recent two-day stock price advance of over 6% suggests it may be on a large acquirer's radar screen. Its next earnings date is January 23, 2013.
Even with a reduced dividend, if Cypress' products can fuel a continuation of this kind of share price growth, an investor may experience a 100% total return even faster than with INTC. CY has $1.54 in Total Cash per share and Total Cash of $220 million.
If you subscribe to the reality of the rebound in housing as well as the reconstruction build-out born of Superstorm Sandy's destruction, you might want to add a low-tech component to your "safety net" stocks.
Trading as high as $175 within the past 52-weeks, Tronox Inc. (NYSE:TROX) plunged to a recent low of $14.12 before rallying recently. Dec.14,17 and 18 TROX soared a total of 25% off its Dec.13th intraday low of $15.40. TROX may look more like "volatile jet fuel" than a "safety net".
Yet TROX is the world's largest integrated maker of titanium dioxide. Investors anticipate that profits from the white pigment that's used in paint and plastics will rebound in 2013. A Bloomberg story on Dec.18th suggests why:
"Excess inventories of titanium dioxide are being worked down, aided by a U.S. housing recovery and faster economic growth in China, and profit should start to recover from the decline in the second quarter this year, said Edward P. Mally, an analyst at Imperial Capital LLC.

"The conditions are set up to support a recovery in Tronox earnings and potential growth in 2013," Mally, who rates the shares outperform, the equivalent of a buy rating, said by phone today. "The stock had gotten oversold in the face of uncertainty in their outlook."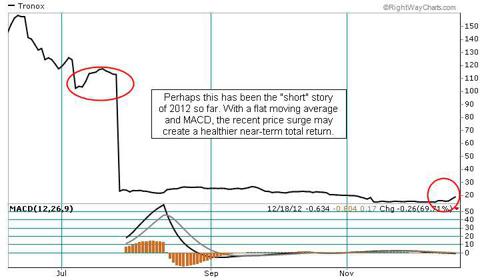 This is a chart that makes one want to do a double-take. One of the ways to reduce risk with a company like TROX is to "buy very low". The other way is to use a reasonable trailing stop loss undetectable by the market makers. Because TROX is volatile you might want to use a 20 or 25% trailing stop loss.
Along with INTC and CY, TROX is a high potential recovery theme with limited downside risk and substantial upside potential. Along with stocks like Apple (NASDAQ:AAPL) and its supplier Broadcom (BRCM), these companies have gone "on sale" and fallen out of favor. That often spells "opportunity" for the more risk adverse, "safety net" investor.
Disclosure: I am long AAPL, INTC, BRCM. I wrote this article myself, and it expresses my own opinions. I am not receiving compensation for it (other than from Seeking Alpha). I have no business relationship with any company whose stock is mentioned in this article.