Commodity Chart Of The Day
Daily Gold
(click image to enlarge)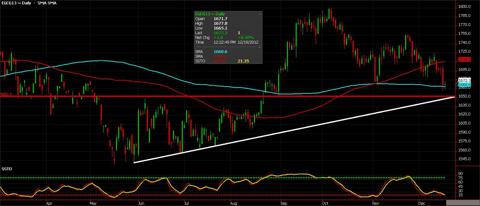 In the last 10 weeks, gold prices have depreciated 7% and as you can see from the chart above, prices are yet again testing their 200 day MA -- identified by the light blue line. The last time this pivot point was challenged was in early November. It held, but will this time be different? You can see on the daily chart that yesterday, this level was probed and as of this post, we are at that critical level for a second time. If this level gives way, which I think is a good possibility, solid support comes in at $1650 -- a long-standing trend line and also a congestion area dating back the last 10 months.
Traders that are currently in bearish trade should consider reversing their position at that level, if given the opportunity. My stance is that gaining bullish exposure into 2013 is a great swing trade opportunity. I think we will challenge the $1800/ounce level next year. My favored plays are bull call spreads or gaining long exposure via futures with options protection.
In regard to the printing presses running on overdrive and money printing that is occurring around the globe, I expect gold to continue its appreciation for years to come. The level of inflation that I think is possible if we stay on this course is unfathomable. The trend being higher for over a decade also helps the argument why most investors should have some sort of gold allocation in their portfolio, expecting appreciation not today or tomorrow, but in the quarters and years to come.
Risk Disclaimer: The opinions contained herein are for general information only and not tailored to any specific investor's needs or investment goals. Any opinions expressed in this article are as of the date indicated. Trading futures, options, and Forex involves substantial risk of loss and is not suitable for all investors. Past performance is not necessarily indicative of future results.
Disclosure: I have no positions in any stocks mentioned, and no plans to initiate any positions within the next 72 hours. I wrote this article myself, and it expresses my own opinions. I am not receiving compensation for it. I have no business relationship with any company whose stock is mentioned in this article.