Charts often can tell a story much better than words.
Here's one that screams Samsung's (OTC:SSNLF) ascendancy.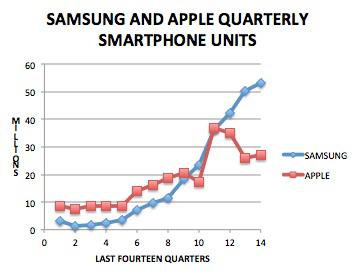 (Data sourced from IDC and Apple.)
The Korean electronics giant has been overpowering Apple (NASDAQ:AAPL) in the global smartphone market. The graph compares estimated Samsung smartphone unit volumes (sourced from IDC) to Apple's over the last 14 quarters.
The salient points:
1. Last quarter, Samsung sold twice as many smartphones as Apple did - 53.5 million smartphones to Apples' 26.9 million iPhones. That's even more remarkable when you consider how quickly Samsung has outdistanced Apple. Only three quarters ago, Apple and Samsung each sold 37 million smartphones.
2. For the last 13 quarters, Samsung has increased the number of smartphones sold. The quarter-over-quarter increases have been substantial: During the last 6 quarters, Samsung has sold an average of 7 million more smartphones than it did the preceding quarter.
In contrast, iPhone unit sales have been decreasing. Over the last 3 quarters, unit volume has decreased 37%. Apple hasn't been able to string together four quarters of rising iPhone unit sales since July 2011.
Samsung has accomplished this feat by offering consumers multiple smartphone options - different colors, sizes, features, platforms, and price points. Samsung updates its smartphone lines throughout the year. Apple refreshes the iPhone once a year.
The game is by no means over for Apple. Over 2 million iPhone 5s were sold in China last weekend, signaling robust demand for Apple's new smartphone. Apple has by no means lost the battle - its products are sensationally profitable and its iPhone 5's strong Chinese launch fuels hope for a potential blockbuster quarter.
Still the graph above is very worrisome for Apple. The Galaxy is quickly replacing the iPhone as the world's hottest handset. Last quarter, Samsung's mobile sales and profits rose 82% and 132% respectively year over year. Kind of reminds me of Apple 2 years ago.
Look out, Apple. Samsung is taking the world's smartphone market by storm. Investors should take note and consider Samsung.
Disclosure: I have no positions in any stocks mentioned, and no plans to initiate any positions within the next 72 hours. I wrote this article myself, and it expresses my own opinions. I am not receiving compensation for it (other than from Seeking Alpha). I have no business relationship with any company whose stock is mentioned in this article.
Additional disclosure: The opinions in this document are for informational and educational purposes only and should not be construed as a recommendation to buy or sell the stocks mentioned. Past performance of the companies discussed may not continue and the companies may not achieve the earnings growth as predicted. The information in this document is believed to be accurate, but under no circumstances should a person act upon the information contained within. We do not recommend that anyone act upon any investment information without first consulting an investment advisor as to the suitability of such investments for his specific situation.