For 3 months now I have been writing about how Nokia is extremely undervalued when comparing the price to the sum of its parts. I also argued that it would outperform Apple and since my September 14th article, Nokia (NYSE:NOK) is up 43% while Apple (NASDAQ:AAPL) is down 22%.
The reason I believe it's time to take profits is a function of two things:
(1) In the short term, it is very overbought
(2) Relative to the sum of its parts it is still undervalued but the margin of safety is much smaller.
Things have gone pretty badly of late for Apple and for good reason. I have argued all along that a significant portion of its spike in revenues and earnings over the past year was due to the iPhone being offered in all US carriers instead of just one. When the exclusive partnership with AT&T (NYSE:T) ended and Verizon signed with Apple, Apple's revenues skyrocketed. However, this was a short term phenomena - when all of the Verizon (NYSE:VZ) subscribers migrated to the iPhone that catalyst was gone. In the 2 years after the Great Recession, you would typically see revenues spike in the holiday quarter, as expected, but by the 2nd quarter of the following year revenues would be back to what they were in the prior holiday quarter. For example: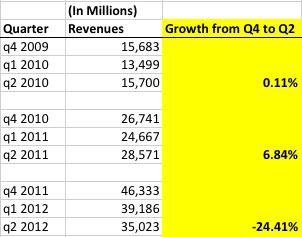 As you can see in the chart above:
*Revenues grew 0.11% from Q4 2009 to Q2 2010
*Revenues grew 6.84% from Q4 2010 to Q2 2011
However, I believe the spike from the contract expiration with AT&T wore off by 2012 and you can see that in the results above:
*Revenues dropped 24.4% from Q4 2011 to Q2 2012
So why am I bringing this up?
Simple. For the past 4 years investors have been annihilating anything that competes with Apple whether it is Nokia, Research in Motion (RIMM), Hewlett Packard (NYSE:HPQ) or Sony (NYSE:SNE). However, as people caught wind of stalling sales with Apple, the investor herd has returned to these beaten down techs (except Sony , which by the way I believe is the best buy in the market today because of the end of the 40 year bull market in the Yen, but that will be covered in another article). Nokia, RIMM, DELL, HPQ have all had massive rallies. And rightfully so: most of these were very undervalued based on a calculation of the sum of their parts.
However, I believe the catalysts for Nokia in the short term have been used up. The stock is up 150% from its summer lows and it is about 20% lower than my initial target which was $5.20. So technically it is still a buy. However, in looking at certain technicals I believe the run may have ended today. The stock ran up tremendously over the past month after an equally impressive run the prior couple of months. RSI_EMA (see chart below) is making lower highs in an overbought condition, which usually occurs at the end of a run in a stock. And the stock is right near resistance at $4.40 (it actually hit this in pre-market trading today).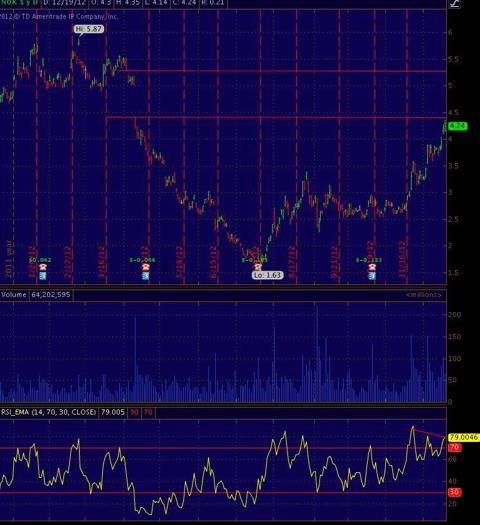 While I believe Nokia could go higher over time I think the easy money has been made in this stock.
Disclosure: I am long SNE. I wrote this article myself, and it expresses my own opinions. I am not receiving compensation for it (other than from Seeking Alpha). I have no business relationship with any company whose stock is mentioned in this article.