It could be a title for a John LeCarre novel - Inergy or Inergy. Instead it is a bit less entertaining and a pinch more complicated. Inergy, L.P. (NRGY) and its daughter partnership Inergy Midsteam, L.P (NRGM) are part of the country's midstream oil and gas sector. The Missouri-based limited partnerships provide transportation, storage and market services to producers and distributors of natural gas.
Should investors choose Inergy or its spin-out Inergy Midstream?
Just a year after its spin out from "mother" Inergy, Inergy Midstream is making some bold moves. In early December 2012, Inergy Midstream completed the acquisition of privately held Rangeland Energy for $425 million. The deal gives Inergy Midstream a new foothold in the rich Bakken and Three Forks shale oil fields of North Dakota. Since demand from Inergy Midstream's refinery customers appears to exceed current supply, there does not seem to be much concern about the wisdom of extending its footprint.
The deal gives Inergy Midstream control of the COLT Hub, a crude oil rail terminal, storage and pipeline system near Epping, North Dakota. It is a handsome midstream asset. The COLT Hub serves as a point of liquidity for the distribution of Bakken crude oil throughout North American markets by providing customers with crude oil storage and connectivity to the Burlington Northern Santa Fe Railway System. The terminal was placed in service in early May 2012 and has the capacity to move 120,000 barrels of crude oil per day. As much as 90% of the revenue the COLT Hub is expected to generate will be covered by take-or-pay contracts from multiple customers.
The certainty of future revenue streams is probably the main reason financing for the deal was easily put in place. Inergy Midstream sold 10.7 million units for $225 million at the time of the deal announcement in early November 2012 and then the company floated $500 million in 6% Senior Notes. The equity and debt capital raised was more than enough to pay for the Rangeland deal, leaving $300 million to pay down existing debt.
During an earlier conference call Inergy management provided investors with a peek at Rangeland's contribution to the company's future cash flows. Rangeland's current EBITDA (earnings before interest, depreciation amortization and taxes) is $58 million. That means Inergy Midstream paid approximately 7.3 times current cash flows for Rangeland. However, Rangeland expects new contracts to begin in 2013. Combined EBITDA in 2013 could increase to $180 million, over 50% higher than Inergy Midstream's current EBITDA.
If earnings play out in 2013 as management suggests, the stock is now priced at 9.2 times projected EBITDA. This is higher than Rangeland's price tag, but is a compelling comparison to the present multiple of 14.6 times EBITDA reported by Inergy Midstream in the last twelve months.
As intriguing as this EBITDA discussion might be, I think it is the balance sheet that provides a better reason to consider Inergy Midstream. The company's leverage before the two financing steps was modest compared to the midstream segment of the oil and gas industry. At the end of the equity and debt capital raises, the debt-to-equity ratio for Inergy Midstream is largely unchanged near 0.75. That means Inergy Midstream will still have plenty of powder left for future opportunistic deals or projects.
Indeed, the COLT system built by Rangeland is well positioned for future expansion. Rangeland had configured the COLT system with the intention of expanding transport and storage capacity. For example, during a recent earnings conference call management described an expansion opportunity on the second loop of the COLT system that could add an additional 40,000 to 80,000 barrels of train loading capacity to the system. Greater pipeline interconnectivity could also drive revenue and there is a planned interconnect with the Bear Tracker gathering system. Nearby installations of major oil and gas players such as ONEOK, Hess, Banner and TransCanada may provide additional interconnection opportunities.
I believe the addition of the Colt Hub to Inergy Midsteam's footprint could also have important competitive implications. The transport of new crude from the North Dakota fields to refineries on the U.S. coasts has been held back by inadequate infrastructure. Management has already alluded to the potential synergy between its coastal installations and the Colt Hub.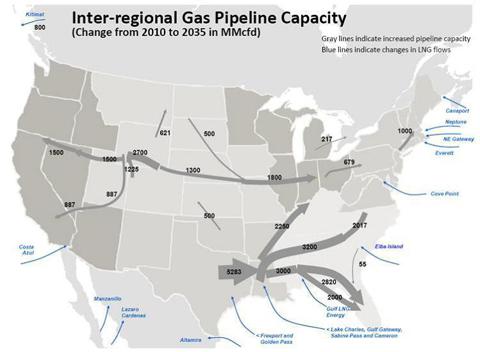 Source: INGAA Foundation
During a recent conference call management indicated that the capital spending budget for the current fiscal year is in a range of $100 million to $130 million, all intended for projects to drive growth. Thus it appears Inergy Midstream plans to keep apace of its historic capital investment, which I expect will include amplification of the Colt Hub. Over the last three years cash generated by operations has been nearly sufficient to fund capital expenditures, with cumulative free cash flow just negative $14.6 million.
An accretive acquisition under its belt and a strong balance sheet are two good reasons to take a position in Inergy Midstream. However, "mama" Inergy, which retained 75% ownership in Inergy Midstream, is trading at significantly lower multiples of sales and earnings. Guidance for Inergy's fiscal year 2013 EBITDA is $260 million, implying a forward multiple of 8.4 times so a long position in Inergy would come at a lower price tag. Granted ownership in Inergy leaves the investor a few legal steps away from Inergy Midstream assets and cash flows. However, since average trading volumes for Inergy are near 380,000 shares per day, it would also be easier to build a position in Inergy. Trading in Inergy Midstream is comparatively shallow at 42,000 shares per day.
Let me add one last note for investors who have developed a bad case of "tax vertigo" after looking over the U.S. fiscal cliff nearly most of the year. Shareholders must keep in mind the tax implications of owning "shares" in the master limited partnership corporate structure found in the Inergy duo. Distributions in the form of "dividends" may represent return of capital and some net earnings, of which only the later are subject to current taxes. Then when selling shares there could be some complications resulting in a "catch up" in taxes.
Neither the author of the Small Cap Strategist web log, Crystal Equity Research nor its affiliates have a beneficial interest in the companies mentioned herein.
Disclosure: I have no positions in any stocks mentioned, and no plans to initiate any positions within the next 72 hours. I wrote this article myself, and it expresses my own opinions. I am not receiving compensation for it (other than from Seeking Alpha). I have no business relationship with any company whose stock is mentioned in this article.