Thesis
Owing to the slowdown in the broader cardiology market, and specifically in the drug-eluting stent and implantable cardiovascular defibrillator (NYSE:ICD) market, revenues for Boston Scientific Corporation (NYSE:BSX) have come under increasing pressure. BSX's drug-eluting and ICD businesses account for ~50% of total sales. Revenue in 3Q'12 which stood at $1.735bn represented a decline of 7% on a reported basis. BSX also recorded a non-cash impairment charge in the last quarter amounting to $809mm because of the estimated shrinking of U.S. Cardiac Rhythm Management (CRM) market. The company forecasts a weak demand in the CRM market and highlighted that a pickup in demand would occur later in the future.
Current problems for BSX also stem from its acquisition of Guidant in 2006. BSX paid $80 per share for Guidant after a long bidding war against Johnson & Johnson (NYSE:JNJ). Many believe BSX overpaid for the acquisition and it is a fact that the company incurred huge levels of debt and its earnings came under substantial pressure. Below in the charts we see the dramatic rise in long-term debt and a fall in pre-tax income following the acquisition.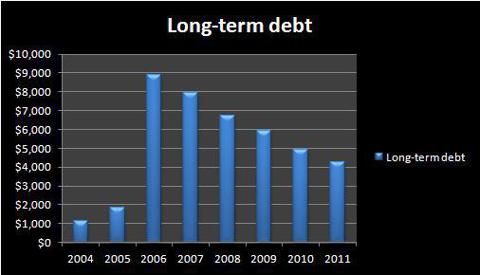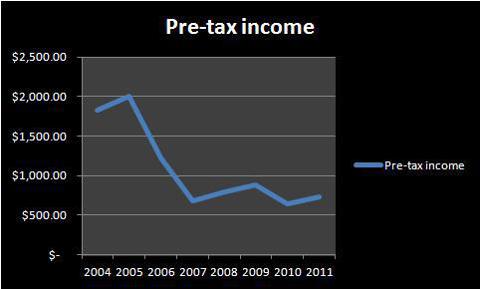 Gross margins (GMs) have suffered as well after the acquisition but lately we see an upward trend in GMs owing to the introduction of Promus Element which has higher margins than the Promus stent system.
| | | | | | |
| --- | --- | --- | --- | --- | --- |
|   | 2007 | 2008 | 2009 | 2010 | 2011 |
| GMs | 72% | 70% | 69% | 67% | 66% |
| | | | |
| --- | --- | --- | --- |
|   | 1Q'12 | 2Q'12 | 3Q'12 |
| GMs | 66% | 68.5% | 68% |
I believe at current valuations the worst is already priced in the stock. However, I do believe that BSX stands to benefit from the possible withdrawal of St. Jude's (NYSE:STJ) Durata ICD lead from the market. I will explain this further at the end of the article. Given the fact that BSX will grab a larger market share in the ICD market upon Durata's withdrawal, the stock has an upside potential.
Company Description and Recent Developments
BSX is one of the leading manufacturers of medical devices in the $33bn worldwide cardiology devices market. The company offers a broad portfolio of medical solutions in its core businesses of Interventional Cardiology, Cardiac Rhythm Management, Electrophysiology, Peripheral Interventions, Endoscope, Urology and Women's Health, and Neuromodulation. A breakdown of revenue for 3Q'12 by business area is shown in the chart below. As can be seen, Interventional Cardiology, which houses products such as the well-known TAXUS stent and the recently launched PROMUS, contributes the most.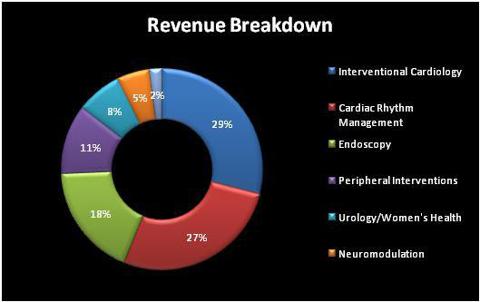 Source: Company Financials
In September, 2012 FDA granted approval to BSX's unique heart defibrillator with leads that are implanted subcutaneously instead of being directly connected to the heart. The global defibrillator market is expected to grow to $12.5bn by 2017 and the largely under-penetrated market of China and India will play the lead role in the market's growth. But the FDA has also instructed BSX to conduct a post-market study to evaluate the long-term safety of the defibrillator.
Valuation
Lately, St. June has pulled several of its leads (used to attach a defibrillator to the heart) from the market because of concerns that the silicone insulation on the leads could erode and thereby increasing the risk of a malfunction in the device. Recently it found out that, St. Jude's Optim insulation, which is used on Durata wires, could erode more quickly than the physicians currently expect. Following this news, Citigroup analyst believes that the possibility of a Durata withdrawal is growing. I believe BSX can grab a larger share of the ICD market as former STJ customer shift to BSX which offers leading defibrillators.
| | | | | |
| --- | --- | --- | --- | --- |
|   | BSX | STJ | Medtronic (NYSE:MDT) | Average |
| Forward P/E | 13.35x | 9.95x | 10.94x | 11.4x |
Since at the current valuations the market has already priced in the worst for BSX, I believe it is the right time to buy BSX as it stands to benefit from the withdrawal of Durata. Given the estimated $0.66 adjusted EPS (excluding impairment and amortization) estimate for FY'13 and an industry average P/E multiple of 11.4x, I calculate a price target of $7.50. This translates into an upside potential of ~31%. In light of the developments and my estimations, I believe the stock is a buy.
Disclosure: I have no positions in any stocks mentioned, and no plans to initiate any positions within the next 72 hours. I wrote this article myself, and it expresses my own opinions. I am not receiving compensation for it (other than from Seeking Alpha). I have no business relationship with any company whose stock is mentioned in this article.