EnCana Corporation (NYSE:ECA) is a Calgary, Canada, based company, engaging in the exploration for, development, production, transportation, and marketing of natural gas, oil, and natural gas liquids - NGLS. Since my last coverage on ECA on Oct. 11, ECA's fundamentals continued to be weak.
Analysts' Calls and Earnings Estimates
On Oct. 24, 2012, ECA reported $0.36 EPS for the quarter, beating the consensus estimate of $0.26 by $0.10.
On Dec. 14, ECA's "underperform" rating was restated by equities researchers at Bank of America with a $22.00 target price, which was increased from the previous target price of $20.00. As wrote by the analyst,
"ECA announced it has entered into a joint venture agreement with Phoenix Duvernay Gas (a wholly owned subsidiary of PetroChina) for $2.18bn. PetroChina will be acquiring a 49.9% non-controlling interest in ECA's 445k net acre Duvernay land base. The $10k/acre is admittedly bullish when considering ECA JV'd its ENTIRE acreage position. PetroChina paid $1.18bn upfront (deal is closed) and will pay $1.0bn over four years. ECA will retain operatorship. The deal does not require Industry Canada approval and we believe this type of ownership structure is what the Canadian government is looking for."
On Dec. 7, Zacks reiterated a "neutral" rating on ECA with a $22.00 price target. BMO Capital Markets upgraded ECA from a "market perform" rating to an "outperform" rating on Oct. 25. Lastly, National Bank initiated coverage on ECA with a "sector perform" rating and a $23.00 price target.
Analysts are expecting revenue of $6.23B in 2013, comparing to the current year estimate of $5.46B. Analysts are also expecting an EPS of $0.32 for the current quarter and an EPS of $1.26 for the full year. However, despite the increasing expectation in the past 90 days, analysts are expecting a lower EPS of $0.75 for the next year, as seen from the table below.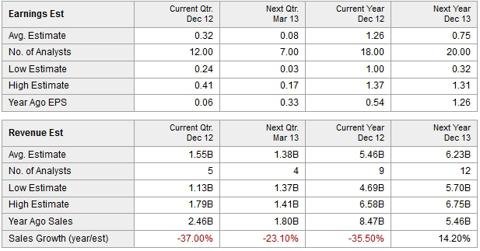 Source: Yahoo Finance
Declining Key Stats
The net margin had declined to -92.50%, ttm, comparing to -1.82% and 23.22% in 2011 and 2010. The return on equity was decreasing to -27.76%, ttm, which was much lower than 0.76% in 2011 and 8.83% in 2010. The Company has an operating cash flow of $3.51B, but the levered cash flow is -479.88M. The current book value per share is $7.50, mrq, compared to $22.20 in 2011. ECA currently has a forward price/earnings ratio of 26.2, which is higher than the S&P average of 14.2.
Technical Analysis
ECA closed at $20.32 with 1.09% gain on Tuesday. ECA had been trading in the range of $17.02-$24.29 in the past 52 weeks. The MACD (12, 26, 9) indicator had been showing a bearish sign since Dec. 14 and the MACD difference continued to diverge. The momentum indicator, RSI (14), at 40.29 is showing a bearish lean. ECA is currently trading below its 50-day MA of $21.50 and 200-day MA of $20.61. The next support is $20.24, the S1 pivot point, followed by $18.90, the S2 pivot point, as seen from the chart below. (click to enlarge)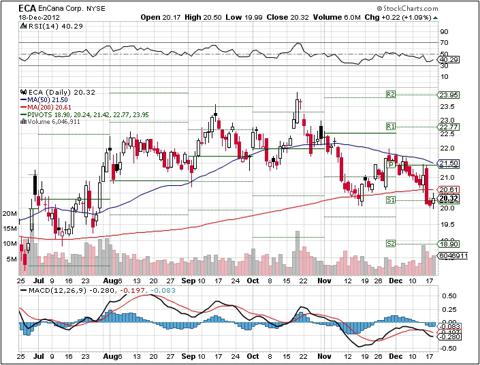 Source: StockCharts.com
Options Play
First, our previous reviewed credit spread will be closed for a profit.
Short 1x Jan 19, 2013 Call with the strike price of $23 for $0.95 credit
Buy 1x Jan 19, 2013 Call with the strike price of $25 at the cost of $0.45
As of Dec. 18, 2012, this credit option spread can be closed by buying back the $23.00 call at the cost of $0.11 and the $25.00 call could be sold at $0.05 (based on the last quote). The total cost for closing the spread is $0.06, which will result in a profit of $0.44 or 29.33% return on margin for a period of 9 weeks.
A new credit put spread will be reviewed below for investors who have a neutral toward bearish view on ECA.
Short 1x April 20, 2013 Call at the strike price of $22.00 for the credit of $0.80
Buy 1x April 20, 2013 Call at the strike price of $24.00 for the cost of $0.38
The maximum profit is $0.42, and the maximum risk/margin requirement is $1.58 ($2 loss - $0.42 credit received). If ECA closes below $22.00, 26.58% return on margin will be gained. Investors should be aware of the risks involved with a credit bear spread.
Note: All the prices are quoted from the closing of December 18, 2012 and all calculations are before fees and expenses. Investors and traders are recommended to do their own due diligence and research before making any trading/investing decisions.
Disclosure: I have no positions in any stocks mentioned, but may initiate a short position in ECA over the next 72 hours. I wrote this article myself, and it expresses my own opinions. I am not receiving compensation for it (other than from Seeking Alpha). I have no business relationship with any company whose stock is mentioned in this article.