These days, one doesn't have to look too far to hear news about Apple (NASDAQ:AAPL) and "death" of the PC industry. Over the past couple of months, as Apple product sales have continued to grow, there has been an assortment of articles from sources such as Forbes, The Financial Post and The Wall Street Journal declaring the death of the PC. Barron's Magazine even featured the cover below on the topic.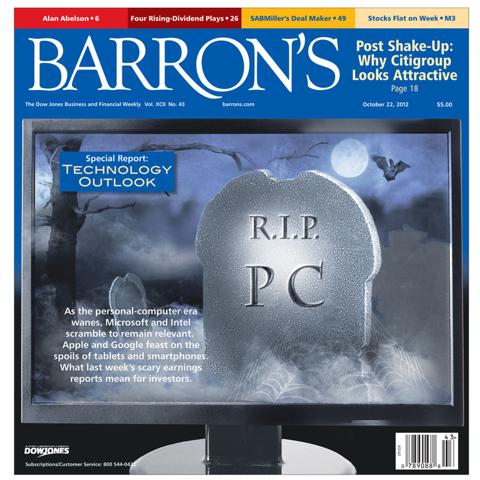 With PC manufacturers such as Hewlett-Packard (NYSE:HPQ) and Dell (NASDAQ:DELL) and the dominant PC chip manufacturer Intel (NASDAQ:INTC) all seeing PC revenues decline (7%, 11%, 8% respectively), it is tempting to believe all the hype about the downfall of the PC.
However, don't fall victim to this hype so easily. Consider the alternative view that the PC industry is not dying, but is instead evolving to suit a new wave of consumer needs. These consumers want solutions that allow them to not only consume, but to create, share and explore, no matter where they are or what device they are using. And while all eyes have been focused on Apple's current dominance, few have realized the tech giant that started the PC, Microsoft (NASDAQ:MSFT), is awaking from its slumber.
Company Profile:
Founded in 1975, Microsoft is a worldwide leader in software and service solutions that help people and business learn, grow, and interact with one another. Today the company operates in five segments.
Windows & Windows Live Division ("Windows Division") which develops and markets PC operating systems, related software and online services, and PC hardware products.
Server and Tools which develops and markets technology and related services that enable information technology professionals and their systems to be more productive and efficient.
Microsoft Business Divisio

n

("MBD") dev

elops and markets software and online services designed to increase personal, team, and organization productivity.
Online Services Division ("OSD") develops and markets information and content designed to help people simplify tasks and make more informed decisions online, and to help advertisers connect with audiences.
Entertainment and Devices Division ("EDD") develops and markets products and services designed to entertain and connect people.
For a more complete description of the segments, take a look at the 2012 annual report. However for this article, the most critical thing to take away about the segments is how important the Windows Division, Server and Tools Division, and Microsoft Business Division are to Microsoft's success; to show this consider the following tables showing Revenue and Operating Income for 2012-2010.
| | | | | | |
| --- | --- | --- | --- | --- | --- |
| (In millions) | | | | | |
| Year Ended June 30, | 2012 | | 2011 | | 2010 |
| Revenue | | | | | |
| Windows & Windows Live Division | $ 18,818 | | $ 18,787 | | $ 18,789 |
| Server and Tools | 18,696 | | 16,691 | | 15,121 |
| Online Services Division | 2,934 | | 2,680 | | 2,345 |
| Microsoft Business Division | 23,963 | | 22,314 | | 19,525 |
| Entertainment and Devices Division | 9,585 | | 8,896 | | 6,135 |
| Unallocated and other | (273) | | 575 | | 569 |
| Consolidated | $ 73,723 | | $ 69,943 | | $ 62,484 |
| (In millions) | | | | | |
| Year Ended June 30, | 2012 | | 2011 | | 2010 |
| Operating Income (Loss) | | | | | |
| Windows & Windows Live Division | $ 11,908 | | $ 11,971 | | $ 12,193 |
| Server and Tools | 7,459 | | 6,332 | | 5,378 |
| Online Services Division | (8,122)* | | (2,649) | | (2,395) |
| Microsoft Business Division | 15,688 | | 14,453 | | 12,109 |
| Entertainment and Devices Division | 365 | | 1,294 | | 525 |
| Reconciling amounts | (5,535) | | (4,240) | | (3,712) |
| Consolidated | $ 21,763 | | $ 27,161 | | $ 24,098 |
*Includes a $6B goodwill impairment.
As evidenced above, the Windows Division, Server and Tools, and MBD make up over 80% of revenue and essentially all of the yearly profit. So the obvious question becomes, what is the strategy for these segments to continue to generate earnings for shareholders as the PC industry transforms.
Microsoft's Vision:
Microsoft currently has a whole world of opportunity in front of it, something that CEO Steven A. Ballmer described in the 2012 Shareholder Letter. Essentially it can be compiled into three parts:
Make creation and consumption of content easier through more intuitive technology and product forms that make use of natural gestures and touch
Unleash new opportunities to businesses and individuals by making collaboration easier through cloud technologies.
Establish Windows as the one platform that will enable users to

consume

, create and share content easily across all forms of devices (PC, tablet, phone, server, cloud, etc).
While this might seem like a big shift, the good news is that Microsoft has already started to execute its plans to establish this vision. In the 2013 Q1 Earnings Call Transcript, Microsoft CFO Peter Klein stated, "As I look at where we are, we have kicked off the largest launch wave in our history, and in a twelve-month period, we will have refreshed nearly all of our major products. With these launches, you are seeing the investments we've made over a number of years converge. And more importantly, you are seeing us execute on our commitment to deliver devices and services that people love and businesses need."
While Microsoft hasn't announced all of the product launches we will be seeing in the next 12 months, here are a few that are current and upcoming products that are delivering on Microsoft's strategy of creating one platform that can intuitively enable consumers to create, consume, play and share content across all forms.
Windows 8 - Windows 8 first launched in October of 2012 and is Microsoft's first towards an operating system that could be used across multiple device forms. Bill Koefoed, General Mana

ger, Inve

stor Relations at Micro

soft, did a

good job explaining the value of Windows 8

in the

NAS

DAQ OMX Investor Program Webcast. He said "… you look at this [Surface] that I have in front of me, and is this a PC or is it a tablet? I can take the keyboard off, and it doesn't have a keyboard. You can use touch. But is this a tablet? And you slap a keyboard on it, this is a touch keyboard. I brought the type keyboard as well. And so you can just slap this on a Surface device, and is that a tablet or is that a PC? And there is o

ther - in ad

dition to our Surface device, there's other devices that are coming to market. This is what Windows 8 is really all about. It's really all about the experience of being able to have a device that you can use to create content as well as a device to consume content. The other devices that are in market today don't do that elegantly, and we feel like that's a winning proposition for Windows 8.
Surface - Microsoft's launch of Surface in October of 2012 served two purposes: an internal hardware platform to compete with Apple and a vehicle by which to showcase the power of Windows 8 as a formless operating system. The core value proposition of the Surface is to not only allow users to consume content like with an iPad, but allow them to create content by giving them a full "computer" operating system. While it is still too early to tell how the device is doing with consumers, Microsoft has announced it is ramping up manufacturing of Surface.
SkyDrive - Through SkyDrive, Microsoft is looking to

deliver

against its vision to improve collaboration through cloud technologies (point 2 above). SkyDrive is

a clou

d based storage and collaboration software, which competes with Google Drive, Apple iCloud, and Dropbox. SkyDrive's superiority in storage, collaborati

on and pri

ce against competition is concisely summarized on the SkyDrive Product Page.
Office 2013 - With Office 2013, Microsoft is working towards tenet number 1 of the vision summarized above. The company is offering two ways to purchase the prod

uct - the tra

ditional transactional based model, which will cost the consumer $139 for one computer to get licenses to Word, Excel, PowerPoint, and OneNote. The second offering is trying to get consumers to Microsoft's long desired subscription model. In this proposition, the consumer will get 5 licenses to Word, Excel, PowerPoint, OneNote, Outlook, Access, and Publisher for per household, plus 20GB of SkyDrive Storage, and 60 minutes of Skype calls per month for approximately $8 per month. This higher value subscription business model, which is being replied on the enterprise side of the business, benefits Microsoft in three ways:
Continued

revenue

from

a loyal

user base
Longer term commitments to Windows Solutions
Less pressure on Windows to launch a new version of office every three years.
Market Price vs. Business Value
The chart below shows the percent change in price, EPS, Dividend, Revenue, Net Income, and Free Cash Flow over the last decade and does a pretty good job showing the difference in business growth to market growth.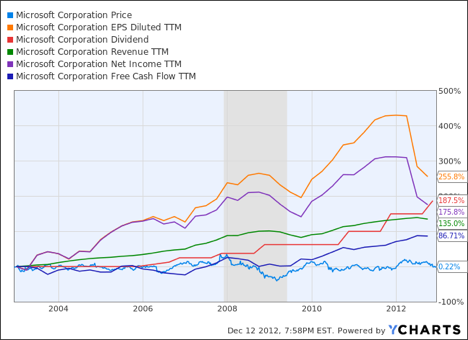 As you can see, even though revenue, income, earnings and the dividend have more than doubled in the last decade, the market price has gone nowhere. The other thing you can see is a steep decline in income and earnings this year. This is primarily driven by three things:
Deferred Revenue - GAAP requires Microsoft to defer recognition of $1.3B in revenue from the Windows 8 and Microsoft Office upgrade offers, negatively impacting the bottom line.
Goodwill Impairment - This year Microsoft took a $6.2B dollar write down of Goodwill that significantly impacted earnings. The good news is that this was a one-time charge.
Slower Sales in the Windows Live - Non-GAAP Adjusted Revenue in the Windows Live Division was down 9%. I believe this should improve as the Windows 8 launch gains momentum and PC manufacturers start producing more devices for the Windows 8 platform.
Adding back the $6.2B reduction to earnings from the Goodwill Impairment and $300M from the deferred revenue (assumes a 21% profit margin) to the reported income of $21.7B yields a Non-GAAP income of $28.2B, representing approximately 4% growth.
Conclusion
What is clear from the 2012 Shareholder letter, 2012 Annual Report, and the 2013 Q1 Report is that Microsoft has a clear vision for the future, a strategy of how to bring it to life, and has already begun execution. Fear over the business' ability to adapt to the changing PC market and the hype about Apple have kept the market price depressed. If Microsoft were a private company trying to sell itself, there is no way it would price itself at a 2003 market price based on the last decade of growth and the opportunity the company's leadership see's for Microsoft in the coming decade. It is only a matter of time before the Mr. Market realizes that too.
Disclosure: I have no positions in any stocks mentioned, and no plans to initiate any positions within the next 72 hours.
Business relationship disclosure: This article was written by an analyst at Catalyst Investments.