Introduction
Apollo Group (NASDAQ:APOL) is an educational institution for upper-level education (University). Apollo Group's flagship institution, University of Phoenix graduated more than 100,000 students in fiscal year 2011. These graduates joined an alumni network of 700,000 individuals. Apollo group is likely to recover after its dismal year. Analysts on a consensus basis have a reasonable growth forecast going forward, implying phenomenal yields for 2013.
Qualitative Analysis
Source: Information pertaining to Apollo Group came from the shareholder annual report
Apollo Group has been in business for 35 years. It offers both online and on-campus undergraduate, masters, and doctoral level programs. Apollo group is one of the largest private education institutions in the world.
Apollo Group operates three major wholly owned subsidiaries within the United States: The University of Phoenix Inc, Institute for professional Development, The College for Financial Planning Institutes Corporation.
The University of Phoenix and The College for Financial Planning Institutes Corporation are fully-accredited institutions. The institutions received accreditations from The Higher Learning Commission of the North Central Association of Colleges and Schools.
The Institute for Professional Development provides program development, administration, and management consulting services to private colleges and universities. The Institute for Professional Development is not a collegiate institution, rather it is a consulting service for other University institutions.
In addition to the wholly-owned subsidiaries, Apollo Group formed a joint venture with The Carlyle Group ("Carlyle") in October 2007; called Apollo Global Inc. Apollo Group has an 85.6% ownership stake in Apollo Global whereas Carlyle group owns the remaining 14.4%.
Apollo Global subsidiaries include but are not limited to: BPP Holdings PLC in the United Kingdom, Western International University (NYSE:USA), Universidad de Artes, Ciencias y Comunicación (Chile), and Universidad Lationamericana (Mexico).
Apollo group's flagship Institution University of Phoenix launched a free, three-week program called University Orientation. This program is mandatory for students with limited college experience, and is designed to clearly define and make aware to students the commitment required for success at the University of Phoenix. This University orientation was implemented in order to reduce the number of students who enroll and drop out, it also prevents students from taking on unnecessary debt. This initiative was put in place to protect the reputation of University of Phoenix, but as a result of this initiative, earnings have been damaged in 2012. I will further discuss this in the history and forecast section of the article.
Apollo Group competes with New Oriental Education & Tech Group (NYSE:EDU), DeVry (DV), Grand Canyon Education (NASDAQ:LOPE), K12 Inc (NYSE:LRN), TAL Education Group (XRS), Strayer Education (NASDAQ:STRA), Corinthian Colleges (NASDAQ:COCO), Bridgepoint Education (NYSE:BPI), among many others.
Technical Analysis
Since January 2012 Apollo Group has been on a continuous down-trend. This down-trend has been pervasive over the past year. I think that Apollo Group is likely to reverse the long-term down-trend and trend higher going into 2013. On 12-18-12 APOL closed above the upper trend line at $22.00. However, on today's session (12-19-12) the stock was unable to maintain above the trend line and has currently declined by 5.33%. The technical analysis implies a lot of volatility, but I remain optimistic on the price action.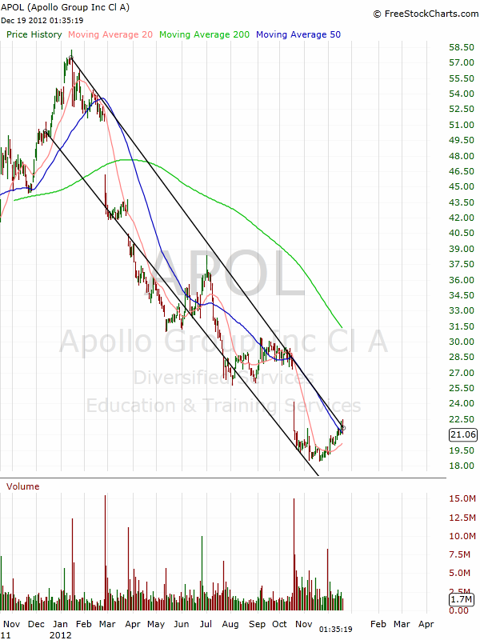 Source: Chart from freestockchart.com
I anticipate APOL stock to continue trending higher in the foreseeable future. The stock is above the 20-Day Moving Average, but is below the 50- and 200- Day Moving Average. The stock is trending higher on low volume implying accumulation in shares. The stock seems to be in the beginning stages of a long-term up-trend. The 20-Day Moving Average is likely to cross above the 50-Day Moving Average in the near future, adding further technical strength to the price movement.
Notable support is $18.00, $20.00, and $22.00 per share.
Notable resistance is $28.00, $36.00, $42.00, and $58.00 per share.
Street Assessment
Analysts on a consensus basis have reasonable expectations for the company going forward.
| | | | | |
| --- | --- | --- | --- | --- |
| Growth Est | APOL | Industry | Sector | S&P 500 |
| Current Qtr. | -29.70% | 75.50% | 9.60% | 8.30% |
| Next Qtr. | -48.30% | 47.30% | 10.20% | 14.80% |
| This Year | -23.60% | 2.10% | 5.00% | 5.60% |
| Next Year | 5.10% | 20.80% | 5.40% | 13.20% |
| Past 5 Years (per annum) | 6.61% | N/A | N/A | N/A |
| Next 5 Years (per annum) | 10.20% | 14.46% | 14.14% | 9.14% |
| Price/Earnings (avg. for comparison categories) | 7.87 | 18.76 | -26.3 | 13.71 |
| PEG Ratio (avg. for comparison categories) | 0.77 | 2.1 | -0.33 | -0.01 |
Source: Table and data from Yahoo Finance
The company shows reasonable growth as analysts on a consensus basis have a 5-year average growth rate forecast of 10.20% (based on the above table).
| | | | | |
| --- | --- | --- | --- | --- |
| Earnings History | 11-Nov | 12-Feb | 12-May | 12-Aug |
| EPS Est | 1.18 | 0.37 | 0.97 | 0.49 |
| EPS Actual | 1.28 | 0.58 | 1.2 | 0.52 |
| Difference | 0.1 | 0.21 | 0.23 | 0.03 |
| Surprise % | 8.50% | 56.80% | 23.70% | 6.10% |
Source: Table and data from Yahoo Finance
The average surprise percentage is 24% above analyst forecast earnings over the past four quarters (based on the above table).
Forecast and History
| | | |
| --- | --- | --- |
| Year | Basic EPS | P/E Multiple |
| 2007 | $ 2.37 | 24.76 |
| 2008 | $ 2.90 | 21.96 |
| 2009 | $ 3.79 | 17.11 |
| 2010 | $ 3.64 | 11.67 |
| 2011 | $ 4.05 | 11.44 |
Source: Table created by Alex Cho, data from shareholder annual report, and price history is from Yahoo Finance.
The EPS figure shows that throughout the 2007-2009 period, revenue growth continued despite the great recession.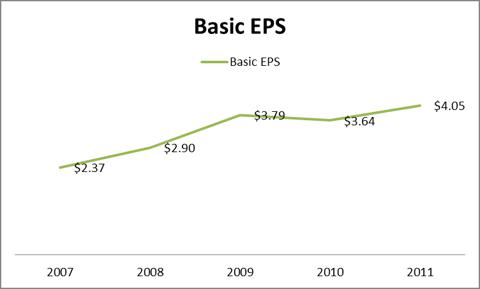 Source: Table created by Alex Cho, data from shareholder annual report
Education as an industry is pretty non-cyclical, and does not seem affected by externalities as much as other sectors of the economy. However, I have forecasted earnings of $2.72 for 2012. This is a 32% reduction in net income, and came as a result of University of Phoenix cutting down the drop-out rate by reducing the admission of students who have a limited academic history. The effects are devastating, but the forecast implies continuous earnings growth, and price appreciation. This one-time reduction in net-income is likely to be overcome with improvements in earnings management. Analysts on a consensus basis have a positive growth forecast going forward which keeps me upbeat on the company's forward prospects.

Source: Forecast and table by Alex Cho
By 2017 I anticipate the company to generate $4.93 in earnings per share. This is because of earnings growth, improving global outlook, and continued success of its product offerings. Apollo Group is likely to recover from its recent one-time restructuring in operations. Also, the company continues to grow in foreign markets, with international growth being a key up-side catalyst.
The forecast is proprietary, and below is a non-linear chart indicating the price of the stock over the next 5-years.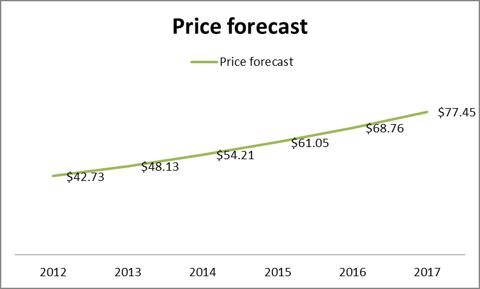 Source: Forecast and chart by Alex Cho
Investment Strategy
APOL currently trades at $21.01. I have a price forecast of $42.73 for 2012, being that there are only 15-days before the end of 2012; the stock will fall short of the forecast. This means we should move to the long-run, and focus on 2012-2013. APOL is in the beginning stages of a price recovery. The stock may rapidly jump when it announces earnings for 4th quarter 2012 in 1st quarter 2013. It is also likely that APOL will continue to appreciate up until it announces earnings.
Short Term
Over the next twelve months, the stock is likely to appreciate from $21.01 to $42.73-$48.13 per share. This implies 103-129% upside from current levels. The technical analysis indicates that APOL is in the beginning stages of an up-trend, while the previously mentioned price forecast using fundamental analysis further supports the trade set-up.
Investors should buy Apollo Group at $21.01 and sell at $42.73 to pocket short-term gains of 103%.
Long Term
The company is an exceptional investment. I anticipate APOL to deliver upon the price and earnings forecast despite the risk factors (company restructuring). Apollo Group's primary upside catalyst is international growth, and earnings management. I anticipate the company to deliver upon my forecasted price target of $77.45 by 2017. This implies a return of 268% by 2017. This rate of return is exceptional, considering Apollo Group has a market capitalization of $2.5 billion. The small market capitalization is a sore spot for institutions that require higher liquidity. Therefore this investment opportunity is meant for smaller investors who are growth oriented.
Conclusion
The stock is both compelling over the long- and short-term. I anticipate APOL to beat the Standard & Poor's 500 in 2013 (the average return from equities is approximately 12% but Apollo Group will generate 103-129% in 2013). Apollo Group will be a great investment for many years ahead. The conclusion is simple: buy Apollo Group.
Disclosure: I have no positions in any stocks mentioned, and no plans to initiate any positions within the next 72 hours. I wrote this article myself, and it expresses my own opinions. I am not receiving compensation for it (other than from Seeking Alpha). I have no business relationship with any company whose stock is mentioned in this article.