The Fed is going to inject a trillion plus in the money supply in 2013. Surely this will cause the dollar to weaken, even crash?
Well, not quite.
For the dollar to crash, some other currency has to appreciate, and in volume. Currencies that have smaller circulation - the Looney for example - are therefore not candidates to be the counterparty for a true dollar crash. Yes, they may appreciate in isolation. People talk a lot about the smaller European currencies like the Krona, without realizing that the Krona cannot be home to trillions of dollars. It is simply not that big.
So that leaves the bigger economies to act as counterparty to a Dollar run. The 10 biggest world economies per Wikipedia are:
| Rank | Country/Region | 2011 GDP (millions of US$) |
| --- | --- | --- |
| | World | 70,201,920 |
| 1 | United States | 14,991,300 |
| 2 | China | 7,203,784 |
| 3 | Japan | 5,870,357 |
| 4 | Germany | 3,604,061 |
| 5 | France | 2,775,518 |
| 6 | Brazil | 2,476,651 |
| 7 | United Kingdom | 2,429,184 |
| 8 | Italy | 2,195,937 |
| 9 | India | 1,897,608 |
| 10 | Russia | 1,857,770 |
Together, these constitute 2/3 of the world GDP. I think it can be safely assumed that countries outside this list are too small to absorb a run on the US Dollar. But what about the currencies of these countries? We have the Renminbi, the Yen, the Euro, the Real, the Pound, the Rupee, and the Ruble. Let's examine these one by one.
I think we can safely rule the Renminbi out. For one, the Chinese government is inflating. Xinhua reports that China Consumer Price Index grew to 2% from a 33-month low of 1.7% recorded in October. China experts believe this trend to continue.
The government think tank, the Chinese Academy of Social Sciences (NASDAQ:CASS) also predicted that the growth of the world's second largest economy would pick up in the next year.

In a blue paper issued by CASS last Wednesday, it expects the GDP to grow 8.2 and the CPI to reach 3% in 2013.
Also, the Yen is out for the same reason. The LDP Govt. came to power with a promise of reflating the economy. Reports CNBC:
The Bank of Japan will ease monetary policy this week and consider adopting a 2 percent inflation target no later than in January, sources said on Tuesday, responding to pressure from next Prime Minister Shinzo Abe for stronger efforts to beat deflation.
China and Japan are both export economies and will do what they can to keep their currencies down. Unless we believe that our printing presses can run faster than theirs, there is no chance of a dollar depreciation against the currencies of either nations.
I think we can also rule out Brazil, India, and Russia, as these countries have persistent long term inflation problems of their own. Reports the Financial Times on Brazil:
The central bank survey showed that economists expect inflation of 5.53 per cent for this year, higher than 5.42 per cent in the previous weekly survey and above the central bank's target of 4.5 per cent.
As for India, the Wall Street Journal reports that close to 8% inflation is the norm:
The wholesale price index rose 7.45% in October from a year earlier as food prices cooled, down from September's 7.81% rise, government data showed Wednesday. The reading was lower than the 7.90% median estimate in a Dow Jones Newswires poll of 17 economists.
As for Russia, the less said the better. Inflation has had a wild ride there, average in excess of 150% in the past 20 years.
So, that leaves our Europeans friends the EU and the UK to absorb the projected run on the US Dollar. Let's first get the Pound out of the way. Reports the BBC:
The consumer prices index (NYSEARCA:CPI) rate, which is targeted by the Bank of England, had jumped from a three-year low of 2.2% to 2.7% in October, a much bigger rise than had been expected and which came as a nasty shock in the City.
So, UK has its own inflation problem, and more severe than that of the USA. This in the face of persistent high unemployment so chances of the Bank of England raising rates to curb inflation is slim to none. Reports the BBC again:
The number of people out of work fell by 82,000 to 2.51 million in the three months to November according to the Office for National Statistics (NASDAQ:ONS).

The unemployment rate was down 0.2% to 7.8%.
That leaves the folks at the European Central Bank as the sole keepers when it comes to a run on the Dollar. Trouble is, to date they haven't really done a bang up job, even as they kept interest rates higher than necessary and caused massive unemployment. See the chart below.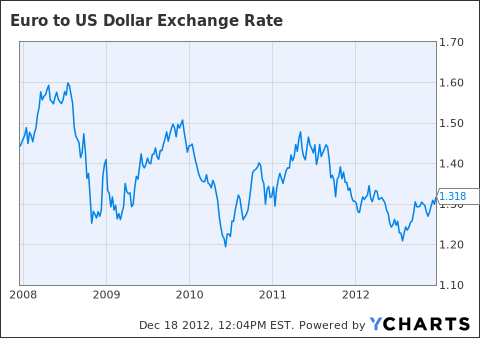 So, why has the Euro been such a heartbreaker to those that are longing for a US Dollar crash? Here's the trouble. Interest rates are going down in the EU zone as well, in fact to negative territory. Reports the Financial Times:
Growing expectations the European Central Bank will attempt to boost eurozone growth prospects by charging banks for using its deposit facility have started to be reflected in market interest rates.

The interest rate on borrowing unsecured cash for one year in euro wholesale markets dipped below zero for the first time after the ECB last week downgraded steeply its 2013 eurozone growth forecasts.
So, there we have it. The top 2/3rd of the world economy is not ready to accept a massive influx of US Dollars. Unless one believes that the bottom 1/3 has rock solid economies with stable fiscal and monetary policies (good luck with that) there is no realistic alternative to the US Dollar. Sure, some small currencies here and there may rally, but overall the US Dollar will remain steady against its major trading partners.
So that brings us back to gold. Of course, gold investors have been rallying for a major run on the dollar for a while, with hopes that it will take gold to $5,000/oz. Sadly, over the last year as governments worldwide have become serious about fighting persistent high unemployment and low growth, thus inflating their currencies all at once (as shown above), gold has floundered.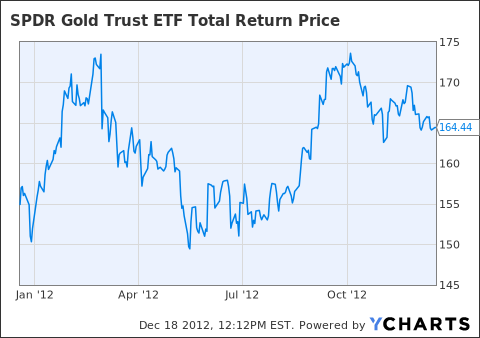 I expect more of the same in 2013, especially since demand in India, the world's largest gold consumer, is dropping. So, I remain confident that at best gold should go sideways in 2013. However, I also know how the gold market goes. It is not in any way based on fundamentals, and is all about sentiment.
So, I am not about to short gold, but I must say I am sore tempted. For those strong at heart, a few short choices may be the SPDR Gold Trust ETF (NYSEARCA:GLD), the Market Vectors Gold Miners ETF (NYSEARCA:GDX), and the Market Vectors Junior Gold Miners ETF (NYSEARCA:GDXJ).
Disclaimer: This is not meant as investment advice. I do not have a crystal ball. I only have opinions, free at that. Before investing in any of the above-mentioned securities, investors should do their own research, consult their financial advisors, and make their own choice.
Disclosure: I have no positions in any stocks mentioned, and no plans to initiate any positions within the next 72 hours. I wrote this article myself, and it expresses my own opinions. I am not receiving compensation for it (other than from Seeking Alpha). I have no business relationship with any company whose stock is mentioned in this article.