Alcatel-Lucent (ALU), the troubled telecom equipment manufacturer, has been the subject of bankruptcy rumors as of late. Last week the company was able to secure a $2.1 billion financing package from Credit Suisse Group and Goldman Sachs (NYSE:GS). This deal will give Lucent time to attempt to return to profitability. The stock, which was trading at around $1.10 before the news, jumped to $1.40 as of this writing.
While the turnaround is certainly far from certain and the stock is an extremely speculative play, Lucent has a few outstanding bonds which offer attractive yields.
The Bonds
Lucent has four different notes: two callable bonds maturing in 2023 and 2025 and two non-callable bonds maturing in 2028 and 2029. The two callable bonds both have a coupon of 2.88% and are trading close to par. The 2028 bond had a coupon of 6.5% while the 2029 bond has a coupon of 6.45%, and both are trading at substantial discounts to par. Since these notes are extremely similar, I'll focus on the 2028 maturation.
The 2028 6.5% bond (CUSIP: 549463AC1) was issued in 1998 and was last traded on 12/18/2012 for $71.25. The price has risen recently but is lower than highs close to $80 in the beginning of the year.
Bond Price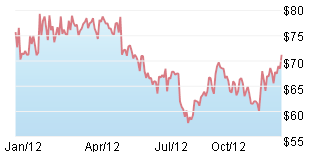 * Bond data from FINRA
The coupon is paid semi-annually in January and July, and the total size of this bond issue was $300 million. I'll use the Bargain Bin Yield To Maturity Calculator to analyze this bond: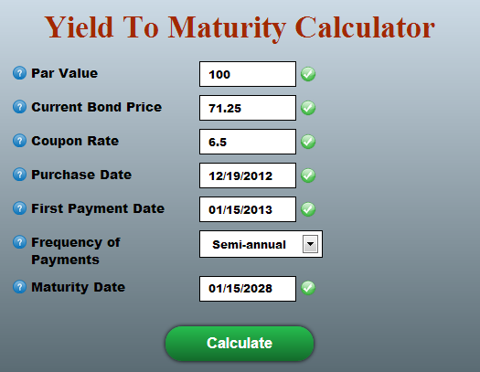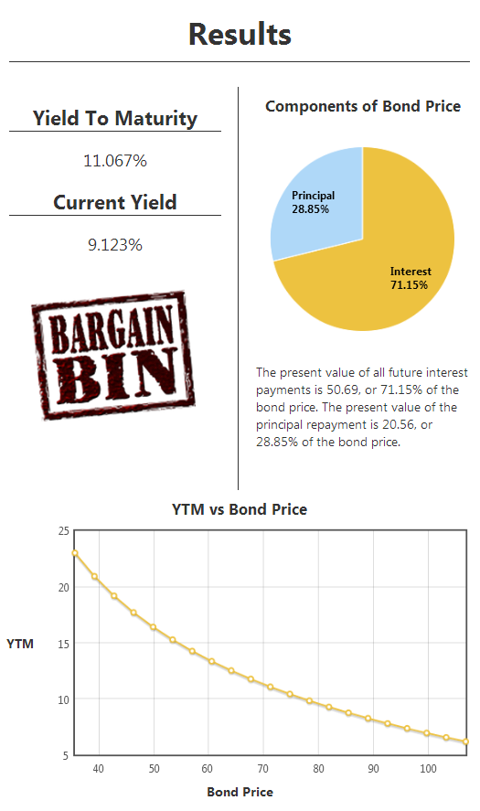 The current yield based on a price of $71.25 is 9.123% while the yield to maturity is a hair above 11%. For comparison, the 20 year US Treasury bond recently sold with a 2.59% coupon.
The Balance Sheet
The question is: will Lucent survive and be able to service this debt. Before the debt deal, Lucent had 6.3 billion EUR in cash, 0.5 billion EUR in investments, and a total of about 6.1 billion EUR in debt. In addition, pension obligations are listed at 7.9 billion EUR. Current assets total 14.5 billion EUR compared to current liabilities of 10.7 billion EUR. Even before the debt deal liquidity doesn't appear to be a huge problem, at least in the near term. The big problem, however, is that the company is bleeding cash. Free cash flow has been negative for the past five years, and in the first half of 2012 FCF was -750 million EUR. Lucent can not continue to lose this kind of money for too long before liquidity becomes an issue. The debt deal will certainly help, and it should extend the time that the company has to turn around its fortunes.
The very fact that Goldman is involved in this kind of debt deal shows that they are confident that Lucent can be returned to profitability. Of course, if it fails and Lucent goes under, I'd rather be a bond holder than a share holder.
Conclusion
The 2028 bond offers an 11% yield to maturity, which is rare in a world of ultra-low interest rates. The debt deal from Goldman solves any near-term liquidity problems and should give Alcatel-Lucent time to restructure and return to profitability. This bond offers an alternative to investing in the speculative common shares while still betting on a Lucent turnaround.
Disclosure: I have no positions in any stocks mentioned, and no plans to initiate any positions within the next 72 hours. I wrote this article myself, and it expresses my own opinions. I am not receiving compensation for it (other than from Seeking Alpha). I have no business relationship with any company whose stock is mentioned in this article.