iShares MSCI Japan Index Fund (NYSEARCA:EWJ) has seen significant outflows over 2012, but the new elections centered around calls for greater stimulus measures could help support Japanese equities.
EWJ crossed over its 200-day exponential moving average last month and is breaking out. Year-to-date, the fund has lost $973 million in assets, according to IndexUniverse. EWJ has gained 5.3% over the past month.
On Sunday, Japanese voters elected Shinzo Abe as Japan's next prime minister. Abe is intent on enacting large-scale budget reforms for government spending and placing greater pressure on the Bank of Japan to ease the country out a prolonged period of deflation and recession, the Wall Street Journal reports.
"It was very rare for monetary policy to be the focus of attention in an election, but there was strong public support to our view," Abe said in a Reuters article. "I hope the Bank of Japan takes this into account (at its policy meeting this week)."
Abe has demanded that the Bank of Japan accept a 2% inflation target, or double the central bank's goal of 1%, along with "unlimited" monetary easing. The BOJ has drawn strong criticism over the past few years as being too cautious in light of the stagnating economy.
"Luckily the BOJ governor will change next year," Abe said in the Wall Street Journal. He has even gone so far as to threaten reopening the 1998 BOJ independence law and placing the central bank under the government's supervision if it does not stimulate the economy.
Meanwhile, Japanese yen has been weakening in recent weeks on talks of aggressive easing policies, but large manufacturers still expect the yen to average 78.73 against the U.S. dollar, the Financial Times reports. The Japanese yen was trading around 83.8 against the dollar Monday.
iShares MSCI Japan Index Fund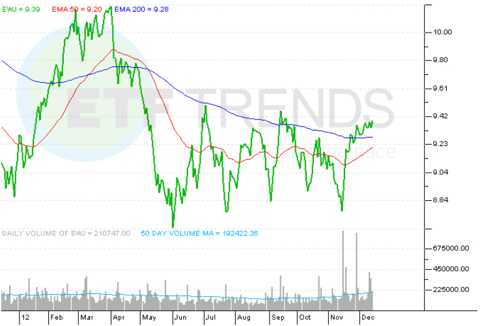 Max Chen contributed to this article.
Disclosure: I have no positions in any stocks mentioned, and no plans to initiate any positions within the next 72 hours. I wrote this article myself, and it expresses my own opinions. I am not receiving compensation for it. I have no business relationship with any company whose stock is mentioned in this article.