While writing my recent article Bakken Crude: The Refiners' Top Choice, it became increasingly obvious why Warren Buffett's Berkshire Hathaway (NYSE:BRK.A) bought more shares of Phillips 66 (NYSE:PSX) in 2012. The synergies between Berkshire's Burlington Northern Sante Fe (BNSF) unit and Phillips 66 are striking. It would not surprise me if Buffett substantially increased his stake in Phillips 66 in 2013, or just bought the entire company outright. Let's take a look at the reasons why these are distinct possibilities.
Railroads, Shale Oil and Refineries
First, let's take a look at BNSF's extensive intermodal railroad network: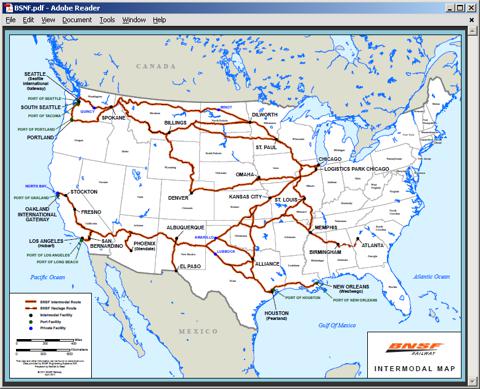 Next, let's compare the BNSF railroad network with a map showing the locations of PSX's U.S. refineries. This slide was taken from a recent analyst presentation (pdf).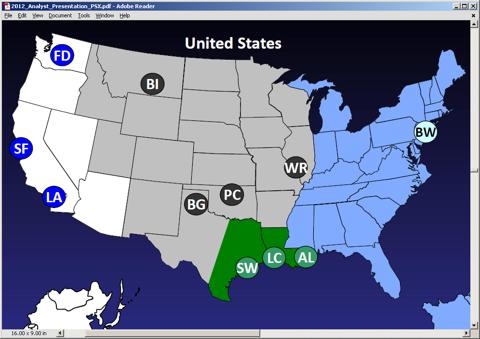 Virtually every PSX refinery except the Bayway refinery (the one damaged in super-storm Sandy) is located either directly on, or in very close proximity to, an existing major BNSF line. As noted in my previous article, these refineries are hungry for the high-quality crude coming out of the Bakken, Eagle Ford and shale plays. As shale crude production out-strips pipeline capacity, it is increasingly being transported by rail. No wonder Berkshire increased its stake in PSX - it makes money coming and going: transporting the crude by BNSF railroads to PSX refineries, profiting on the refining crack spread at Phillips 66, and transporting refined product from the refinery to end markets. Beautiful.
It's no surprise that we see the following "Increasing Advantaged Crude Throughput" slide in the same Phillips 66 analyst presentation I referred to earlier: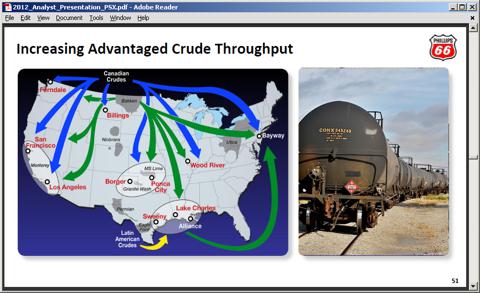 This slide says it all: shale oil, refineries, and railroads: the combination of which is a real game-changer in the energy landscape of the United States. This is a long-term trend.
Railcars
Some may be surprised to know that PSX owns ~7,000 railcars - an obvious fit with Berkshire's BNSF operation. In addition, the company has 40 product terminals and five crude oil terminals.
Chemicals
As most of you know, PSX has three major business segments: Refining and Marketing (R&M), Chemicals and Midstream. The chemical segment, Chevron Phillips Chemical Company (CPChem), is a 50/50 joint venture with Chevron (NYSE:CVX). CPChem has roughly 75% of its capacity in the U.S. and has plant locations which, once again, overlap very well with BNSF's intermodal railway network. This is important when it comes to delivering finished chemical products to end market users.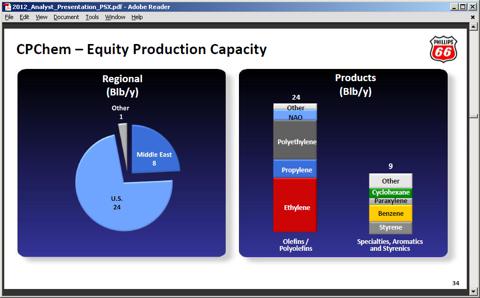 So these are the major synergies between Berkshire's BNSF railroad operation and Phillips 66's refining and chemical businesses. But what about PSX's midstream segment?
Midstream
The PSX midstream business can be broken down into two operations:
DCP Midstream: This is a 50/50 joint venture with Spectra Energy. It is a leading U.S. gatherer and processor and the largest U.S. producer of natural gas liquids (NGLs). This business is very active in the Eagle Ford and Permian basins and has over 1250 miles of NGL pipelines.
Phillips 66 Midstream: This business owns and operates a natural gas pipeline and three natural gas liquid fractionators. It owns over 16,000 miles of pipelines, 40 product terminals, and five crude oil terminals.
While it may appear the Midstream segment does not fit well into Berkshire Hathaway, consider the following:
PSX's midstream is very synergistic with its own chemical and refining business, supplying them with feedstock and product transportation. The link between Berkshire's railroad and Phillips' chemical business has already been made.
Berkshire already has stakes in two big utility and energy related business: PacifiCorp and MidAmerican Energy Company (MEC). 21% of PacifiCorp energy generation is via natural gas. MEC operates two interstate gas pipeline companies.
The point is, there may be more synergies between Berkshire and PSX's Midstream segment than a first glance would see.
That completes a summary of how Phillips 66's business segments would fit well inside of Berkshire Hathaway. Now let's look at Berkshire's stated acquisition criteria.
BERKSHIRE HATHAWAY INC. ACQUISITION CRITERIA
These acquisition criteria are taken directly from Berkshire's 2011 annual report:
We are eager to hear from principals or their representatives about businesses that meet all of the following criteria:
Large purchases (at least $75 million of pre-tax earnings unless the business will fit into one of our existing units),
Demonstrated consistent earning power (future projections are of no interest to us, nor are "turnaround" situations),
Businesses earning good returns on equity while employing little or no debt,
Management in place (we can't supply it),
Simple businesses (if there's lots of technology, we won't understand it),
An offering price (we don't want to waste our time or that of the seller by talking, even preliminarily, about a transaction when price is unknown).
The larger the company, the greater will be our interest: We would like to make an acquisition in the $5-20 billion range. We are not interested, however, in receiving suggestions about purchases we might make in the general stock market. We will not engage in unfriendly takeovers. We can promise complete confidentiality and a very fast answer - customarily within five minutes - as to whether we're interested. We prefer to buy for cash, but will consider issuing stock when we receive as much in intrinsic business value as we give. We don't participate in auctions.
Phillips 66 fits well within these criteria except for the following caveats:
PSX has $8 billion in debt (targeting $6 billion by 2013 YE).
PSX is much larger than Berkshires $5-$20 billion range.
Friendly? I cannot comment other than to say Berkshire's existing investment in PSX is a positive and so are the existing synergies between BNSF and PSX.
It is well known that Buffett and BRK.A prefer to own "iconic" American companies like Coca-Cola, IBM, and Wal-Mart. The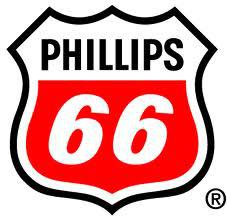 Phillips 66 brand fits this mold. The iconic "66" brand is historically linked back to the popular "Highway 66." In 1927, the company's gasoline was being tested on U.S. Highway 66 in Oklahoma. When it turned out the car was going 66 mph, which was fast at the time, it cemented the idea of "66" and the company decided to name the new fuel Phillips 66.
Now let's take a look at Berkshire's existing stake in PSX and see if it would make sense for Berkshire to increase its investment or possibly make a bid to buy Phillips 66 outright.
Already A Big Stake In PSX
According to Berkshire's 2011 Annual Report (pdf), the company's position in Conoco Phillips (NYSE:COP) at year-end 2011 was 29,100,937 shares. That stake, if unchanged prior to COP's spin-off of its downstream businesses in May of this year, would have turned into 14,550,468 shares of Phillips 66 (1 share PSX for every 2 shares of COP). From the latest FORM 13F (quarter ended September 30, 2012), Berkshire's holdings in these two companies can be summarized as follows:
Shares Held

As of 9/30/2012

Current Price

(12/17/2012)

Market Value

% Shares Owned

ConocoPhillips

24,123,911

$58.28

$1.41 billion

2.0%

Phillips 66

27,163,918

$53.52

$1.45 billion

4.3%
It was widely reported that Berkshire increased its stake in PSX during 2012. The purpose of summarizing current ownership was to show just how much additional PSX stock Berkshire bought over and above what would have been automatically owned, by default, by virtue of its stake in COP. The difference amounts to some 12,613,450 additional shares of PSX. This has been a very good investment for BRK.A shareholders as PSX is up some 60% since the spin-off in May. The additional shares bring Berkshire's ownership in Phillips 66 to 4.3% of the total shares outstanding. It should also be noted that despite many media reports of Berkshire selling ConocoPhillips shares, it still owns a large stake in COP, amounting to $1.41 billion and 2% of the outstanding shares in the company.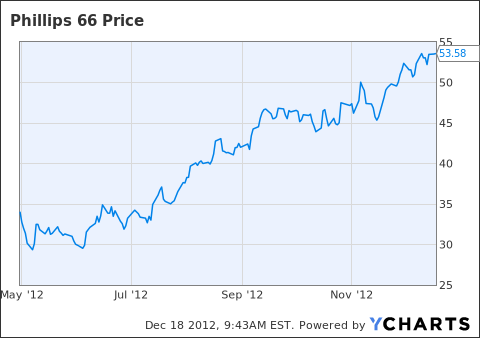 PSX data by YCharts
Let's get back to the acquisition criteria caveats. As of its Q3 earnings report, PSX ended the third quarter with $8 billion in debt and $4.4 billion of cash, for a net debt of $3.6 billion. The company is in outstanding fiscal condition with a net-debt-to-capital ratio of 15% at quarter close. The company realized strong returns in the third quarter with a reported year-to-date (YTD) annualized return on capital employed (ROCE) of 18 percent. R&M and Chemicals reported returns of 21 percent and 25 percent, respectively. These are sector leading numbers and financial performances that even Warren Buffett should admire. The company's financial and operating performance is so strong it has raised the dividend twice in 2012 and instituted two $1 billion dollar stock buyback programs. I think it is safe to assume PSX can clear Berkshire's debt hurdle.
The second takeover caveat was size. PSX's current market valuation is $33.5 billion and the net-debt would push that to roughly $37 billion. While this is much larger than Berkshire's range of $5-$20 billion, a deal is not inconceivable. After all, Buffett shelled out $44 billion for BNSF though it is quite probable purchasing all of PSX would exceed the BNSF takeover price. Indeed, with such favorable long-term prospects and fundamentals for Phillips 66 (high quality shale oil, wide crack spreads, low cost natural gas and NGL feedstock, gasoline exports to high cost Brent-based markets), PSX management would surely hold out for a minimum of a 35%-45% premium over today's market cap + debt. This would put the total cost of taking over PSX in the neighborhood of $53 billion ($85/share). That certainly exceeds what Buffett spent on BNSF and is roughly 2.5x its $20 billion top range criteria.
But before we nix the deal because of takeover price, let's take a closer look at the possibilities.
While PSX has already announced its intention to form a Phillips 66 Master Limited Partnership, it said little about what assets would be included in the MLP other than:
Crude and product pipelines
Terminals
NGL assets
Targeting $300-400 million of gross cash proceeds
Anticipated IPO in 2nd half of 2013
Buffett and BRK could decide to proceed with the MLP as planned, or potentially expand the asset based included and raise the amount of cash proceeds to help fund the takeover. There are many possibilities here with PSX's large and high-quality midstream asset base.
The CPChem segment could be sold, although I don't know why Buffett would choose to sell a business that is the industry leader in ROCE. But CPChem is a very large business, with adjusted EBITDA for 2012 (annualized) at over $3 billion. Perhaps it would be possible for Berkshire to shed the Middle Eastern part of CPChem (about 25% of the total CPChem capacity) and focus on the chemical operations near its railroad. But it could be that Chevron would have something to say about that.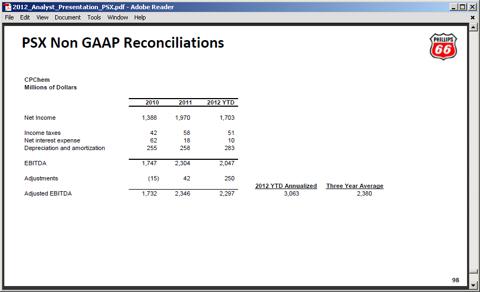 It is also conceivable that Berkshire could sell off all of PSX's refining assets except for those in the U.S. This would simultaneously raise cash, simplify the business, and increase efficiency. Phillips 66 has four overseas refineries representing 18% of total capacity:
England
Ireland
Germany
Malaysia
Shedding these foreign refineries would allow Berkshire to focus its efforts on the 11 U.S. refineries that can take advantage of lower cost Canadian and U.S. shale oil.
Bottom line is this: capital is inexpensive these days - especially for Buffett and Berkshire. They could definitely fund a takeover of Phillips 66. PSX has great cash flow, wonderfully profitable businesses, and great long-term growth prospects. The efficiencies and synergies between BNSF and Phillips 66 could be fine-tuned through logistical excellence. That said, PSX has many quality assets that could be spun-off such that Berkshire could shed itself of all but the most synergistic and profitable of PSX's businesses.
While a takeover of PSX by Berkshire could be a stretch, it certainly makes sense for Buffett to increase BRK's current stake in the company as it dovetails so nicely with its existing BNSF operation. At the same time, I find myself wondering how many times Buffett filled up at a "66" station on his way to Dairy Queen. A buyout is not out of the question.
Disclosure: I am long PSX, COP. I wrote this article myself, and it expresses my own opinions. I am not receiving compensation for it (other than from Seeking Alpha). I have no business relationship with any company whose stock is mentioned in this article.
Additional disclosure: I am an engineer, not a CFA. The opinions expressed in my articles are my own. Please do your own research. I cannot be held responsible for investment decisions you make. Thanks for reading and good luck!