Stocks To Trade
Today, we are looking at an earnings trade in SunTrust Banks (NYSE:STI), longs in Ametek (NYSE:AME) and Gap (NYSE:GPS), shorts in Coca-Cola (NYSE:KO) and PhillipsMorris (NYSE:PM).
For an earnings trade, we are looking at SunTrust. STI has some very promising prospects for the coming quarter. The company is looking at earnings growth of over 100% and revenue over 13%. Both levels are extremely enticing, and we like the stock to remain strong into earnings. Financials have looked very good of late, as Q4 earnings are expected to be very solid for the entire sector. SunTrust is looking solid after a recent upgrade in financial outlook from S&P. The agency upgraded STI's outlook to Positive on the back of growing margins and better capital. STI has raised cash on hand by 25% in the past three months, which is very enticing. The company is going to see a strong increase in its profits as well due to a plan to cut costs and trim staff. That plan, along with increased loans, is going to provide a strong quarter. The company has very strong support at $25, where it has its 200-Day MA, as well as its low of the past four months.
Trade: STI, Jan19, 26/25 Bull Put Spread
Max Gain: 12%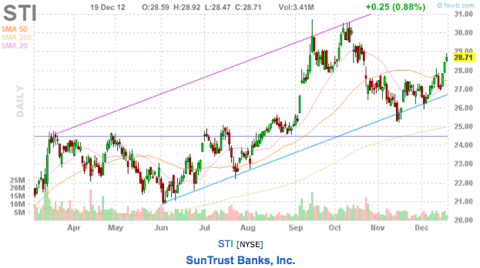 For longs, we like the looks of Ametek and Gap. Both stocks are looking strong with AME primed for a breakout and GPS showing a strong bottom. AME is looking like it has a strong possibility for a breakout with good fundamentals and technicals. The stock should be ready for a breakout if it can get over 38.20. The stock has been moving very well since its October earnings report, which showed a strong rise in profitability as well as an increase in its 2012 outlook. The company saw its net income rise 18%, and the coming quarter looks like it will see a 15% increase in earnings and a 14% increase in revenue. The company's rise is mostly due to success in its oil and gas business as well as aerospace. The company is looking very solid into Q4, and it has had multiple tests of 38.20 over the past several days. Again, we expect a breakout if the stock can break this level.
Additionally, GPS is looking very solid as it bottoms off $30. The company has its 200-day MA just above $30 as well, and we like the stock for a bull put spread. The company is benefiting from a strong holiday shopping season as well as a recent upgrade to Buy from Goldman Sachs (NYSE:GS). GS rated the company as a Buy with a $41 price target due to declining cotton prices. The company believes that the decline in cotton prices, as well as positive sales momentum, will allow GPS to beat EPS estimates by 10-15%. The company is looking very solid right now, and it has not failed its 200-day MA all year. We can make over 15% on the bull put spread right now, and we like that as the company continues to move higher.
Equity Trade: AME, Long
Breakout Point: Break of 38.20
Options Trade: GPS, Jan19, 30/28 Bull Put Spread
Max Gain: 15%
For shorts, we like the looks of Coca-Cola and Philip Morris. KO is looking very weak right now and has dropped for three straight sessions despite strength in the market, and we believe it could be headed lower. The problem for KO is that it just failed three key support lines, and the company has limited catalysts right now. The company's last earnings report was weak, and despite our long-term Buy rating, the company is showing quite a bit of weakness right now. The company's latest big news is that it is rejecting a special shareholder proposal from activist James McRitchie. The activist wants to allow the ability for investors that hold 10% of the company's shares to be able to hold a special meeting. KO's rejection is not moving the stock positively, and its break of all the support lines does not bode well for the company. The company looks weak and can be shorted now. It should breakout even lower if it loses 36. The dilemma between the shareholders and KO will not go away anytime soon, and that will be a black eye for the company.
PM is also looking quite weak right now after a recent draft revision of EU tobacco rules. The EU wants to put larger warnings on cigarette packs and ban menthol flavoring. The packaging will be nearly completely a health warning, and that news is definitely hurtful to PM and other cigarette stocks. With such a large amount of earnings and revenue from Europe, PM will be very negatively affected by this decision. The company has strong resistance at $90, which has not been broken in months. We do not expect much upside to exist in light of this recent regulation, and until the company is able to see some fundamental change, we expect weakness.
Stock Trade: KO, Short
Breakout point: Short on Wednesday's Open
Options Trade: PM, Jan19, 87.50/90 Bear Call Spread
Max Gain: 16%
Tomorrow's Outlook
The market pulled back slightly on Wednesday, which was not surprising after such strong rallies on Monday and Tuesday. The market started to lose some grip on its hopes for a fiscal bailout as Speaker of the House John Boehner continues to push his Plan B bailout. On the other hand, the downside was held in check by strong earnings from Oracle (NYSE:ORCL) and Fedex (NYSE:FDX), two bellwether stocks. Moving into tomorrow, we should expect more weakness on the back of fiscal cliff issues without any progress. However, the House will vote on the Plan B bailout from Boehner. If that passes, it could give the market some momentum, but the Senate does not appear to be likely to pass the same bill. Otherwise, the market should be reacting to GDP news and initial jobless claims.
Charts courtesy of finviz.com.
Disclosure: I have no positions in any stocks mentioned, and no plans to initiate any positions within the next 72 hours.
Business relationship disclosure: The Oxen Group is a team of analysts. This article was written by David Ristau, one of our writers. We did not receive compensation for this article (other than from Seeking Alpha), and we have no business relationship with any company whose stock is mentioned in this article.