By Todd McDonald
Research In Motion (RIMM) is scheduled to report 3Q 2013 earnings after the close of trading on Thursday, December 20, 2012, with a conference call to follow at 5:00 p.m. EST. RIM's shares are up over 100% since the September low of $6.22. With such a dramatic advance over recent weeks, any missteps could cause a steep retracement after the 3Q 2013 earnings are disseminated.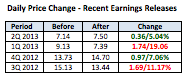 Outliers And Strategy
Key Measures Covered by Selerity:
Adjusted Earnings Per Share (EPS): The consensus estimate is a loss of (-$0.35) with a range of (-$0.58) to (-$0.17).
Revenues: Revenues are expected to come in at $2.65 bln, the midpoint of the projected rang of $2.38 bln to $2.91 bln. (Source: Yahoo Finance)
While RIM no longer gives formal guidance, CEO Thorsten Heins stated in the last 2Q 2013 release that there will be continued pressure on operating results for the remainder of the fiscal year based on:
Competition
Lower handset volumes
Increased marketing expense for Blackberry 10
Customer pressure to reduce RIM's monthly access fees
Recent News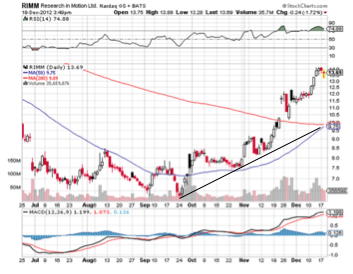 Technical Review
As of December 18, RIM's shares are up 120.58% from the lows of $6.22 set on September 22, 2012. The stock also looks ready to form a "golden-cross" with the 50-day SMA, ready to pierce the 200-day SMA. While some of the move may be attributable to short-covering, it is worthwhile to note that there is still a massive 27.34% of the float held short -- an all-time high. Should earnings disappoint, look for support at $12, followed by $10. If earnings significantly beat expectations, we could see a short squeeze up to early-2012 resistance of $15 (Chart courtesy of StockCharts.com).
Summary
Research in Motion has been on a spectacular run this quarter, signaling that Wall Street is expecting a solid earnings release. With renewed optimism on Blackberry 10, a meaningful upgrade from Goldman, and high short interest, it seems that all the recent positive news has been priced in at current levels. However, for RIM to successfully gain traction in the smartphone market, the Blackberry 10 will need to take market share away from the likes of Apple's (NASDAQ:AAPL) iPhone and Google's (NASDAQ:GOOG) Android devices -- which will not be released until January. Therefore, RIM is vulnerable to a sell-off unless earnings significantly exceed traders' expectations.
Disclaimer: By using this report, you acknowledge that Selerity, Inc. is in no way liable for losses or gains arising out of commentary, analysis, and or data in this report. Your investment decisions and recommendations are made entirely at your discretion. Selerity does not own securities in companies that they write about, is not an investment adviser, and the content contained herein is not an endorsement to buy or sell any securities. No content published as part of this report constitutes a recommendation that any particular investment, security, portfolio of securities, transaction or investment strategy is suitable for any specific person.
Disclosure: I have no positions in any stocks mentioned, and no plans to initiate any positions within the next 72 hours. I wrote this article myself, and it expresses my own opinions. I am not receiving compensation for it (other than from Seeking Alpha). I have no business relationship with any company whose stock is mentioned in this article.