In August 2011, rating agency Standard & Poors downgraded the U.S.'s rating from AAA to AA+, attributing the rating cut to what they called "a breakdown in the ability of the Democratic and Republican parties to govern effectively."
Back then, S&P's statement had said:
The downgrade reflects our view that the effectiveness, stability, and predictability of American policymaking and political institutions have weakened at a time of ongoing fiscal and economic challenges..
Although the markets eventually recovered this setback in late 2011 and most of 2012, that rating cut could have eventually hurt the recovery by increasing consumer borrowing costs and slowing the broader economic activity.
But more than a year later, the situation in Washington has not changed. The U.S. faces another gridlock in the Fiscal Cliff discussions and a failure this time could cause a rating downgrade yet again.
Fiscal Cliff - A Distraction?
Investors are no doubt getting nervous as the deadline for the fiscal cliff discussions approaches. The market has reacted positively at the slightest hint of progress and negatively on each setback. However, this volatility affects traders more than long term investors.
According to a UBS Investment Research survey of its clients, two thirds of investors are expecting a deal, at least in the short term. Another recent survey by BofA Merill Lynch has revealed that investors are looking beyond the fiscal cliff already.
Year 2013 shows optimism
Let us put aside the fiscal cliff drama for a minute and look at some trends. The year 2012 has given us some important reasons to cheer as the Times Square Ball is dropped at the start of the year.
(1) The U.S. energy renaissance and a stronger dollar
The U.S. has been experiencing an oil and gas boom lately. According to a recent report, the natural gas shale exploration in the country has attracted manufacturing companies to invest more than $90 billion in the country. Blackrock has also recently stated that the U.S. dollar should gain due to this energy boom and the long term growth prospects resulting from it.
Energy magnate T. Boone Pickens has corroborated that the energy boom is poised to benefit the U.S. as the country will become energy secure and will make us the "Saudi Arabia of Natural Gas" with the cheapest energy in the world.
Our oil is twenty percent cheaper than the global market price, seventy-five percent cheaper for natural gas, and we have half the cost of gasoline. So, it's an opportunity for us to take advantage of cheap energy and build the economy back on the basis of cheap energy.

- Energy magnate T. Boone Pickens
There is an added benefit to this energy independence: it will weaken the negative effect that oil price hikes have on the U.S. dollar, because energy self-sufficiency decreases the money paid to oil exporters and narrows the current-account deficit. The end result is a gain in the U.S. Dollar. Blackrock Inc. has said that for year 2013, it is bullish on the U.S. Dollar mainly due to the country's energy boom and long term growth prospects.
In my July 2012 article, I had covered the energy turnaround story, recommending the likes of Valero (NYSE:VLO), Schlumberger (NYSE:SLB), Chevron (NYSE:CVX), Philips 66 (NYSE:PSX), and a list of other companies. These energy companies have appreciated more than 40% already and have more room to go in the next year.
(2) Increased construction and manufacturing activity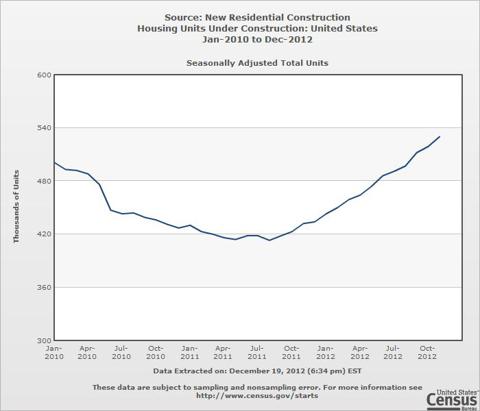 In 2012, we witnessed that residential as well as industrial construction is recovering from a multi-year bottom, already surpassing 2010 levels (see chart - ).
This trend should benefit companies that are involved in the transportation, waste management as well as equipment manufacturing/renting process, apart from the builders. More demand for building products should also help manufacturing companies, which have a lot of direct as well as indirect positive correlation with the construction activity.
I have been discussing United Rentals (NYSE:URI) on Seeking Alpha since June 2012. The macro economic trends discussed above were one of the main reasons I have continued to own and buy this stock since 2011 lows (in the 'teens'). Metrics such as equipment rental rates, prices of building materials or demand for trucking and rail services continue to appreciate in numbers because of these trends, and this appreciation is crucial for the broader economic recovery.
(3) Recovery in China
China's economic growth has always been an important factor for the Wall Street. The stock performance of companies like Starbucks (NYSE:SBX), McDonald's (NYSE:MCD) and even truck engine maker Cummins (NYSE:CMI) is largely dependent on the economic activity in China.
In spite of the worrisome trends in 2012, it appears that China's economy is getting better slowly. Recent Chinese manufacturing activity has shown expansion, and the government has shown a U.S.-like resolve in being ready to step in with fiscal and monetary policies as and when required. At the end of the day, investors must remember that China is way too big to sustain itself in terms of food, energy, consumer goods and commodities, and this country will continue to provide the U.S. based companies huge opportunities for growth. Improving economic activity in China should provide a big boost to the stock market in the post-Fiscal-Cliff-deal era.
(4) Recovery in the U.S. Housing market
After experiencing a dramatic downturn, the housing market in US is showing signs of a long term expansion. According to a report on Dec. 3, 2012, double digits growth in housing starts should reduce the inventory of vacant housing units to pre-crisis levels over the next three years.
Also, one must acknowledge that most people will choose to own a house rather than rent if owning becomes substantially cheaper. With record low mortgage rates and loosening of credit by most banks, lower home prices will continue to encourage more real estate deals. Even though the recovery in employment is painfully slow, low rates and low prices are and will continue boosting the housing recovery.
Conclusion
As a long term investor myself, I am treating the market volatility attributed to the fiscal cliff drama as merely a "distraction". I continue to buy stocks of companies like United Rentals, Cummins or Kelly Services (NASDAQ:KELYA) that are poised to benefit from economic expansion in the business cycle.
One must remember that expansionary monetary policies by governments always have an effectiveness lag, and in times of acute recessionary environments like 2009, this lag spreads farther out. However, eventually such policies do lead to increased economic activity and output.
These are my reasons to remain optimistic for 2013 and beyond, especially if the world does not end on December 21, 2012. Happy investing, folks!
Disclosure: I am long CMI, URI, KELYA. I wrote this article myself, and it expresses my own opinions. I am not receiving compensation for it (other than from Seeking Alpha). I have no business relationship with any company whose stock is mentioned in this article.