In the past quarter, the smartphone industry has seen an unexpected turnaround. Apple (NASDAQ:AAPL) has dropped from its peak at around 700 to now trading below 550, a drop of over 20%. Meanwhile, the former cellphone giants Nokia (NYSE:NOK) and Research in Motion (RIMM), proclaimed to be sinking ships at different points in the past decade, have made significant rebounds in the past three months, with Nokia rising by over 80% and RIM rising by over 40%. Although it may seem puzzling at first that Apple has taken a downturn despite releasing the iPhone 5 and iPad mini in the past three months, there may be a few explanations to this latest trend in the smartphone industry.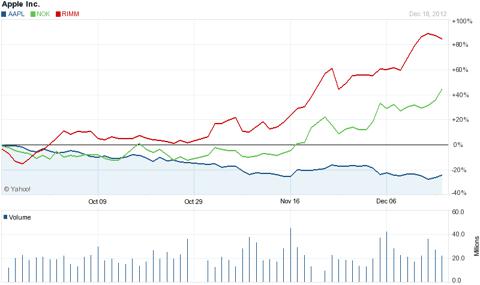 Source: Yahoo Finance
Apple's decline in stock price can be attributed to forward-looking concerns of investors. If we just look at the numbers, Apple sold over 5 million iPhone 5s in the opening weekend in the USA and over 2 million in China in its opening weekend, breaking previous records in both countries. In Apple's iPad mini and fourth-gen iPad release, Apple sold over 3 million iPads in the opening weekend, double the 1.5 million third-gen Wi-fi iPad sales this past. Surprisingly, these record breaking sales have failed to give the stock a boost. One reason is that these numbers are still below analysts' estimates, having considerably raised their expectations given what has happened in previous releases of the iPhone. Another major concern is the executive shakeup, with iPhone software chief Scott Forstall and retail head John Browett leaving the company. Investors are worried about the sustainability of the current product lines and innovation of future product lines as of late. The question is does Apple still have the talent pool to continue to develop its current product lines while innovating whole new products-Apple's winning business model.
Nokia and RIM seemed to have righted their sinking ships, or at least restored some faith in investors, with both stocks making significant recoveries within the past three months. With the Lumia line of smartphones, Nokia has been able to redefine itself in the smartphone industry and distinguish itself from Apple and the various Android manufacturers. The unique user interface of the Windows 8 OS, the windows "tiles" and social networking integration, coupled with the lower price point of the Lumia smartphones, gives casual smartphone users another option from the Apple and Android smartphones that dominate the market. This enables Nokia to carve out its own little niche, a good first step for a company seeking to regain some market share in such a competitive industry. Nokia has also been able to secure a partnership with China Mobile, giving the company an advantage in the Chinese market, an opportunity that has eluded Apple for years.
RIM's boost in share prices in the last three months can be attributed to new confidence in the company with its QNX-based, Blackberry 10 OS and the new lines of smartphones that go along with it to be released in Q1 2013. It is unlikely that Research in Motion will see a great improvement in market share in the private consumer smartphone market, as it may take time to rebuild Blackberry's reputation. However, long-standing contracts with corporate firms still give RIM an edge over Apple and Google in the corporate arena, and if the new Blackberry 10 smartphones can satisfy RIM's corporate clientele, it will bode well for RIM's stock.
Contrary to the recent movements of Apple, Nokia, and Research in Motion stock prices, Apple still has strong fundamentals while Nokia and Research in Motion have relatively weak fundamentals.
| | | | |
| --- | --- | --- | --- |
|   | Apple | Nokia | Research in Motion |
| Forward P/E | 9.18 | N/A | N/A |
| Operating margin (NYSE:TTM) | 35.30% | -6.41% | 0.87% |
| Qtrly Revenue growth (yoy) | 27.20% | -19.40% | -31.10% |
| Qtrly Earnings Growth (yoy) | 24.20% | N/A | N/A |
Source: Yahoo Finance
Bottom-Line
Investors face a tough decision in the coming months. Despite the reversal of momentum in the smartphone industry with Apple's stock on the decline and Nokia and Research in Motion on the rebound, conservative investors may want to stick with Apple as it is a more fundamentally sound company that has posted solid sales on its latest iPhone and iPads. However, investors that have a higher risk tolerance could potentially make significant gains by riding the momentum of Nokia and Research in Motion.
Disclosure: I have no positions in any stocks mentioned, and no plans to initiate any positions within the next 72 hours. I wrote this article myself, and it expresses my own opinions. I am not receiving compensation for it (other than from Seeking Alpha). I have no business relationship with any company whose stock is mentioned in this article.