Cumulative redeemable preferred shares, issued by REITs with investment grade credit ratings, present a unique opportunity to the investor. In my opinion, the opportunity presents itself in REIT preferred shares' superiority over investment grade bonds. Investment grade bonds, with comparable durations, on average, have higher credit sensitivities and lower coupons than cumulative redeemable preferred shares, issued by REITs. However, now is the time to target REIT preferred shares, as new investment grade issuances have lower yields than their predecessors. Lower yields in preferred shares are a result of low interest rates, REITs can borrow money cheaper, and investment grade bonds are being issued with lower coupons.
Risk
I have developed a strategy that sets limitations on my entry point, and minimizes the risks associated with cumulative redeemable preferred shares. The preferred shares, discussed in this article, are debt instruments issued by real estate investment trusts (REITs) to finance various operating activities. They have a redemption date, and carry the provision that if any dividends have been omitted in the past, they must be paid out to preferred shareholders first, before common shareholders. In addition to redemption risk, which is horizon based, the investor is subject to price risk, which can erode gains should he/she exit the position.
Risk Arbitration Overview
In order to measure share volatility, I have adapted the traditional mean-variance (M-V) portfolio utility, and modified it for cumulative preferred shares. Traditional M-V based asset allocation (Markowitz 1952), has been utilized for over sixty years to determine optimal asset allocation, and the tradeoff between risk-reward in portfolios containing diversified assets. The model measures the mean, variance and standard deviation from historical returns to build an optimal portfolio. There are many deficiencies in measuring historical returns of common stock, and there have been many additions and corrections to the Markowitz utility theory and M-V framework. However, while I believe there are many limitations to measuring returns, the function is ideal for preferred shares, when adapted to a price-based data set. In its simplest form, I calculate the mean, variance and standard deviation of a preferred share's price rather than return.
Investment Process
My investment criterion for cumulative redeemable preferred shares places an emphasis on shares with a yield above 7% and investment grade credit rating. A (7%>) yield, or coupon, immediately discourages the risk of competition from other debt instruments with investment grade credit ratings.
My second criterion: select shares at or below redemption price ($25.00 for most REITs), with over one year of market exposure since issuance, and within a maximum time period of two months before the ex-date. The data input from my modified M-V framework can then be applied to the security to determine the value at risk, entry point and stop loss.
The following preferred issuance, by Commonwealth REIT, is an ideal candidate for my strategy.
Commonwealth REIT (CWH-E) (Based on 12/20/12 Entry)
Commonwealth REIT 7 1/4% Cumulative, Redeemable Preferred Shares (CWH-E), have a call date of 5/15/2016, and pay dividends paid on the 15th day of February, May, August and November of each year. The shares were issued in May 2011.
The current price of $24.92 (11/20/12) is an ideal entry point, as it completely mitigates redemption risk. The shares carry an investment grade rating of BB and a yield of 7.25% on the $25.00 redemption price, and a yield of 7.27% on the current price of $24.91.
| | |
| --- | --- |
| Mean | $25.79532258 |
| Variance | 0.537224997 |
| Standard Deviation | 4.973932046 |
| Low | $24.27 |
| High | $27.30 |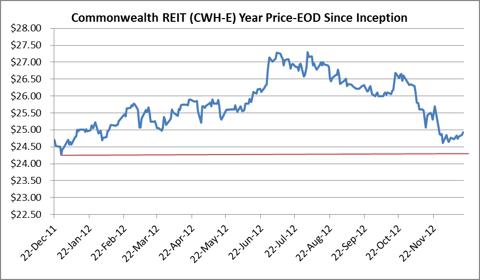 Action Plan
With a $24.92 entry price, we have a historical variance of $0.53 and a historical resistance level, or low price of $24.27. At this price, we have a redemption risk of zero, and an upside of $0.09 per share, should Commonwealth REIT redeem the shares. Since the historical low is below the variance of $0.53, I would set a stop loss at the variance-based price of $24.39 for the first rung of the ladder. In order to lock in gains, an investor can use the historical volatility described above to continuously reap the reward of dividend payments. The yield on the original coupon is 7.50%, with an annualized dividend of $1.8125 per share, at a price of $24.92; the yield is 7.27%, lending an extra 2.7% cushion to the investment.
| | | | | |
| --- | --- | --- | --- | --- |
| Entry Price | Ex-Date (E) | Stop Loss | Gain (non-compounding) | Risk Adjusted Yield (Yield-Stop Loss) After Ex-Date |
| 24.92 | 01/31/13 | 24.39 (.53 variance from entry point) | 1.81% | (.003455%) |
| 24.92 | 04/31/13 | 24.39 (.53 variance from entry point) | 3.62% | 1.472% |
| 24.92 | 07/31/13 | 24.39 (.53 variance from entry point) | 5.43% | 3.2855% |
| 24.92 | 10/31/13 | 24.39 (.53 variance from entry point) | 7.25% | 5.107% |
Observing the table above, it is evident that setting a stop loss before the first ex-div date should be optional. However, if an investor does set a stop loss, based on historical variance from the mean, the total risk of the investment is 2.167%. After the ex-date, the risk is eliminated to 0.003455% before the second dividend payment and the investor can expect a YTD risk adjusted return of 5.107%. An optional mid-period stop loss can be applied after the first ex-date in order to lock in a profit, for instance, setting the stop loss at the entry price of $24.92 until the second dividend ex-date. After the optional mid-period adjustment, the investor can then return to the variance-based stop loss.
Conclusion
The information in this article is my framework for investing in preferred shares issued by REITs. There are plenty of opportunities in REITs once they reach proper entry points, and I will update frequently to issue alerts when price levels are at optimal levels. Investment grade prospect include shares issued by Apartment Investment & Management (NYSE:AIV), Prologis (NYSE:PLD), Vornado Realty Trust (NYSE:VNO), Digital Realty Trust (NYSE:DLR), DuPont Fabros (NYSE:DFT), Kilroy Realty (NYSE:KRC), Kimco Realty (NYSE:KIM), PS Business Parks (NYSE:PSB), Public Storage (NYSE:PSA), Simon Property Group (NYSE:SPG) and Alexandria Real Estate Equities (NYSE:ARE).
The above is an example of an actionable strategy that can be used this week, but the strategy can be used throughout the year to determine proper entry point.
Disclosure: I am long CWH. I wrote this article myself, and it expresses my own opinions. I am not receiving compensation for it (other than from Seeking Alpha). I have no business relationship with any company whose stock is mentioned in this article.