In less than four years of commercial development, the Marcellus Shale has emerged as the largest single source of natural gas in North America. The field has been adding more than 2 Bcf/d of production annually and should post yet another production record in 2013. Given the Marcellus' sheer magnitude, its production trajectory is increasingly paramount to the understanding of price formation in the U.S. and Canada gas market. Two questions are critical in this respect: What is the field's cost of supply? and how fast will the Marcellus volumes grow from here?
Among gas fields, the Marcellus is rightfully considered one of the most economic. It is important to note though that its cost of supply is not a static metric. Empirical evidence suggests that operators are still far from having exhausted the potential for well productivity improvements and cost reductions. As a result, cost of supply - or rather, costs of supply specific to each area of the field - will likely continue on their steep downward curves and may surprise the market over the next few years.
Despite the very active drilling, the Marcellus is still in early stages of its delineation. So far, two sweet spots - the dry gas area in Northeast Pennsylvania and the wet gas and dry gas area in Southeast Pennsylvania - have proven to be highly productive and solidly economic even in a depressed (sub-$3.50/MMBtu) natural gas price environment. These areas are transitioning into the full development mode and should remain the Marcellus' key growth engines in the immediate term. While the two sweet spots may remain unrivaled in terms of productive quality of the shale, the continued delineation effort appears on track to add new economically compelling areas. As a result, the Marcellus' surer-productive "Core" is likely to expand beyond its current limits defined by the drilling results to date.
The outlook for the Marcellus' production can be illustrated by the recent operating update provided by Noble Energy (NYSE:NBL). The presentation offers valuable insights in the dynamics of the Marcellus cost of supply and provides a perspective on how operators' long-range thinking impacts their immediate operating decisions. The Noble case study lends support to the school of thought that production growth from the Marcellus should continue unabated for quite some time, alongside the associated gas volumes from oil and "combo" plays. As a result, as currently marginal fields (such as the Haynesville and Pinedale) are being pushed further out on the supply merit curve, the industry's marginal cost of supply will be redefined at a lower level, translating in a steadily declining "equilibrium" price. Investors in natural gas funds and natural gas producer stocks may wish to review their fundamental assumptions.
Disclaimer: As this article focuses solely on commodity fundamentals, company examples provided in this article are not meant to be opinions with regard to valuation or investment merits of their stocks or other securities.
Noble Energy/Consol Energy Marcellus Joint Venture
Noble is relatively new to the Marcellus. In August 2011, Noble entered into a 50/50 joint venture partnership with Consol Energy (NYSE:CNX) to develop Consol's vast legacy acreage position in southwest Pennsylvania and northwest West Virginia. The transaction was valued at $7,100 per net undeveloped acre in cash and drilling carries (net discounted value). Operations are being shared between the two partners with Noble operating the wet gas portion of the acreage and Consol operating its dry gas portion.
At the time of the acquisition, key operational parameters of the JV included:
70 MMcfe/d of existing production (Noble paid Consol $219 million for the 50% share in existing production and infrastructure)
668,000 net acres of leasehold (85% held by production, almost entirely operated, with 88% net revenue interests and high percentage of fee ownership)
14.8 Tcfe risked resources (including 800 Bcfe of proven reserves at year-end 2010)
Approximately 4,400 identified gross well locations to be drilled over 10+ years
Net production was expected to reach 1.2 Bcfe/d in 2015 and continue growing into the next decade
A pre-defined long-term development plan forecasted drilling activity to increase from 4 rigs to 16 rigs in 2015
Fast forward fifteen months. On several important metrics, operating results have exceeded initial projections communicated to investors at the time of the acquisition. The JV's results confirm the general trend that has been evident in the Marcellus: increasing EURs; lower per Mcf costs; longer laterals; pad drilling efficiencies; redirection of capital to wet gas areas; and severe infrastructure lag relative to the rampant production, particularly in wet and super-rich gas. The operating outlook for 2013 and beyond provided by Noble looks encouraging, indicating that best results are still ahead.
Well results have proven better than anticipated
Well EUR estimates have increased by 20%-30% relative to a year ago. While longer laterals are a big contributing factor, the per-foot productivity has also improved. The southwest Pennsylvania sweet spot, which is best delineated, continues to stand out in terms of productivity. However, the improvement in well performance in the JV's new delineation areas - West Virginia and central Pennsylvania - suggests that additional economically viable sweet spots will likely emerge with time. In West Virginia, dry gas EURs are now estimated at 5.0 Bcfe per well, up 66% from the initial 3.0 Bcfe estimate. In central Pennsylvania dry gas EURs have seen an increase to 4.4 Bcfe from 3.3 Bcfe. While 6+ Bcfe per well is likely required for a Marcellus dry gas development to be economically competitive, assuming current strip curve and a $7 million per well cost, the fast rate of improvement in well and project economics is certainly encouraging.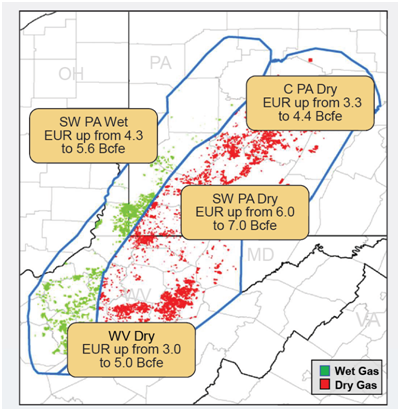 (Source: Noble Energy December 6, 2012 Presentation, p. 81)
While some acreage appears to have been relinquished or sold during the year - the JV currently covers 628,000 gross acres - total resource estimate for the JV's leasehold has been increased by 41% to 20 Tcfe.
Costs have been trending down; additional efficiencies targeted
Noble is targeting 20% cost improvement in 2013 via optimized drilling and completions and contracting fit-for-purpose rigs which should continue the 2012 trend when average drill and complete cost per well (5,000 ft lateral) declined by approximately $0.5 million, or 6%-7%. Noble also expects that longer laterals and optimized well placements will lead to increased recovery efficiencies.
Click to enlarge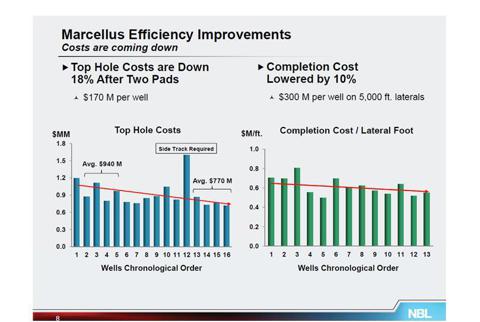 (Source: Noble Energy December 6, 2012 Presentation, p. 76)
Wet Gas Economics Are Very Strong
Despite infrastructure constraints, ethane rejection and overall weakness in NGL pricing, wet gas areas yield excellent economics and offer a multi-year opportunity for capital deployment. In its presentation, Noble illustrated the price uplift for wet gas based on today's commodity pricing: the NGL component propels price realizations per wet Mcfe to over $7 and more than offsets the lower well productivity relative to dry gas areas (5.6 EUR per wet gas well vs. 7 Bcf EUR per dry gas well). While Range Resources (NYSE:RRC) shows a more modest price uplift calculation - with the effective price closer to $6/Mcfe - the economics based on $6/Mcfe would still very compelling.
Click to enlarge
(Source: Noble Energy December 6, 2012 Presentation, p. 80)
Under the 2013 operating plan, the JV will increase wet gas rig count from three to six to drill 85 wells (three rigs will be developing the core Majorsville acreage and three rigs will be delineating new areas).
Dry gas drilling on the JV's currently most productive fee acreage in southwest Pennsylvania, while less economic, yields still reasonable 20%+ returns at $4 Nymex and today's costs. The commodity price threshold for dry gas should decline materially in the next few years as further improvements in recoveries and drilling costs are achieved. The JV expects to maintain two rigs in the dry gas corridor to drill up to 55 wells with a focus on the most productive areas (Washington, Greene and Westmoreland Counties, PA).
Noble's presentation indicates a 10%-15% expected rate of return improvement from cost reductions in 2013.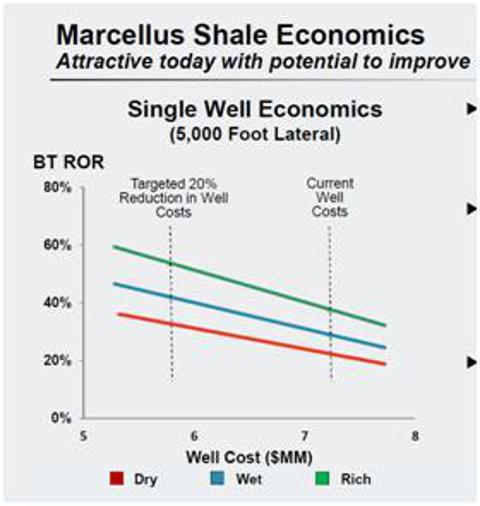 (Source: Noble Energy December 6, 2012 Presentation, p. 82)
Production to grow at 55% CAGR over next five years
The JV's production has more than doubled in 2012 to approximately 280 MMcfe/d and is expected to grow at a 80% rate in 2013. The very strong growth rate is expected to be sustained over the next five-year period, with a 55% CAGR projected currently. During the next three years, growth will be driven mostly by wet gas drilling. In the longer term, Noble projects JV's peak net production rate to achieve 2.6 Bcf/d in approximately 10 years, a 32% increase from the estimate at the time of the acquisition.
(Source: Noble Energy December 6, 2012 Presentation, p. 72)
Notably, Noble's long-term growth projection is based on a rather optimistic pricing scenario: the forecast calls for the Nymex price to increase from $3.50/MMBtu in 2013 to $4.50/MMBtu in 2016 and then grow by $0.25/MMBtu, or approximately 5%, each year through 2022. The scenario contradicts the trend towards improving production economics in fields such as the Marcellus which would suggest that the low-price natural gas environment should be sustained in the long term. Still, Noble's long-range forecast impresses with the magnitude of growth potential and projected sustainable production from what is just a small portion of the Marcellus Core area.
Infrastructure constraints are a limiting factor
Given the very strong economic returns on the southern Pennsylvania wet gas drilling program, it is no surprise that the JV's production growth in the area has been constrained by the lagging processing capacity. A Markwest facility expansion at Majorsville which is scheduled to come online in the second quarter of 2013 should provide the JV with additional 150 MMcf/d wet gas processing capacity. An additional 120 MMcf/d expansion is likely in 2014.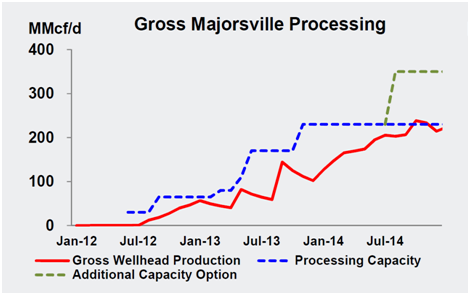 (Source: Noble Energy December 6, 2012 Presentation, p. 83)
Long-range planning considerations impact short-term capital decisions
The projected rapid production ramp up by the Noble/Consol joint venture is by no means an exception among the Marcellus natural gas producers. Southwestern Energy (NYSE:SWN), who operates in the dry gas sweet spot in the northeast part of Pennsylvania in Susquehanna, Bradford and Lycoming Counties, expects its gross production to increase from 166 MMcf/d at the end of the second quarter of 2012 to over 300 MMcf/d already by the end of 2012, 500 MMcf/d by the end of 2013 and 800 MMcf/d by 2017. Similarly, Cabot Oil & Gas (NYSE:COG), the leading Susquehanna County operator, is projecting its production to grow in a 40% range in 2013. The list of operators guiding to a super-charged growth of their Marcellus production is likely to expand as 2013 budgets are announced in the next few months.
It is important to emphasize that drilling programs in the Marcellus are not driven solely by incremental well economics. The big prize for operators - as illustrated by the Noble/Consol JV example - is the windfall from sizeable well productivity improvements, drilling efficiencies and increased operating scale, all to be attained several years down the road. To achieve those gains, operators must actively "work" their acreage, conduct extensive well "science" and advance large-scale development programs. Importantly, significant infrastructure commitments must be made in advance. As a result, operators may prove less sensitive to declines in natural gas price than well micro-economics might suggest and may push ahead with their development plans almost irrespective of the price environment, knowing that their long-term economics are protected by the low-cost supplier position.
Conclusion
Several factors seem aligned to drive continued strong production growth from the Marcellus, with significant operating and rate of return improvements still ahead:
The field's already highly attractive economics are getting better fast; anecdotal evidence suggests that returns on investment from drilling efficiencies and well productivity gains alone have improved and may continue to improve by as much as 10%-20% per year (assuming constant commodity pricing).
Once HBP targets are met, operators cherry-pick their best development locations which leads to step changes in average well productivity.
Economics improve further in the full development mode.
The super-productive "Core" of the play is continuing to expand, providing opportunity to a broader range of operators and to new capital.
Several significant operators who have had negligible production from the Marcellus (Southwestern and Noble/Consol JV being examples) have indicated plans to substantially increase their volumes in the next few years.
The busy 2013-2014 infrastructure completions calendar provides confidence that the upstream growth will be accommodated by the midstream capacity additions.
Implications for Natural Gas Prices
The year-end budget season, with a wave of press releases and analyst updates rolling in the next two months, will provide ample catalysts for the market to gain full visibility into the Marcellus' growth momentum into 2013 and 2014. The reserve reporting season that follows immediately after will likely reveal significant reserve and EUR estimate increases, with greatest surprises coming from the field's newly emerging sweet spots.
Better than expected operating reports from the Marcellus (as well as rapidly growing oil and "combo" plays which are an increasingly important source of "zero-cost" natural gas) are no good news for gas prices. From an industry-wide supply perspective, a $3.50-$4.00/MMBtu price environment increasingly looks as stimulative for production growth whereas sub-$3/MMBtu will likely be required for growth containment. Those investment strategies that are based on Henry Hub price recovering to above-$5/MMBtu level may prove painfully disappointing.
Implications for Natural Gas Producers
The gas-focused E&P universe will become increasingly bifurcated. Producers with strong exposure to the industry's lowest cost acreage should continue to do well operationally and financially, even in the face of weak gas prices. Examples of favorably positioned gas portfolios are Cabot Oil & Gas (Susquehanna county dry gas sweet spot) and Range Resources (a leading position in the Marcellus's wet and super-rich gas windows). Operators without sufficient low-cost assets will face heavy headwinds and will be challenged to significantly reduce costs (which often has limitations) or/and refocus their portfolios. Valuation premiums to such portfolios' net asset value will likely come under market's scrutiny. Examples of portfolios that are exposed to fields that are becoming increasingly marginal from a cost of supply perspective are Ultra Petroleum (NASDAQ:UPL) (the Pinedale) and EXCO Resources (NYSE:XCO) (the Haynesville).
The above discussion is fundamentally relevant for natural gas (NYSEARCA:UNG) and the natural gas producer stocks. My natural gas producer index includes:
Chesapeake Energy (NYSE:CHK)
EnCana Corporation (NYSE:ECA)
Devon Energy (NYSE:DVN)
Southwestern Energy
Ultra Petroleum
EXCO Resources
WPX Energy (NYSE:WPX)
Cabot Oil & Gas
Range Resources
QEP Resources (NYSE:QEP)
Quicksilver Resources (NYSE:KWK)
Forest Oil (NYSE:FST)
Bill Barrett (BBG)
Disclaimer: This article is not an investment recommendation and does not provide a view on the value or price direction of any security. Any analysis presented in this article is illustrative in nature, is based on an incomplete set of information and has limitations to its accuracy, and is not meant to be relied upon for investment decisions. Please consult a qualified investment advisor.
Disclosure: I have no positions in any stocks mentioned, and no plans to initiate any positions within the next 72 hours. I wrote this article myself, and it expresses my own opinions. I am not receiving compensation for it (other than from Seeking Alpha). I have no business relationship with any company whose stock is mentioned in this article.