While Christmas morning is a joyous time for children around the world, it is the nervous moment of truth for retailers. Below we analyzed the performance of key retailers in the week after Christmas over the last five years, when information begins to leak regarding their sales, successes and failures.
Specifically, at Seasonal Odds we examined the average performance over the last five years of the largest national retailers during the trading days that fall between Christmas and New Years.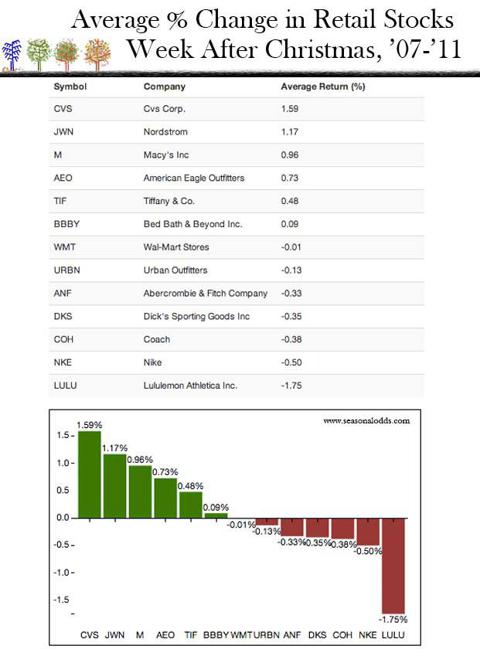 We found significant variation across the typical post-Christmas performance of retailers. CVS was the best performing of the group, gaining 1.59% on average in the week following Christmas. Not far behind were Nordstrom (NYSE:JWN) and Macy's (NYSE:M), gaining 1.17% and 0.96%, respectively. The weakest post-Christmas retail stock over the last five years was Lululemon Athletica (NASDAQ:LULU), which lost 1.75% on average in the week following Christmas. Other lackluster post-Christmas performances over the last five years include Nike (NYSE:NKE) and Coach (COH), which lost 0.50% and 0.38%, respectively.
Perhaps because of the 2008 crisis, cautious shoppers over the last five years opted for lower-end, large-box stores, shunning higher-end brands such as Lululemon and Coach, at least during the holiday season.
Disclosure: I have no positions in any stocks mentioned, and no plans to initiate any positions within the next 72 hours. I wrote this article myself, and it expresses my own opinions. I am not receiving compensation for it. I have no business relationship with any company whose stock is mentioned in this article.