Android is in its death throes! Well, this may be overstating a bit, but I do believe that the Smartphone OS landscape will be very different in 4 years - and that Android will be the loser.
In part 1 I laid out my basic argument in two major points against Android:
Security issues
Upcoming competition
In part 2 I noted corroborating analysis from a Goldman Sachs report titled Clash of the Titans, in which they foresee Android steadily losing market share.
The crux of their argument is that the Android tablet entries have failed to gain traction in the enterprise, and that
…we think the tablet will move into more of an anchor position, and will have increasing levels of influence on future smartphone purchases.
For this reason they say (p 7) that Google (NASDAQ:GOOG), i.e. Android:
…runs the risk of platform defection resulting in a steady decline of Android smartphone share (estimated to be 55% in 2012) starting in CY13. While we are modeling 48% smartphone share for the Android in 2016, we note this number could prove optimistic… [emphasis added]
Personally, I agree that their 48% number is very optimistic.
Some Research
I dug out IDC's projections for 2016 from early December. Their projection for Android is more optimistic than that of Goldman Sachs:
| | | | |
| --- | --- | --- | --- |
| Smartphone OS | 2012 Market Share | 2016 Market Share | CAGR 2012 - 2016 (%) |
| Android | 68.3% | 63.8% | 16.3% |
| iOS - Apple (NASDAQ:AAPL) | 18.8% | 19.1% | 18.8% |
| BlackBerry OS - RIM (RIMM) | 4.7% | 4.1% | 14.6% |
| Windows Phone - Microsoft (NASDAQ:MSFT) | 2.6% | 11.4% | 71.3% |
| Linux | 2.0% | 1.5% | 10.5% |
| Others | 3.6% | 0.1% | -100.0% |
| Total | 100.0% | 100.0% | 18.3 |
I have modified that projection to a yearly set that I believe is more realistic.
But first - the rationalization
As noted above, there are three main reasons for seeing a demise in Android:
Security issues
Loss (especially in enterprise) due to tablets
Increased competition
It should be noted, that #1 has recently been corroborated in notes of a new set of Trojan Horse attacks on Android on the Cloudmark blog.
Additionally, Lookout Mobil Security reported on Tuesday:
On Sunday, a software developer announced that he had identified a critical vulnerability in some Samsung smartphones and tablets. This vulnerability could allow a malicious application to take full control over a user's device.
These types of incidents will put continued downward pressure on Android - especially in the enterprise where they will be hurting as well from the lackluster tablet entries, and (repeating from part 1) Forrester Research notes that enterprise "information workers" are overly influential, both in the enterprise and outside. So their experiences will drive growing defections.
New Competition
I wrote in Part 1 that a lot of my projections depended on the success of the Windows Phone 8 and BlackBerry 10 operating systems. Since then, there has been a lot of new information on them, with a couple of high profile phones released on the former, and a Jan. 30 announcement coming for the latter.
BBG 10 has gained a lot of attention. The OS seems to be very slick with a lot of enterprise specific features. They have a very strong base of users, many very dedicated to RIM, and this should help give them a very powerful launch. I think it is very likely that they have learned from previous failures, and will launch a very strong, well designed set of products. Their base will assure that they have good initial sales, and their innovations will gain many fans.
Windows Phone 8 has now launched a couple of highly respected products. The Nokia Lumia 920 appears to be selling very well. While on the heavy side, it features what many see as the best smartphone camera, in a solid body. The HTC Windows Phone 8X has also received favorable reviews. The operating system itself has been praised highly - although with some reservations.
In all, while it is still a bit early to tell, it seems to be a very strong opening. (The Surface tablets, on the other hand, have been received with more mixed reactions.)
Windows also has its hoards of aficionados, and I expect to see a reasonably strong open for the platform.
Projections
Therefore, I am projecting that the worst of possible worlds is approaching for Android. There are issues with the platform, and strong alternatives are entering the market.
I think the real defections will begin late next year when Samsung offers a Win8 version of its super popular Galaxy S series. (Note: a Galaxy Windows phone is purely the author's speculation.)
I think Apple's iPhones will remain mostly above the fray as they have a very strongly entrenched user base, with extremely high satisfaction ratings. In fact, as Android declines, I believe that Apple will see some gains as Android is perceived more and more a "tinkerer's" system.
Hence, my projections are as follows.
| | | | | | |
| --- | --- | --- | --- | --- | --- |
| Smartphone OS | 2012 Market Share | 2013 Market Share | 2014 Market Share | 2015 Market Share | 2016 Market Share |
| Android | 68% | 58% | 42% | 32% | 22% |
| iOS | 19% | 21% | 23% | 25% | 27% |
| BlackBerry OS | 5% | 8% | 15% | 19% | 23% |
| Windows Phone | 3% | 11% | 18% | 22% | 26% |
| Others | 5% | 2% | 2% | 2% | 2% |
| Total | 100% | 100% | 100% | 100% | 100% |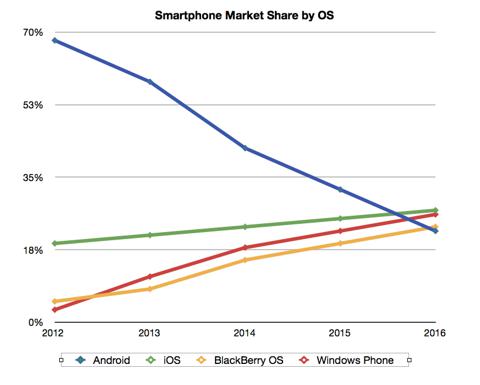 Conclusion
All told, there is a growing set of pressures building against Android. The new competing entries seems to be strong.
Ironically, the very thing that was Android's original allure - the "open system" - will in the end be its downfall. There are too many varieties of the OS, and this combined with the security issues will eventually lead to its loss of popularity.
All together, these pose challenges to Google.
Disclosure: I am long AAPL. I wrote this article myself, and it expresses my own opinions. I am not receiving compensation for it (other than from Seeking Alpha). I have no business relationship with any company whose stock is mentioned in this article.