Go on Seeking Alpha, turn on CNBC or even talk to some patrons down at the local water hole and the story is all the same when it comes to stocks; What did Apple do today? Bears have argued that the stock rose slow and steady -- many times trading at a discount relative to its cash hoard and earnings per share -- but once the stock went parabolic, it was all over. Bulls argue that the sell-off in Apple (NASDAQ:AAPL) has been horribly overdone and will be trading at new all-time highs soon enough. But when we focus on another tech stock, Qualcomm (NASDAQ:QCOM), who cares what Apple does?
Avoid the volatility and headache that comes with trading or investing in Apple. While its intermediate- and long-term prospects look bright, the short-term has been violent and often times unnecessary. Qualcomm is a key chip supplier for Apple and so long as Apple keeps selling iPhones and iPads at miraculous rates, Qualcomm will keep bringing home a paycheck, and likely a fat one at that. Below is a chart of Apple, with its violent price swings this year, on the two year chart: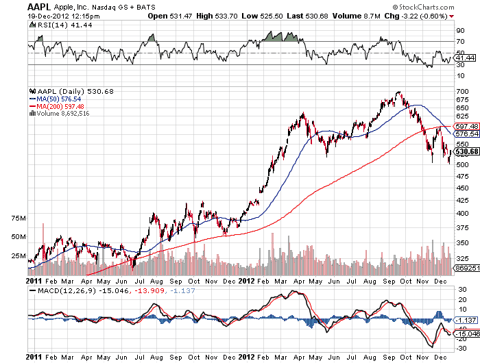 Source: Stockcharts.com
Let's be clear, I'm not outlining a bearish case for Apple, just a bullish one for Qualcomm. As Apple succeeds, so will Qualcomm. While at a glance, Apple may appear to be the only phone maker in the United States, that's not the case worldwide.
While the iPhone will probably sell fine in China, other smartphones, such as the Nokia (NYSE:NOK) Lumia and the Samsung Galaxy, are certainly starting to flex muscles of their own by taking up market share. I noted several months ago that Apple has exciting future prospects, but needs a fresh catalyst to move forward, which would be a deal with China Mobile (NYSE:CHL), the largest Chinese telecom. While Apple does have a strong fan-base, you can never rule out them going out of flavor -- it happens to the best of them.
But what if you could invest in the suppliers for smartphones? Suppliers that indeed have strong ties to Apple, but also to other smartphone manufacturers. If Apple continues succeeding with the iPhone, gets a deal with China Mobile, and cannibalizes the tablet market, Qualcomm will keep rolling in the dough. But what if other smartphone makers begin taking up market share, and the Apple popularity starts to dwindle? Well as long as the new "cool" smartphones are the Lumia, Galaxy, or Droid, then Qualcomm will continue making money. Below is a chart of Qualcomm over the last 2 years: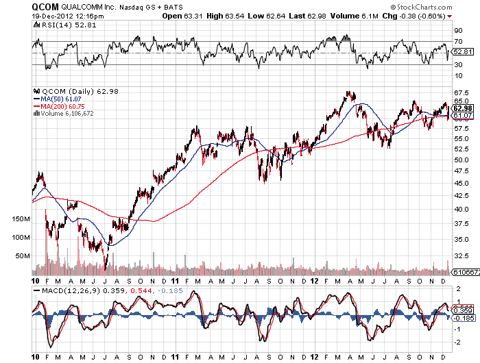 It's not all about Apple these days. In fact, Samsung is actually the worldwide leader in smartphone sales, with 32% of the market share. This is mainly due to them having so much exposure to emerging markets and to places like China and India. Again, I would like to reiterate that I am not bearish Apple -- in fact, I am bullish after this latest sell-off -- but bullish on the smartphone and tablet industry. With Qualcomm having so much exposure to various smartphone and tablet manufacturers, in a way, it diversifies its holdings.
Smartphones are essentially the future. Tablets aren't as big yet, but they haven't been around as long either. Both of these sectors have enormous growth potential. People are doing things on their phones that they used to have to do on a computer. Essentially, it's a mini computer and a phone, all in one. Below are two charts showing the growth in smartphones from 2011 to 2012: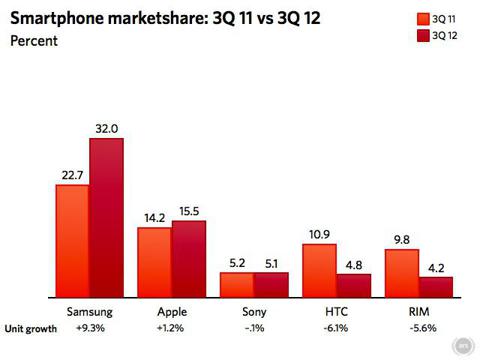 Source: Canalys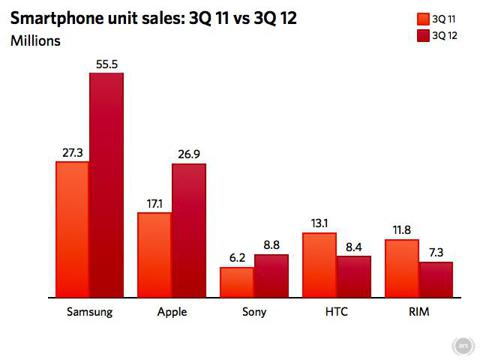 Source: Canalys
As you can see, Samsung and Apple are at the top of the pyramid when it comes to market share. Of course, Samsung has a much larger target audience, but Apple is making up ground by beginning to enter the Chinese market place. Either way, this is a win for Qualcomm, as they provide the chips for each phone, meaning no matter who wins the smartphone battle, Qualcomm wins.
Qualcomm's Snapdragon chip can be found in some of the newest and best phones. The Nokia Lumia -- which has many Nokia fans raving over it -- as well as the Samsung Galaxy III, Windows phones, HTC Droids; you name, Qualcomm probably has a chip inside of it. Oh yeah, and don't forget about the iPhone, which Qualcomm's inside of too.
As if the chip business wasn't enough, Qualcomm generates a lot of its business through patent ownership. In fact, in its most recent conference call, Paul Jacobs noted that it was the best quarter ever for Qualcomm when it comes to its royalty collection. He stated,
"We delivered double-digit growth in our Licensing business, with record revenues and earnings. We now have over 220 royalty-bearing 3G licensees. And this year, we added more than 20 new Chinese licensees and our first license agreements with major Brazilian consumer electronic suppliers. We've also continued to grow our single-mode OFDM licensees. We now have over 30 single-mode OFDM licensees around the world and believe our 4G portfolio is the most widely licensed in the industry. Through our licensing program, we continue to foster innovation and enable a large and growing ecosystem that benefits wireless consumers worldwide."
The Trade
While last week's sell-off pushed shares of Qualcomm to under $60 and provided an ideal entry price, I still think shares are undervalued. With a P/E ratio of 20, dividend yield of 1.60%, and record growth -- Qualcomm just delivered record revenues and earnings -- there's more upside potential. Personally, if I'm looking to add shares of Qualcomm I'm a cash-secured put seller, and here's my trade:
SELL 1 QCOM December 28 (Weekly) 62.50 put @ .81
Net Credit (Max Gain): .81 ($81)
Cost Basis (If Assigned): 61.69
Days Until Expiration: 8
With only 8 day until expiration, Qualcomm is either going to pullback and close below $62.50, which will get the put writer their shares via assignment or Qualcomm will close above $62.50 this Friday, allowing the put writer to collect his .81 ($81) in premium and find a different, potentially better entry into the stock. The stock pays out a dividend of $.25 on Friday, December 21st. With the stock market closing early on Monday and full closure on Tuesday, the premium in the put should decay rapidly, which is a good thing.
I think Qualcomm is doing everything right, and the supply constraint issues with Apple are completely overblown. Consider this, if Apple iPhone 5 sales take a huge hit due to slow production, who do you think is selling phones? Every phone mentioned above most likely. A few Apple fan boys would wait it out, but don't think that Samsung or Nokia aren't selling their share of smartphones either. Remember, no matter who wins the smartphone battle, Qualcomm wins.
Disclosure: I have no positions in any stocks mentioned, but may initiate a long position in QCOM over the next 72 hours. I wrote this article myself, and it expresses my own opinions. I am not receiving compensation for it (other than from Seeking Alpha). I have no business relationship with any company whose stock is mentioned in this article.