The S&P 500 has enjoyed a decent run so far this year, returning better than 14 percent. Despite lingering clouds over the US economy and recession in Europe, investors have been heartened by the American consumer's willingness to spend - and with good reason.
In October, the University of Michigan's measure of consumer sentiment hit a five-year high as consumers felt wealthier thanks to a strong market performance. Their jobs outlook improved and the value of their real estate finally seemed to stabilize.
As their optimism blossomed, consumers once again began opening their wallets. Consumer spending grew at an annualized 2.1 percent in the third quarter, making its strongest contribution to US gross domestic product ((NYSEMKT:GDP)) growth in nearly three years.
Investors should never bet against the American shopper. Consumer spending accounts for three quarters of all US economic activity, a higher proportion than any developed country.
The sanguine attitude of shoppers also helped make the kickoff of this holiday shopping season one of the best in years, as Americans spent an estimated $11.2 billion in brick-and-mortar stores on Black Friday and Cyber Monday sales broke $1 billion for the first time in the history of the Internet.
E-commerce remains a growth market, growing from 1 percent of total US retail sales in late 1999 to more than 5 percent by the third quarter of 2012. Through aggressive marketing such as deep discounts, free shipping and buyer rewards, retailers are funneling more of their customers online, where margins are higher because overhead is considerably lower. These online promotions dovetail with the new frugality of consumers, who are increasingly persuaded by bargains and special deals.
Also facilitating the migration to online spending is the accelerating use of credit and debit cards rather than cash and checks, as society moves toward a "cashless society."
Whether in actual stores or online, the resurgence in consumer spending has been across the board, with gains in home goods, apparel, discount chains and department stores. These trends are auspicious for the crucial Christmas buying season.
With all these positive signs, consumer discretionary names have been among the top performers this year. The Consumer Discretionary Select Sector SPDR (NYSE: XLY) has trounced the broader market with a return of 22.1 percent while the staples sector, as measured by Consumer Staples Select Sector SPDR (NYSE: XLP) has lagged both with a return of just 11.9 percent (see "Consumers' Wallets Peeking Open").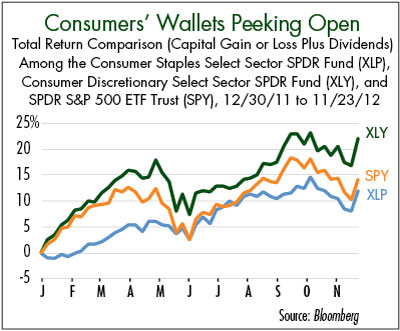 A Sober Assessment
That said, I believe too much holiday cheer has been passed around and a sober note of caution is warranted.
On January 1, the George W. Bush-era tax cuts will expire and on January 2 nearly $1.2 trillion in spending cuts are slated to take effect.
While most economists agree that our nation must address its soaring budget deficit, they're concerned that simply walking the country off the fiscal cliff and allowing the automatic tax increases and budget cuts to take effect would be too much, too soon for our still fragile economy. With annualized US GDP growth still hovering at around 2 percent, that strong a dose of medicine might kill the patient.
It's uncertain, though, whether lawmakers can find common ground and strike a deal in time.
Politicians are saying the right things now. Speaker of the House John Boehner (R-OH) has indicated a compromise with Congressional Democrats and President Obama is possible; the president has likewise announced that he's flexible on whether he will push for upper-income tax increases.
I expect a political battle that's likely to result in a deal that calls for higher taxes, especially on dividends for upper-bracket investors. Dividend taxes could rise from their current level of 15 percent to as high as 43.4 percent for some investors, when including the 3.8 percent surcharge on investment income to pay for The Patient Protection and Affordable Care Act.
If a deal can't be reached and lawmakers march the economy off the cliff, the Council of Economic Advisers estimates it could hit consumer spending to the tune of $200 billion next year alone, causing a decisive shift in sector performance.
Either way, consumers will probably get a slap of cold water in the coming months.
When consumers tighten their belts, the consumer discretionary sector is the hardest hit, despite the fact that it's been one of the best performers so far this year. For now, we suggest focusing on the consumer staples side of the equation, as Congress squabbles over how to deal with the fiscal cliff.
Consumer Staples Select Sector SPDR is the easiest way to gain exposure to the staples sector.
With a basket of 42 companies, the fund's holdings include names such as Philip Morris International (NYSE: PM), Kimberly-Clark Corp (NYSE: KMB), Kraft Foods (NSDQ: KRFT) and Mondelez International (NSDQ: MDLZ).
Thanks to the sticky nature of spending on staples - regardless of what Congress or the economy does, everyone still has to eat and buy toilet paper - Consumer Staples Select Sector SPDR has a beta of just 0.54 as compared to the S&P 500.
Thanks to that lower volatility, as the market was crashing in 2008 and into 2009, the ETF turned in just half the loss of the S&P 500 and recovered in half the time. For more consumer stocks with inelastic demand for their products, see this report.
Disclosure: I am long XLY. I wrote this article myself, and it expresses my own opinions. I am not receiving compensation for it. I have no business relationship with any company whose stock is mentioned in this article.