On the heels of my recent article about emerging market debt, I was listening to an audio interview with Harris Kupperman where he said how he came to start a hedge fund while in college at Tulane: "When the market crisis happened in 1997, I was just watching it, and watching all these rich old guys losing a bunch of money, and I came to the conclusion if they were losing a bunch of money, someone else has got to be making it."
Emerging market debt is trading near all-time low yields. Someone I know who runs a distressed debt fund did some research after my last article and wrote me:
I asked a [large Wall Street firm] about emerging market default/recovery rates for both corporate and sovereign debt. I was pretty surprised to find out that they had no data, their analysts, despite covering that market, have not kept track of that data. My fixed income sales guy and I were both left scratching our heads, as this seems like a pretty basic piece of information to maintain.
It is an interesting environment. An alert reader pointed out that Gramercy, a hedge fund, is looking to be the "someone else" making money when emerging market debt reverses course as this Financial Times article noted that Gramercy's recent shareholder letter said:
With approximately $1.8 trillion of EM bonds/loans coming due from 2012 to 2016, a quarter of which is non-investment grade, we believe high-yield issuers in emerging markets will experience severe liquidity challenges over the next several years as the capital markets continue to eschew riskier corporate credit and banks in the developed markets (particularly in Europe and the West) continue to reduce their lending appetite due to capital constraints at home….
So let us consider these three charts from a JPMorgan report I obtained.

Emerging market corporate defaults are low.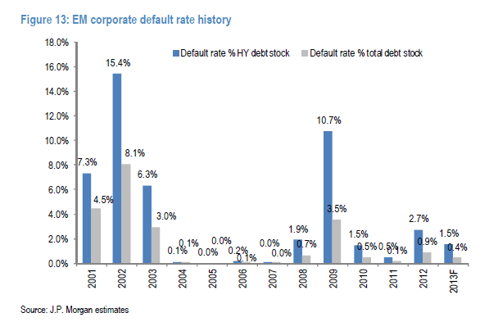 Emerging market corporate defaults historically have periodic bad years.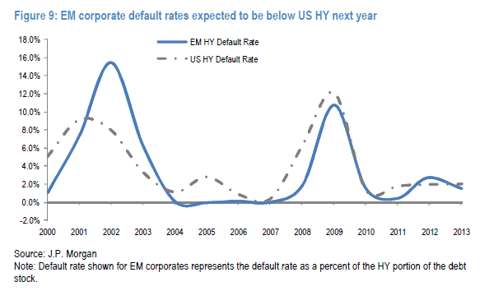 Emerging market corporate defaults historically come in a wave. The time to invest is when the wave crests, not near its bottom when pressure is building.
There was a lot of good data in this report. The next few charts really wowed me. Emerging market debt issuance is near an all-time high. This is likely because rates have become so favorable. The problem, for investors, is when interest rates finally go up, the price of the underlying bonds will go down.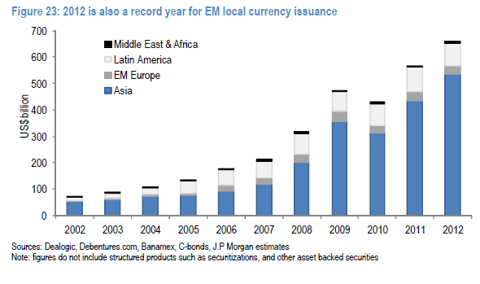 Emerging markets are issuing a record amount of debt in local currency, which means there is also currency risk.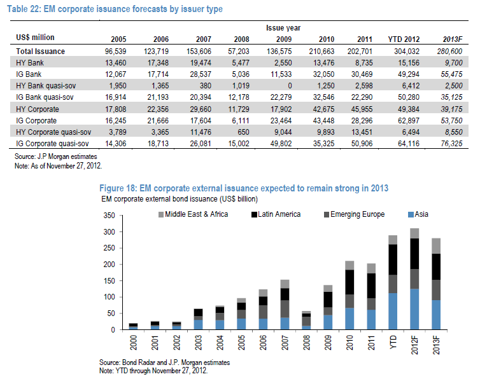 Emerging market corporate debt issuance is trending toward a peak through 2012.
Tom Lydon on Seeking Alpha recently wrote that:
Market Vectors Emerging Markets Local Currency Bond (NYSEARCA:EMLC) has surpassed $1 billion in assets under management, and 2013 should be another successful year for this ETF. Various emerging market currencies are looking healthier than developed nation counterparts, due to higher interest rates, lower debt, smaller deficits and pro-active Central Banks, reports Simon Smith for ETF Strategy.
However, on my previous article there was some very good discussion by many readers, which ultimately determined Templeton Emerging Income (NYSE:TEI) was the safest and best investment in emerging market debt historically.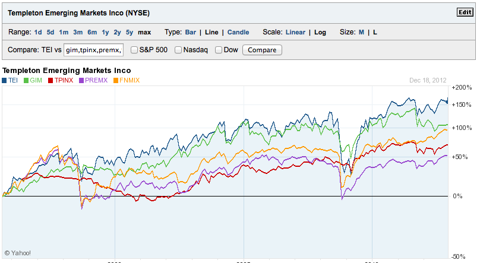 Source: Yahoo Finance chart comparing , (NYSE:GIM), (MUTF:TPINX), (MUTF:PREMX) and (MUTF:FNMIX).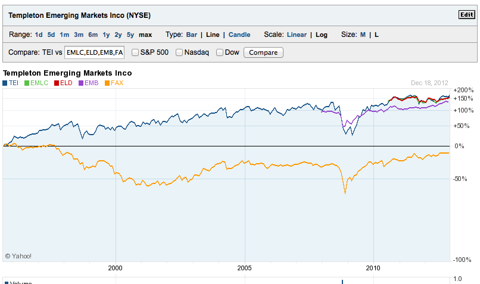 Source: Yahoo Finance chart comparing, (EMLC), (ELD), (EMB) and (FAX).
It should be noted this article has data more relevant to emerging markets corporate debt and the previous article by me on emerging market debt was more focused on emerging market sovereign debt. In both cases though, investors are chasing yield when rates are near lows.
Here is the overview statement from the JP Morgan report where so many of the charts came from:
EM corporates had a landmark year in 2012, with total return of 13.7%, which is one of the highest among the various asset classes including equities. In addition, new issuance exceeded US$300 billion while the bond stock crossed US$1 trillion mark. Given the strong return and substantial growth in the asset class during 2012, it is perhaps not surprising to expect that it will be difficult to beat such a performance in the coming year. Nevertheless, we still think EM corporates will have a decent year in 2013, with total returns at a respectable 7.5-8.5% and new issuance at a still robust US$281 billion. This is based on the view that the net supply of USD spread products is likely to remain low while demand for EM corporates continues to be resilient. On the fundamental side, the improving growth trajectory in EM economies should pave the way towards stable to better credit metrics for the individual corporates and low default rate of 1.5%.[bold added]
For the rest of my investment life, there is only one person I think of when I see the word resilient from circa 2008: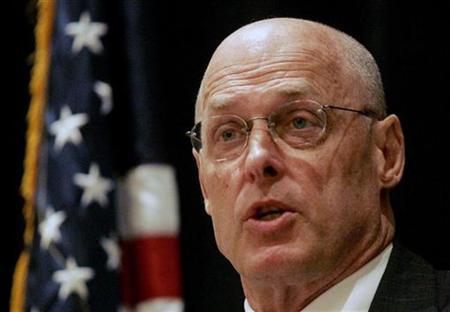 Source: Reuters. One of many articles where the former Secretary of Treasury said the economy was resilient.
Investors these days are forced to do a lot to generate a decent yield and income. In emerging markets debt, I would advise caution. If you must invest in this sector, it seems better to invest in management that has a longer and more stable track record than most, and invest in Templeton Emerging Markets Income, if you must.
Disclosure: I have no positions in any stocks mentioned, and no plans to initiate any positions within the next 72 hours. I wrote this article myself, and it expresses my own opinions. I am not receiving compensation for it (other than from Seeking Alpha). I have no business relationship with any company whose stock is mentioned in this article.