As many people already know, Macau is a growing economy based primarily on its Casino/Gaming Industry foundation. Currently four times larger than Las Vegas, and growing at roughly 10 times the growth per year in comparison with the Vegas Strip, Macau is currently one, if not the world's biggest entertainment/gambling sector. With Macau's rapid growth and transformation comes a necessary shift in its dynamic and approach to consumers.
Due to recent news about the Chinese government increasing its scrutiny of junket operators - who provide lines of credit to high-stakes players - many of these Macau-based casinos declined in share value in past weeks. The reasoning behind this decline is simple: In Macau, high-stakes players generate a significant portion of the casinos' profits. The concern stems from the idea that if the Chinese decide to create restrictions preventing the further "leakage" of Chinese currency into Macau, then in turn, casino revenue will decrease. The logic behind the presumed decrease in revenue is derived from the high-stakes players who will now have to gamble on limited credit.
For some casinos, however, the potential loss of the high-stakes player may not be so devastating. Galaxy Entertainment (OTCPK:GXYEY), for example, is developing a new breed of casino currently growing rapidly in Macau. Whereas previous casinos in Macau were tailored toward the high-stakes player, appeasing the moderate yet larger audience of the growing middle-class in China is more appealing as well as more profitable. Thus one of Galaxy Entertainment Group's advantages is being able to appease a varied consumer no matter the size of their checking account. This shift is evident in its reported third quarter: EBITDA of HKD 2.6 billion, up 46% year-on-year. Last 12 months EBITDA from September 30, 2012, increased by 123% to HKD 9.5 billion. Overall revenue increased by 6% year-on-year to HKD 14 Billion. The company was also able to reduce its percentage of sales devoted to the cost of goods sold from 49.52% to 46.18%. This shift led to bottom line growth from 898.5M to over 3.0B. In addition, during Q3 hotel occupancy averaged in the high 90th percentile and has fluctuated little from this standard prior to the third quarter. This substantial growth reflects Galaxy's ability to adapt and remain bullish despite concerns that are affecting other casinos in Macau.
Currently out of an estimated 22 investment analysts polled about Galaxy Entertainment, over 14 analysts have given it a buy rating, five expect it to outperform, two believe it is a hold, and only one has given it a sell. In contrast to its competitors, companies such as Las Vegas Sands (NYSE:LVS) and Wynn Resorts (NASDAQ:WYNN), we have seen far more substantial growth come from Galaxy: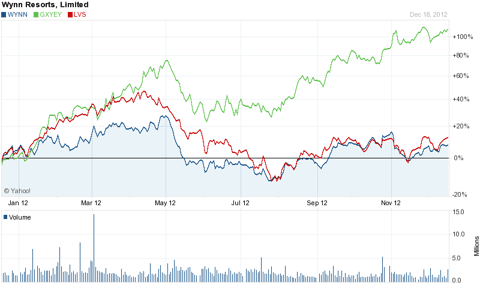 In comparison with its American competitors, Galaxy has yet to plateau and or reach a peak share value. This makes Galaxy a significantly more aggressive growth-oriented investment that could potentially yield even higher returns upon increases in discretionary spending from mainland China's population. Now that China appears to be regaining its footing, it wouldn't be surprising to see a surge in Galaxy's share value upon its next earnings.
In addition, Galaxy is a Chinese-based company, which means it has certain advantages over its American-based counterparts, (i.e. Wynn/Sands). Furthermore, government restraints within Macau solidify Galaxy's position in the gaming industry by limiting the number of gambling tables in Macau to approximately 5,500. An additional 3%-4% more tables will be allowed to be added annually, however these will be split among the current casino operators. This table restriction prevents any new mega-casino developments from upstaging the current casinos in Macau, thereby affirming Galaxy Entertainment a lasting position in Macau and in my portfolio as well.
Hong Kong-Based CLSA forecasts that Macau's revenue will leap to 100 billion by year 2020 from 33.5 billion in 2011, a 298.5% increase. It is also estimated that Macau's gambling revenue will rise 25% this year and 20% annually thereafter. This is definitely a good position for the strategic long-term holder.
This article was written in collaboration with Justin Galloway
Disclosure: I am long OTCPK:GXYEY. I wrote this article myself, and it expresses my own opinions. I am not receiving compensation for it (other than from Seeking Alpha). I have no business relationship with any company whose stock is mentioned in this article.