On December 14, 2012, the NASDAQ OMX Group announced the results of its annual re-ranking of their NASDAQ 100 index. The NASDAQ 100 index was launched in January 1985 and is comprised of the 100 largest non-financial stocks listed on the NASDAQ. Its sister index, the "NASDAQ Financial-100 Index" comprising the 100 largest financial stocks listed on the NASDAQ exchange, was launched at the same time.
Investors can invest directly in the NASDAQ 100 Index using the PowerShares QQQ trust. QQQ is an exchange traded fund with an annual expense ratio of 0.20%. This means for every $10,000 invested in QQQ, $20 per year will go to the fund manager. This is a very effective (low cost) way to get diversification on over 100 stocks compared to buying all one hundred yourself and paying the commission.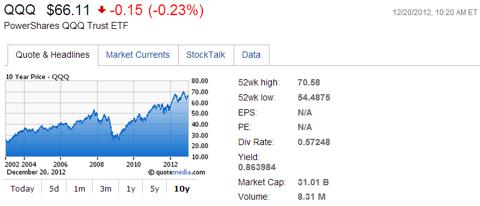 Since the last annual reallocation, ten new stocks saw share price changes sufficient to overtake ten stocks currently in the index which they will replace prior to the market open on Monday, December 24, 2012.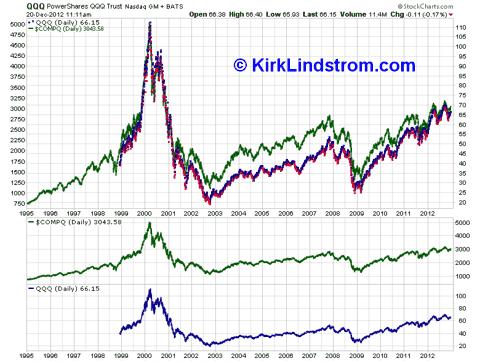 The ten stocks that will be added to the NASDAQ 100 index are:
Analog Devices, Inc. (NASDAQ:ADI),
Catamaran Corporation (NASDAQ:CTRX),
Discovery Communications, Inc. (NASDAQ:DISCA),
Equinix, Inc. (NASDAQ:EQIX),
Liberty Global, Inc. (NASDAQ:LBTYA),
Liberty Media Corporation (LMCA),
Regeneron Pharmaceuticals, Inc. (NASDAQ:REGN),
SBA Communications Corporation (NASDAQ:SBAC),
Verisk Analytics, Inc. (NASDAQ:VRSK) and
Western Digital Corporation (NYSE:WDC).
The ten stocks that will be removed from the NASDAQ 100 index are:
Apollo Group, Inc. (NASDAQ:APOL),
Electronic Arts Inc. (NASDAQ:EA),
Flextronics International Ltd. (NASDAQ:FLEX),
Green Mountain Coffee Roasters, Inc. (NASDAQ:GMCR),
Lam Research Corporation (NASDAQ:LRCX),
Marvell Technology Group Ltd. (NASDAQ:MRVL),
Netflix, Inc. (NASDAQ:NFLX),
Research In Motion Limited (RIMM),
VeriSign, Inc. (NASDAQ:VRSN) and
Warner Chilcott plc (NASDAQ:WCRX).
Wikipedia lists changes to the NASDAQ 100 Index components by year back to 2008 here.
Warnings:
One issue with QQQ is it can become concentrated in a few stocks after periods of exceptional performance compared to the average stock in the index. Back in 2000 national radio show host Bob Brinker recommended QQQ to his listening and subscribing audience. I managed a discussion forum for investing at Suite101.com where we got thousands of hits per day from readers looking for information on this advice. At that time, I recommended my readers avoid QQQ in large part because it was too concentrated in Microsoft (NASDAQ:MSFT) and Cisco (NASDAQ:CSCO). Since then, those two stocks are still down so much that even with the exceptional performance of Apple (NASDAQ:AAPL) over the same period, QQQ has yet to surpass 2000 highs.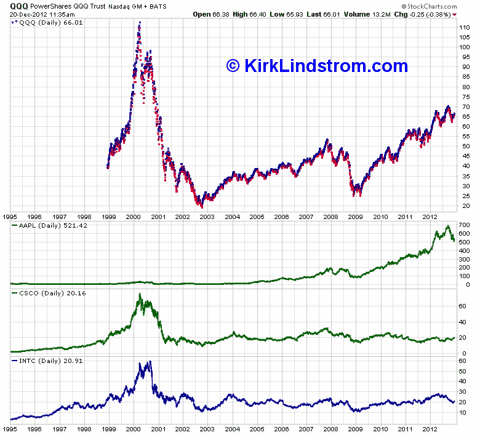 According to Yahoo Finance, the ten largest holdings of QQQ comprise 56% of assets as of October 30, 2012 with Apple at nearly 19% of the index.
| | | |
| --- | --- | --- |
| Company | Symbol | % Assets |
| Apple Inc. | AAPL | 18.75 |
| Microsoft Corporation | MSFT | 8.04 |
| Google Inc. | | 5.98 |
| Oracle Corporation | | 5.09 |
| Intel Corporation | | 3.64 |
| Amazon.com, Inc. | | 3.54 |
| QUALCOMM Incorporated | | 3.35 |
| Cisco Systems, Inc. | CSCO | 3.09 |
| Comcast Corporation | | 2.67 |
| Amgen Inc. | | 2.24 |
Another issue with QQQ due to its constructions is it "buys high" and "sells low." For example, Lam Research is one stock that will be removed from the index that I've done very well with as both an investment and a trading stock since first recommending it for my readers at $3.33 per share in 1998.
Lam stock acts like a "stock option that doesn't expire" on chipmakers like Intel and Qualcomm. It is very volatile, making loads of money when the chip makers buy new equipment then going down during periods when they are not.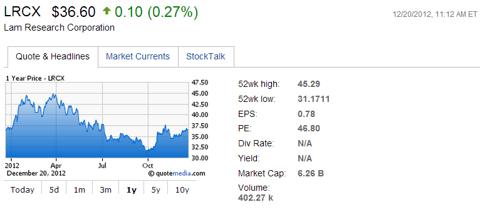 Call stock options for Qualcomm could expire before the next semiconductor cycle so even if you are correct that they will eventually go up, you miss out on the gains. With capital equipment stocks like Lam and a few others I follow, I can buy when out of favor, wait for the next cycle then take profits after I have gains. My method works well as long as I buy well off the last cycle high. My best gains occur when I buy or add shares when LRCX is out of the QQQ then take profits when it is added back to the index.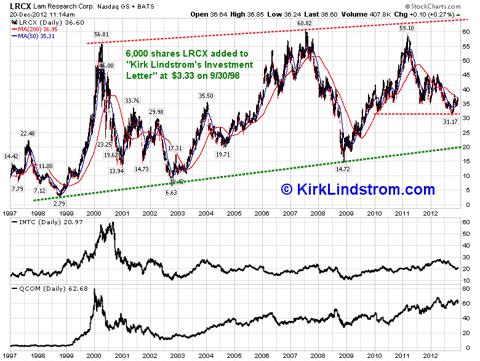 Summary: While QQQ is an effective, low cost way to get exposure to 100 individual stocks on the NASDAQ, the nature of how the index is constructed gives you concentrated exposure to the largest stocks after they have done well. This exposure can lead to very long periods of underperformance if the top stocks under perform. I've found you can do much better than the index with careful stock selection.
Disclosure: I am long LRCX, MSFT, GOOG, INTC. I wrote this article myself, and it expresses my own opinions. I am not receiving compensation for it (other than from Seeking Alpha). I have no business relationship with any company whose stock is mentioned in this article.