Bucking the trend in the mortgage REIT sector, American Capital Agency (NASDAQ:AGNC) maintained its quarterly dividend at the $1.25 per share level where it stayed for all four quarters of 2012. Here is what happened to the dividends of some other major mREIT players through 2012:
Annaly Capital Management (NYSE:NLY): 2 dividend cuts from 55 cents to 45 cents quarterly.
ARMOUR Residential REIT (NYSE:ARR) 3 dividend cuts from 11 cents per month to 8 cents.
Hatteras Financial Corp (NYSE:HTS): 2 dividend reductions from 90 cents to 70 cents quarterly.
Bucking the trend, Invesco Mortgage Capital (NYSE:IVR) has maintained a steady 65 cent quarterly dividend and Two Harbors Investment Corp. (NYSE:TWO) declared a 55 cent fourth quarter dividend to meet REIT distribution requirements after cutting the dividend from 40 cents to 36 cents for the 2012 third quarter.
Falling Net Interest Income
The mortgage REIT companies have been supporting their dividend rates in 2012 with realized gains on the sale of mortgage securities as net interest income has been squeezed by the record low mortgage rates and bond rates environment. In 2011, American Capital Agency paid $5.60 in dividends and earned $5.07 per share in net spread income. For the first three quarters of 2012, the company has paid $3.75 in dividends while earning $3.21 in interest income. Net interest income earnings were $1.30 per share for the first quarter and just 86 cents in the 2012 third quarter.
The launch of the latest qualitative easing by the Fed in September which includes large amounts of agency MBS buying will keep MBS yields low. However, if rates stop falling and stabilize - and how much lower can they go? MBS prices will no longer be increasing, providing mREITs the opportunity to pick up gains on the sale of MBS.
New Dividend Rate in 2013
American Capital Agency typically announces a new dividend rate in March for the year. The company appears to favor setting a distribution rate which it can maintain for the next four quarters. When the company set the current $1.25 rate, it had generated net interest earnings of $1.23 per share for the 2011 third quarter and $1.30 for the 2012 first quarter. The 2012 fourth quarter was an outlier with $1.01 of net spread income.
If the 86 cents per share of spread income is typical of what American Capital Agency is earning in the fourth quarter and into the start of the new year, I would be surprised if the new dividend rate is even at $1.00 per share. Extrapolating from past results, I forecast a 2013 dividend of 90 cents quarterly or $3.60 for the year, producing a yield of 11.4% on the current share price. If my forecast is correct and if the share price sells off due to the dividend reduction, AGNC could become an attractive value, especially if the book value remains stable.
American Capital Agency has done a very good job managing the value of its MBS portfolio and CPR rates. The interest rate environment for mortgage REITs is currently very tough and it will be interesting to see when and at what levels net interest earnings finally stabilize.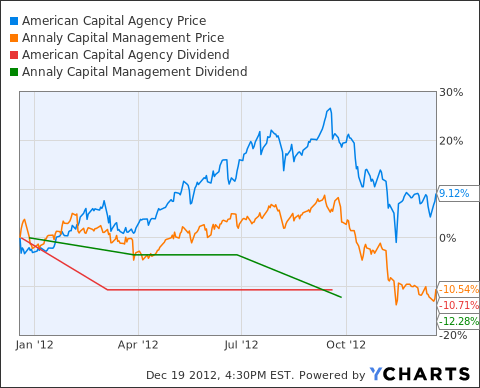 Disclosure: I have no positions in any stocks mentioned, and no plans to initiate any positions within the next 72 hours. I wrote this article myself, and it expresses my own opinions. I am not receiving compensation for it (other than from Seeking Alpha). I have no business relationship with any company whose stock is mentioned in this article.