I find myself using slightly out of the money bull call spreads to establish some speculative positions on stocks I think may head higher in the near term to a much greater extent than I have in the past. Option premiums are cheap as volatility in the market is low and I find greater than normal uncertainty as 2013 is almost upon us. This strategy allows me to participate on the upside in the market if it continues to rally and not get hurt much if the markets turn down. I like this approach as I can structure these spreads so they return three or four times my investment if I am right and they have limited and definable downside if I am wrong. I think this strategy is prudent until the prospects for 2013 are clearer.
One stock I used this strategy on today is Coeur d`Alene Mines (NYSE:CDE), a large silver miner based out of Idaho. Shares currently trade at $22.70 a share and the stock has some potential catalysts that could move the shares higher in the months ahead.
Key recent and potential catalysts for CDE:
Global Hunter Securities just initiated the shares as an "Accumulate" with a $28 price target.
Consensus earnings estimates are currently for almost $2.60 a share in FY2

013, up

substantially from the around 50 cents a share the stock is tracking to

earnings

this fiscal year.
Revenue growth is also expected to return in 2013 with over 20% sales increases in FY2013 after revenue growth slipped approximately 6% in FY2012.
Valuation: The stock sells for less than 9x forward earnings, a deep discount to its five year average (18.0). It also has a five year projected PEG of under 1 (.83) and sells for just 94% of book value.
Option Strategy: CDE has rose to $30 a share a half dozen different times in the last two years (see chart). I therefore want to design a strategy to provide a substantial profit if the stock goes back to its upside resistance of $30 a share while giving the market plenty of time to see the better results projected for 2013. I have decided to buy the June 25/30 bull call spread for $1.20 earlier this morning. If I am right my maximum win is more than a triple at $3.80. My downside is limited to my $1.20 investment.
Happy Hunting.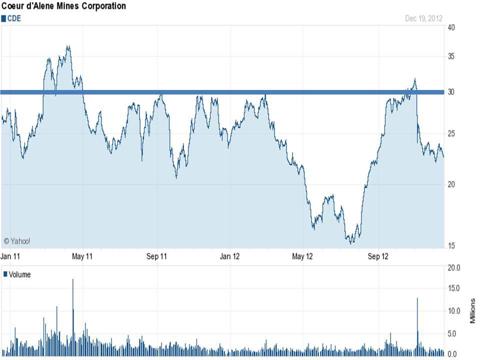 Disclosure: I am long CDE. I wrote this article myself, and it expresses my own opinions. I am not receiving compensation for it (other than from Seeking Alpha). I have no business relationship with any company whose stock is mentioned in this article.