Advanced Micro Devices (NASDAQ:AMD) has been battered of late, with some believing it will go bankrupt in due coarse. Plenty of older articles on Seeking Alpha were bullish but many have stopped being bulls given the dire situation of the PC market. However, we believe there is a resurgence of PC sales bubbling from under the ashes. This resurgence will bring back a market where AMD, like Intel (NASDAQ:INTC) and Nvidia (NASDAQ:NVDA), get more than three fourths of their revenue. This resurgence of PCs will be tablet lead. Wait, did we say the tablet? Isn't that what will finally kill the laptop? Didn't you already see the commemoration funeral in Barron's months back? No we are not mad, let us introduce the Fujitsu Stylistic-Q572, which is available now.
Introducing The 4G Stylistic-Q572
Technically, the tablet is the new PC and AMD is already in one. We were surprised to find AMD with a tablet design win in the Fujitsu Stylistic-Q572; it was spotted with an AMD Hondo (Z-60) chip. The Stylistic even includes cellular 4G broadband access. In that version, it is AMD's first ever cellular tablet design win.
According to Fujitsu it is:

"The ideal lightweight 25.7 cm (10.1-inch) tablet PC for mobile professionals in business, government and SME. With pen and finger support, the slim 820 g device provides perfect flexibility to accomplish your daily tasks."
Certainly looks very desirable. AMD, unlike rivals Qualcom (NASDAQ:QCOM), Nvidia and Intel, is the only x86 CPU designer which does not provide baseband chips at all. Thus, it would have likely increased the total cost to the provider to use an AMD chip unless AMD gave them a good discount. This will be a very low cost and similar low margin sale. But it is a sale, and this is important even if only a million units are sold.
Present Revenue Is Important - Isn't Low Margin Bad?
Low margin is not bad, as long as it is free cash flow generating in the case of a company like AMD. When AMD is trading below a $1.7 billion market value, with 2012 revenues between $5.5-6 billion and a P/S less than 0.3, it is hard to rate it a sell. This low valuation has made many professional investment bank analysts to adjust their ratings. They now agree with us. AMD is a weak buy if you take an average of the analyst calls according to Nasdaq.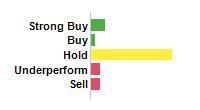 A company in the situation of AMD, with negative gross profit and potentially fast cash burn and long term debt, needs revenue now. Even if the margins are small. Yet the stock is a bargain because while PC growth is dead, the tablet lives strong. AMD will be in tablets, and this is just the beginning. Tablets, with Windows 8, now have a true touch friendly operating system. It is much better than the show Android ports we saw last year running on Z-01 chips in trade fairs. Furthermore, an AMD Temash chip is reportedly going to be used in the next gen Surface. Together with new revenue from Nintendo's Wii U, which is coming on stream now, there will be strong growth in Q2 even while the traditional desktop declines. A further plus for AMD is that these chips, while performing theoretically faster than Nvidia's Tegra 3, actually cost AMD little in R&D, being made on the same process at TSMC. The Hondo chips are simply sporting a lower voltage, retooled Brazos 2.0 core which removes unnecessary interfaces including PCI. In addition, AMD has to pay no royalties to ARM (NASDAQ:ARMH), like Nvidia has to. It is not a new design or a new architecture, thus AMD R&D cost base for x86 tablet chips is lower than Nvidia. Lest you forget, AMD's other GPU products are also coming on stream. Products which are free cash-flow generative. In particular the Radeon 7970 has a successor Radeon 8970 that will be released soon. The chip has taped out, and will be faster clock for clock. A new release, if it comes before Nvidia's Geforce 700 series, can only mean more current revenue and market share clawback for AMD.
Short Interest in AMD
We give the bears some credit, none of these products are game changing, but they clearly show AMD's revenue is not drying up. While short interest is showing signs of maxing out. Already 26.5% of AMD was shorted at the beginning of December and 20% was held by Mubadala, who is not selling out any time soon. In case of a good revenue bounce in Q1 in 2013, short covering will take 47% of the shares out of the market. The only scenario that could be gains for shorters is if bankruptcy becomes imminent. That scenario is not imminent due to a strong cash position and product revenue.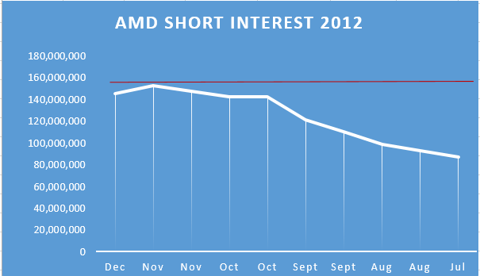 Conclusion
Ladies and gentlemen. AMD still has hope for surviving. Even the consensus of professional Wall Street analysts rate AMD a weak buy at today's prices. Wall Street has fooled many into thinking the tablet market will be growing at the expense of PCs. Microsoft's Windows 8 is genuinely transforming the dying PC into the growing tablet market. The pain will still be felt in December results as tablet PCs are still hard to come by; there are lots of unsold laptop inventories. However, if you can bite your wallet and take the risk, within one quarter, you will see more PC tablets than PC laptops. Recent shareholders can, thus, be aptly rewarded, due to the continuing large short interest.
Disclaimer:
As always do your own research. We realize AMD is the most speculative and risky stock in our portfolio. It is not for everyone. However, believers can be genuinely rewarded. Much more so than any other semiconductor stock.
Disclosure: I am long AMD, INTC. I wrote this article myself, and it expresses my own opinions. I am not receiving compensation for it (other than from Seeking Alpha). I have no business relationship with any company whose stock is mentioned in this article.
Additional disclosure: My longs were at the recent bottoms for both Intel and AMD. Note: As an owner of a Surface RT, I would definitely buy a Surface 8. It would be more useful and not any slower than the RT.