France Telecom (FTE) is a telecommunications company that offers fixed-line telephony, wireless telephony, multimedia, internet, data transmission, cable television, and value-added services. The company has 221 million customers in 35 countries, although as the name implies, the majority (67%) of revenue comes from France. Spain and Poland also account for a good chunk of revenue.
The company's growth strategy, or "Conquests 2015," as they call it, is the goal of leveraging its network capabilities to take advantage of the increasing demand for data and content. Management expects an explosion of data traffic over the next several years, mainly due to video usage (YouTube, etc.) and social networking (Facebook, Twitter, etc.).
For 2012, the company aims to grow via European broadband growth, as well as growing the company's operations in Asia, the Middle East and Africa. The company has set an ambitious goal of a 12% annual growth in fixed broadband subscriptions, and tripling its mobile data revenues across the continent by 2015. In the AMEA (Asia, Middle East and Africa) segment, the company plans to double its revenues by 2015. Management is also seeking to develop rapidly growing segments such as video and cloud computing, and expects them to account for a major source of revenue by their 2015 target date.
However, not everything is favorable for FTE. The operating environment for telecom operators across Europe remains challenging. The company is expanding into several economies that are expected to remain challenging over the next several years. However, the fact that a French company has been so successful in taking market share in Spain is definitely a good sign.
Stock/Dividend Performance
As you can see from the chart below, FTE has declined since 2009 due to both global and European economic conditions. However, I believe all of the negatives and risks are priced in at this point.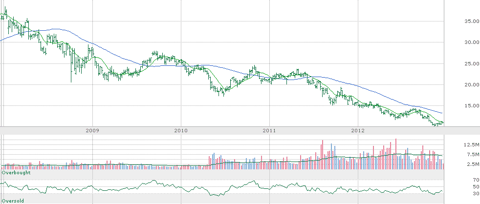 Valuation and Growth
Analysts expect FTE's revenue to contract slightly in 2012 and 2013 due to both declining EBITDA margins as well as increased competition across France. However, analysts expect growth to pick up in 2014 and beyond. Because of the expected delayed growth, as well as uncertainty in the European market, the stock is very attractively valued, trading at only 7.3 times 2012 earnings. Additionally, the company pays a dividend rate per share of $1.75, which translates to 15.85% as of this writing. FTE was forced to cut its dividend in half in 2009 due to economic conditions, however it had a great track record of raising it in the past, and has raised it significantly since the 2009 cut, pulling it back just a bit this year. See the chart below for its annual dividend trends.
Now, normally when investors see such high dividends, they assume it is not sustainable and that cuts are imminent. However, the current payout ratio is only 81%, which is certainly sustainable, as earnings are expected to drop to $1.53 per share next year (still more than the dividend), and then to resume growing. FTE has one of the most shareholder-friendly management teams that exist, and have shown time and time again their outstanding commitment to shareholder returns.
Conclusion
While only time will tell if and when Europe's economy will completely stabilize, this is a very solid, growth-oriented company that has proven itself to be very resilient. We all know that no yield of almost 13% comes without risk, however I believe that the historically low share price and historically high yield make this company a good value play at these levels.
Disclosure: I have no positions in any stocks mentioned, but may initiate a long position in FTE over the next 72 hours. I wrote this article myself, and it expresses my own opinions. I am not receiving compensation for it (other than from Seeking Alpha). I have no business relationship with any company whose stock is mentioned in this article.